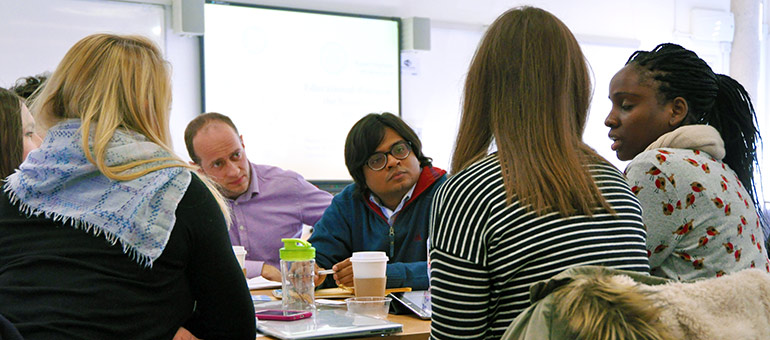 CEDiR plans to host around 8 events per year, catering to a wide range of the group's diverse interests in the field of dialogue. We have attracted many high-profile national and international speakers and participants. Our focus is on fostering a climate for high-quality research. Please contact us if you are interested in attending any events.
In addition, we hold 5 reading group meetings per year on Wednesday or Thursday lunchtimes, 12.30-1.45 pm.
UPCOMING
Michaelmas Term 2017
27 September: The Impact of Dialogic Teaching on Student Learning (Donald McIntyre Building Room GS4, 10:00-12:30)

Findings from two parallel large-scale projects will be presented:
1. Dialogic Teaching Randomised Controlled Trial: Classroom talk, social disadvantage and educational attainment. Jan Hardman (University of York) will discuss the findings of an EEF-funded dialogic teaching intervention conducted in Year 5 classrooms in collaboration with Frank Hardman & Robin Alexander.
2. Classroom Dialogue: It Does Make a Difference to Student Outcomes. Christine Howe (University of Cambridge) will report on the outcomes of her ESRC project (conducted with Neil Mercer, Sara Hennessy, Maria Vrikki & Lisa Wheatley) investigating the relationship of classroom dialogue with student learning in core subjects and attitudes to school in Year 6 classrooms.
See the poster here.
---
RECENT EVENTS:
Easter Term 2017
May 29-June 2: Visit by Marie Dahl Rasmussen, Lecturer in Danish didactics (teacher education), University College Capital and PhD-student, Aarhus Universitet, and Margrethe Sønneland, University of Stavanger in Norway. They will give a joint presentation at 4 pm on Thursday June 1st BOULIND ROOMS MAB entitled Possibilities of Joint Exploration - Pupils' Conversations on Literature in a Scandinavian Perspective.
See the teacher seda talk poster for further information.
31st May 12.30-1.45 Room 1S3 - CEDiR Seminar: A dialogic understanding of inclusive pedagogy: tracing professional conversations
Ruth Kershner, Faculty of Education
Dialogic understandings of education highlight the importance of talk and other forms of communication for all who are involved with the complex demands of policy and practice. In school this applies not only to classroom conversations between teachers and students, but also to wider discussions between staff, parents and other professional colleagues. In this seminar I present two small-scale qualitative approaches to tracing primary school teachers' conversations about the complex educational practices of 'inclusive pedagogy', drawing on sociocultural discourse analysis and other ways of investigating language-in-use. Examples are drawn from a British Academy funded research project (called 'BUILDing Inclusive Pedagogy') conducted in collaboration with Faculty colleague Kristine Black-Hawkins, comprising a one-year research and development network with seven early career teachers in English primary schools. Conclusions are drawn about the possible benefits of tracing professional conversations in this way when practitioners are working together to develop inclusive pedagogy in school.
See the dialogic understanding of inclusive pedagogy poster for further information.
June 7th CEDIR Seminar by Chrysi Rapanta (visitor from Lisbon, organised by her collaborator Fiona Maine) on PD for argumentation will be on June 7 at 4.30 in room 1S3.
See the Chrysi Rapanta Seminar poster for further information.
June 19th 4pm CEDIR Annual Picnic - We will hold our annual CEDiR picnic on June 19th and to use the occasion to not only discuss plans for next year but to say goodbye to Rupert Higham (who departs at the end of June) and to welcome Rupert Wegerif who starts his new post as Professor of Psychology in the Faculty on that day. We will have a tea party at 4 pm: CEDiR will provide some cakes and cold drinks, but feel free to get yourself a cup of tea if you prefer, and bring it along. We will continue with drinks out somewhere (suggestions?) and a bite to eat out for those who want to stay on during the evening. Please put the date in your diaries. We will meet on the lawns outside DMB/Trumpington House (unless weather is poor in which case we will have a room booked as backup).

Lent Term 2017
May 10, 2.30pm Room TBC Reading Group: Towards an Ethics of Answerability: Reconsidering Dialogism in Sociocultural Literacy Research by Mary Juzwik. Discussion introduced by Farah Ahmed. Bring your lunch! Article accessible here: http://juzwik.wiki.educ.msu.edu/file/view/Juzwik_2004_CCC.pdf
March 1st. Reading group led by Tristan Igglesden, discussing "Knowledge-building patterns in educational dialogue" by Muhonen et al., International Journal of Educational Research 81 (2017) 25–37.
Wed 7th and Thu 8th Feb. Visit from Prof. David Clarke and Dr Esther Chan, University of Melbourne to discuss multimodal exploration of the nature and role of listening in dialogue.
Feb. 8th. Assessing group dialogue: what is good participation in group discussions and how can teachers assess this? by Ayesha Ahmed (Faculty of Education) and Ruth Johnson (AQA). Assessing group dialogue: what is good participation in group discussions and how can teachers assess this? Ayesha Ahmed (Faculty of Education) and Ruth Johnson (AQA). Our project explores how teachers can assess group discussions in a way that informs their teaching, allows them to give useful feedback to learners, and is manageable in a classroom. For any assessment we need to know what the construct is, that is what it means to be 'good' at the trait we are hoping to assess. So in order for teachers to be able to assess students' participation in group work, all involved must have an understanding of what good participation looks like. We are video recording 14-15 year-old students working in groups of 3 on problem-solving and discussion tasks. We will report results of our pilot and the design of the current phase in which students are completing a robot-car design and programming task and discussing the merits of self-drive vehicles. We are analysing the students' talk using an adapted version of the SEDA scheme and we are also looking at the students' actions, at indicators of overall group performance and at teachers' observations. The aim of the dialogue analysis is to gain a better understanding of what features of the talk lead to better group processes and outcomes and how teachers can use this information to help them to form judgements in a classroom for formative purposes. We are interested in particular in CEDiR members' thoughts on the next phase of our analysis.
Michaelmas Term 2016
Wed 7th Dec, 4.30-6.00pm. A dialogic educational approach to Alzheimer's care - a CEDiR/ELPEC seminar with Nick Andrews. Nick will be giving details of the exciting DEEP project, and discussing its future development.
Fri 11th Nov, 1-2pm: Mining of Social Behaviour in the Classroom with Ragnar Behncke, Universidad de Chile & Founder of SocialMap. This presentation focused on results from the use of glasses cameras to track 10-year-old students' gaze.
See Mining of Social Behaviour poster for further information.
Tue 15th Nov, 12.30-2.30pm: Using ELAN software for the systematic analysis of video data a FERSA/CEDiR/PEDAL workshop led by Marisol Basilio and Aline Frederico.
See the ELAN Workshop poster for further information.
Oct. 10: 5.30-6.30 pm Welcome drinks followed by meal out
Oct. 10-13: Visit by Prof. Alex Groschner
Sept. 5-8: Visit by David Clarke and Esther Chan, University of Melbourne, who were on a European tour to forge partnerships for their newly funded "International network on the social essentials for learning". CEDiR events included:

Tuesday Sept 6 at 10.00-12.30: David and Esther presented on the topic of 'Investigating the social nature of classroom learning', followed by breakout and plenary discussion debating the issues from different theoretical/disciplinary perspectives, and then lunch at Homerton.

Tuesday Sept 6 at 2.00-3.30 pm in room 1S3: Comparative coding of dialogue in a mathematics classroom - a hands-on workshop exploring issues arising in using different kinds of schemes, e.g. the adapted version of SEDA currently being used in the ESRC Dialogue project and tools from the Australian team's projects. (This followed up on the coding workshop run by the ESRC project team in a CEDiR event earlier this year.)

Tuesday Sept 6 at 3.45 - 5.00 pm: Discussion: "Are there distinctive features to mathematical dialogue, or are its dialogic features generic?" We might consider possible research project(s) to explore and test this.

Tuesday evening: CEDiR group drinks/meal out at local restaurant.
Wednesday Sept. 7 at 2.00-4.15 pm: Session focusing on CPD and teacher intervention in maths classrooms: How do we improve the quality of classroom dialogue? This session began with a short presentation from Steve Watson's team, and another from Sharon Walker and colleagues from CMEP (Cambridge Mathematics Education Project), again including lots of discussion time.

Wednesday Sept. 7 at 5 - 6:30 pm: Maths Education Colloquium presentation by David and Esther entitled: "Classroom Learning: Speaking in and about Mathematics Classrooms" followed by meal out with speakers.
Easter term 2016
July 14 (10-12.30 in 1S3 followed by BYO picnic lunch): a joint event with CPERG (Cambridge Peace Education Research Group) focused on conflict resolution through mediation and dialogue, organised by Hilary Cremin. The event will include a visit and demonstration by young peer mediators from Birmingham who are trained in conflict resolution, plus 3 short talks: • Hilary Cremin - A concept of circle time and peer mediation • Toshi Tsuruhara - Turning points in conflict mediation dialogues between students and neighbours in UK and Japan • Sara Greco (Switzerland) - The mediator as an architect of the parties' discussion
July 12 (Tues.) 10-12: presentations & discussions on self-regulation and dialogue by the British Academy (UK-Chile) team: David Preiss & Valeska Grau Cardenas, Antonia Larrain, David Whitebread & Marisol Basilio, Pablo Torres.3.30-6 pm, 1S3: A joint CEDiR-P&E event focusing on argumentation, chaired by Christine Howe with two presentations from overseas visitors: • Sara Greco (Switzerland) - "Implicit argumentation in adult-child discussions" • Antonia Larrain (Chile) - "Argumentation among peers and concept learning: when individual cognition makes a difference".
July 7 twilight event: "Teacher professional development for and through dialogue" involving visitors Adam Lefstein from Israel and Klara Sedova & Zuzana Šalamounová from Czech Republic. Presentations included:
• Professional development for dialogic teaching (Adam Lefstein; Klara Sedova & Zuzana Šalamounová) • Lesson study (Steve Watson) • Dialogue - the central Leadership for Learning principle (Sue Swaffield) • Teacher-SEDA scheme for teachers investigating their own practice (Lisa Lee)
May 31: Reading Group - Article by Pehmer, Gröschner & Seidel (2015). Fostering and scaffolding student engagement in productive classroom discourse: Teachers' practice changes and reflections in light of teacher professional development. Learning, Culture and Social Interaction 7, 12–27.
April 22: Launch of Oracy Centre at Hughes Hall. Led by Neil Mercer.
Lent Term 2016 events
Tuesday 8th March 10-12: "Coding workshop: ESRC Classroom Dialogue project"
Convened by Sara Hennessy, Christine Howe, Neil Mercer
The research team working on the ESRC Classroom Dialogue project will outline progress to date, show videos and transcripts of classroom interaction, and invite members of CEDIR to try out and discuss the coding scheme. This is a hands-on workshop, with discussion centred around practical activities.
Friday 5th February 10-12.30: "Principles of inter-faith and secular educational dialogue"
Speakers: Hanan Alexander, Tony Booth, Rupert Wegerif
Presentations were 20 mins each, followed by an extended discussion exploring both the ideas raised and potential avenues of research and collaboration that emerge.
Reading group
Thursday March 10th, 12.30 - 1.45pm. The paper, chosen by Sara Hennessy, will be: Lefstein, A et al. (2015) From moves to sequences: expanding the unit of analysis in the study of classroom discourse.
Michelmas Term 2015
Dialogue and transformative learning in STEM Education: the case of Mexico and the UK. Prof. Juan Manuel Fernández-Cardenas, Tecnólogico de Monterrey, Mexico; Prof. Catherine Montgomery, University of Hull
Reading group
Kazepides, Tasos (2010) Education as Dialogue. In Educational Philosophy and Theory 44(9).