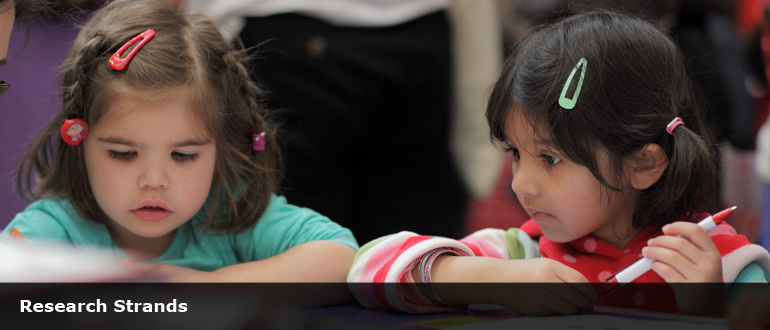 Our research
For the first three years, PEDAL will focus on three fundamental questions, which are detailed below.
These priority research projects will be augmented by further investigations - the role of outdoor play in children's social development; to compare play in children with autism to typically developing children; to examine play between parents and babies; to look at the potential of neuroscience to inform understanding of play; and international work across cultures and classroom environments.
There are many more directions we would like to take our research, and we are seeking further financial support to sustain and develop our work for the long term.
---

What is play?
Creating a framework for the conceptualisation and measurement of play, helping us to explore its role in social/emotional development (led by Jenny Gibson).
---

How does play develop?
Establishing a longitudinal study of play throughout childhood and beyond (led by David Whitebread and Marisol Basilio).
---

Is there a role for play in school?
Investigating playful approaches to children's early learning in science (led by Sara Baker).
---

Play Learning and Narrative Skills (PLaNS)
The overall aim of the PLaNS project is to investigate the positive influence that a playful learning approach could have in 5-10 year olds' narrative and writing skills. Being able to construct a clear narrative, in a fictional form as a story, or in a non-fictional form as a descriptive account or a set of instructions, is a crucial skill, both within educational contexts and in the wider world of work and leisure. Currently there is a major concern that many children do not master these skills as well as they might.
---