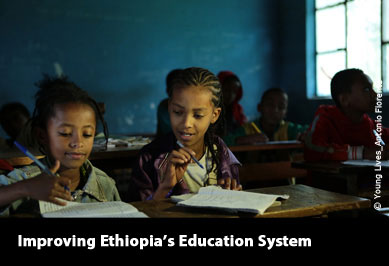 Improving Ethiopia's Education System
As part of the international Research for Improving Systems of Education (RISE) programme, the REAL Centre is co-leading the RISE research in Ethiopia together with the Ethiopian Development Research Institute. The team is conducting a five-year research project in Ethiopia to examine whether and how a large package of national reforms works to improve learning equitably in one of the world's poorest and most diverse countries.
Funded by the UK Department for International Development, the project is an international partnership of researchers at universities and research centres worldwide. Together with the Ethiopian Development Research Institute and the REAL Centre, partner institutions include the Institute of Educational Research at Addis Ababa University, the Ethiopian Education Strategy Centre, the Centre for Education and International Development at University College London, Cornell University, and Stockholm University.
In recent years, Ethiopia has rapidly expanded primary school enrolment to achieve near-universal attendance. Yet, learning levels are poor and appear to have stalled in recent years. Despite national efforts to improve and to invest more in education, girls from poorer backgrounds and rural areas particularly continue to face problems in learning once in school, and in completing primary school. These issues present tremendous challenges for a nation in which more than 80 indigenous languages are spoken, and where many children live in remote areas and as pastoralists.

The Ethiopia RISE project is examining the government's flagship education programme, the General Education Quality Improvement Package (GEQIP), a complex and evolving series of reforms intended to facilitate sustainable improvements in learning. The research team is seeking to understand the nature of the political levers brought about the policy change, the ingredients of sustainability, and, ultimately, the effectiveness of the reform package.
Research team:
Principal Investigator and Research Team Lead: Professor Tassew Woldehanna
International Research Team Lead : Professor Pauline Rose
Research Management Lead: Dr Ricardo Sabates
Researchers:
Dr Amare Asgedom,
Dr Alebel Bayrau Weldesilassie,
Dr Tessa Bold,
Dr Belay Hagos Hailu,
Dr Aklilu Hailemichael,
Professor John Hoddinott,
Dr Padmini Iyer,
Dr Girma Lemma Fantaye,
Professor Moses Oketch,
Dr Alula Pankhurst,
Dr Caine Rolleston,
Dr Admasu Shibru,
Professor Tirussew Teferra,
Professor Darge Wole Meshesha,
Louise Yorke

Research Project Support: Anita Menon-Harding
Country partners:
Institute of Educational Research at Addis Ababa University
The Ethiopian Education Strategy Centre

University College London Institute of Education

Cornell University

Stockholm University
Funder: DFID via Oxford Policy Management
Duration: April 2017- December 2022
Publications:
Blogs:
Rose, P. and Woldehanna, T. http://www.riseprogramme.org/content/what-will-it-take-raise-learning-outcomes-all-children-ethiopia-translating-commitment
Woldehanna, T and Yorke, L. http://www.riseprogramme.org/content/launch-event-highlights-need-alignment-ethiopias-education-system-reform-programme