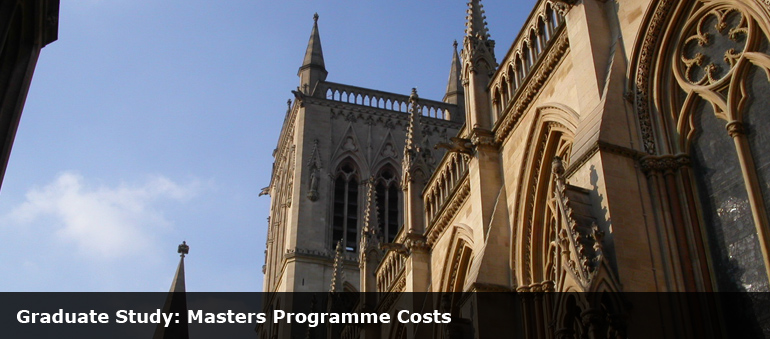 Details of the costs you are likely to incur as a Masters student are set out on the Graduate Admissions website. As a graduate student at the University you are liable to pay a University Composition Fee (UCF) and a College Fee. If you are a full time student, you are also expected to have 'maintenance' funds to support your living costs whilst you are studying. The value of the UCF is dependent on your 'fee status', which is determined according to your nationality and place of permanent residence.
Important information
University and College fees and other costs are set yearly and are subject to an annual increase, which may be substantial. At the present time, these increases are of the order of 5% per annum. Therefore, students whose courses are longer than twelve months, and/or which span more than one academic year, will not have a constant fee rate over the entire period of their course. Students should ensure that they have available in advance adequate financial provision for the whole of the duration of their course (including any possible over-run), taking into account likely increases in both fees and other expenses year on year, at least in line with inflation, and, where relevant, also taking into account fluctuations in currency exchange rates.
For details of College fees, please contact the relevant college.
Non-payment of fees to your college constitutes grounds for removal from the student register.
If it is considered that the financial undertaking form that you submitted to meet your offer conditions was made in bad faith, the college may recommend to the Board of Graduate Studies that you are removed from the register. If your sponsor fails to honour their commitment you will need to provide documentary evidence from the sponsor to this effect.
You should not expect the University or your college to provide funding to help to make up the deficit if your financial support breaks down.
Please note that if a student withdraws from the course after 21 days from the start of the university term, they will forfeit the fees for that term.
---
IMPORTANT: ADDITIONAL MASTERS COURSE COSTS
Please note that the following accredited courses also charge a supplementary programme fee (to both MEd and MPhil students) due to the additional teaching hours provided on the course. The following fees are provisional and currently subject to University approval:
Child and Adolescent Psychotherapeutic Counselling £1,025
Psychology and Education £1,278