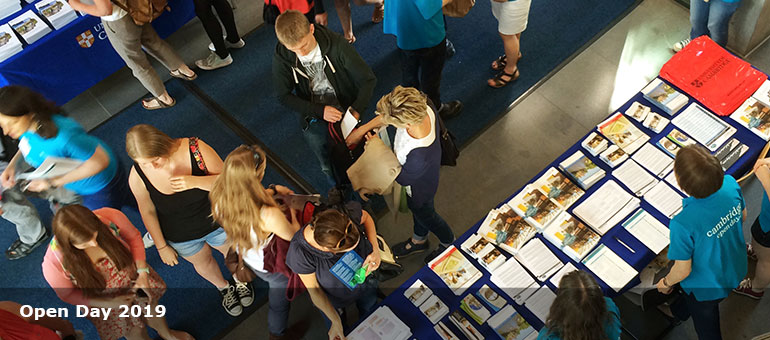 PGCE and Postgraduate Open Day 2018
The Open Day for students interested in coming to Cambridge to study on a postgraduate course (including our PGCE course) will be on Friday 2 November 2018.
The University of Cambridge Postgraduate Open Day is open to current final year students or graduates who are seeking to enter into postgraduate study at Masters or PhD level, or a PGCE at the Faculty of Education.
During the day there will be detailed information about the graduate application process. Current graduate students and Graduate Admissions staff will be on hand to answer questions about postgraduate study and student life in the vibrant city of Cambridge. Staff will also be available to give you advice on the application process, funding opportunities and careers after your course.
You will have the chance to speak to department staff at the Exhibition Hub and you may be able to visit the department to learn more about individual courses and discover which course will be best for you by talking to the staff and students here.
You will also have the opportunity to visit some of the Colleges, find out about their unique character and see how College life complements academic life in Cambridge.
There is no charge for attending the open day although you will need to arrange your own travel and accommodation if required.
Booking details
Due to high demand, registration for this event is essential. Please register for the Open Day on the University's Postgraduate Open Day EventBrite page.
Getting to the Faculty
The Faculty is a short bus ride from the centre of Cambridge. If you are attending the central University events at the University Centre before visiting the Faculty, you can catch the blue Universal bus from the junction of Mill Lane and Trumpington street which is a 2 minute walk from the University Centre. If you produce your graduate open day ticket when getting on the bus your journey will cost just £1.
You should get on the bus that is heading in the direction of Addenbrookes hospital and get off at the second stop along Brooklands Avenue. Keep walking to the top of Brooklands Avenue, turn right onto Hills Road and the Faculty is a 5 minute walk on the right hand side of the road, just passed Hills Road Sixth Form College.
Download a bus map for further information.