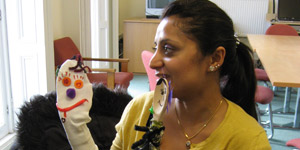 Introduction
The Child and Adolescent Psychotherapeutic Counselling Programme at the Faculty of Education is accredited by the British Association for Counselling and Psychotherapy (BACP).
The course specialises in the aims, processes and skills of working with children and young people through an emphasis on working through play and with the arts. Other significant strands include child and adolescent development, clinical skills, professional issues, ethics and child protection, child mental health, developing children's emotional well-being, working with children's contexts and networks and families, multi agency work, working in a school setting, and working with groups. This programme enables participants to become effective and ethical psychotherapeutic counsellors.
Core Elements
The core theoretical model of the training is integrative and relational. This means that the course brings together elements from different theories to make a coherent whole. There is an emphasis on:
Child and Adolescent development, the uniqueness of the individual and the importance of the therapeutic relationship
Examining key theoretical perspectives including the psychodynamic, the humanistic and increasingly the neuroscientific
Working eco-systemically with children's networks and contexts
The course aims to develop core aspects of working therapeutically with children and young people. These include:
- internal psychological processes and the transference;
- taking a holistic view of the child;
- attachment and affect regulation.