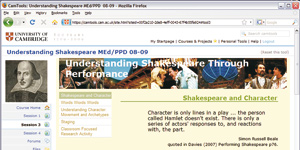 CamTools
CamTools is located at https://camtools.cam.ac.uk
CamTools is a collection of online tools for University members to use in their teaching, learning, research and administration. For more details see the Overview Page.
The following sites may be of interest, they are freely joinable, simply click on their names:
FoE: Using CamTools
This Faculty of Education Site for CamTools and Blended Learning contains further information regarding CamTools and its use at the Faculty, extensive links to help documentation and offers you the opportunity to try out some of the tools that are available in CamTools.
Main contact: Anja Cessford
EY/PR Science Demo
This is a copy of PGCE EP/GP Science site used to deliver course information to the students. It gives a good example of how CamTools is used in the framework of a course taught at the Faculty.
Main contact: Paul Warwick

You can leave any sites you have joined at any time by clicking 'unjoin' in the My Courses and Projects page in CamTools. (You can access this by clicking the 'Courses and Projects' link at the top right of the screen, and then making sure you're in the 'My Courses and Projects' tab.
CamTools Support @ Education
CamTools Support and Advice for the Faculty of Education is provided by Anja Cessford. Contact Anja or the Faculty CamTools team by emailing camtools@educ.cam.ac.uk
Detailed documentation about Camtools and its tools and functions can be found on the main Camtools Support Pages maintained by MISDsite
Receive updates, announcements and other news about CamTools via the CamTools bulletin, subscribe to it at:
https://lists.cam.ac.uk/mailman/listinfo/misd-camtools-bulletin
As a member of this list, you will receive emails with news about important CamTools upgrades, planned downtime, or interruptions to the Raven service. you will probably get emails less than once a fortnight.