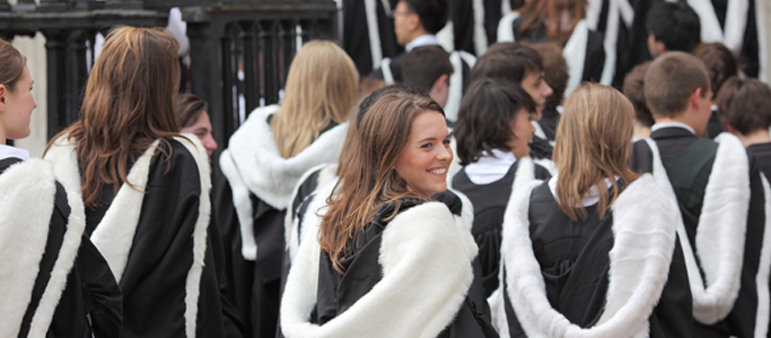 After the success of last year's event, the University of Cambridge is proud to be hosting another Cambridge Postgraduate Open Day on Friday 3rd November 2017.
This unique event is organised by the Graduate Admissions Office in conjunction with the Colleges and University's Departments. The day is open to all undergraduate students and graduates who are considering applying to the University of Cambridge for graduate study at Masters or PhD level.
During the event, participants can attend a registration hub where detailed information about the graduate application process is available; current graduate students and Graduate Admissions Office staff will be on hand to answer questions about postgraduate study and student life in the vibrant city of Cambridge. In addition, prospective applicants will have the chance to learn more about individual courses and talk to academic staff from the departments and Colleges.
During the event, you will also be able to:
attend presentations on courses
take tours of university facilities and visit Departments and Colleges
talk to student services about topics such as funding, accommodation, disability resources and career advice

Overseas applicants will be able to address any queries to the International Students team who will be present.
Essential booking information
It is essential that you book your place and bring your ticket with you on the day. You are welcome to bring a parent or supporter with you. Please register them for the specific parent/supporter ticket.
You can find further information and book your place on the Cambridge Postgraduate Open Day website.
Postgraduate Open Day Programme at the Faculty of Education
The Faculty of Education will be running information sessions for our Masters and Doctoral level programmes as well as a student led session with no staff present so that you can ask any questions that you may have without worrying that they are silly and hear about our student's experiences of the Faculty. Refreshments will be available.
All events will take place in the Donald Mcintyre Building at the Faculty of Education.
Timetable of graduate events at the Faculty
2-3pm: Q&A with the Faculty of Education Research Students' Association (FERSA)
3-4pm: An overview of the Masters Programme with Dr Hilary Cremin, Masters Programme Manager
3-4pm: An overview of the Doctoral Programme with Professor Susan Robertson from the Doctoral Leadership Team
4-4:30pm: Meet the Masters Route Coordinators drop-in session. It is anticipated that there will be representation from each of the routes recruiting for 2018-19 including Arts, Creativity and Education; Child and Adolescent Psychotherapeutic Counselling; Critical Approaches to Children's Literature; Education, Globalisation and International Development; Educational Leadership and School Improvement; Educational Research; Mathematics Education; Primary Education; Psychology and Education; Research in Second Language Education,
In addition, the Critical Approaches to Children's Literature route will be delivering a presentation for prospective students at 4:30-5pm in the Donald Mcintyre Building Room DMB 1S3
There will be a series of events run by the PGCE team and you can watch a series of short films about Postgraduate Study at Cambridge.
Getting to the Faculty
The Faculty is a short bus ride from the centre of Cambridge. If you are attending the central University events at the University Centre before visiting the Faculty, you can catch the blue Universal bus from the junction of Mill Lane and Trumpington street which is a 2 minute walk from the University Centre. If you produce your graduate open day ticket when getting on the bus your journey will cost just £1.
You should get on the bus that is heading in the direction of Addenbrookes hospital and get off at the second stop along Brooklands Avenue. Keep walking to the top of Brooklands Avenue, turn right onto Hills Road and the Faculty is a 5 minute walk on the right hand side of the road, just passed Hills Road Sixth Form College.
Download a bus map for further information.