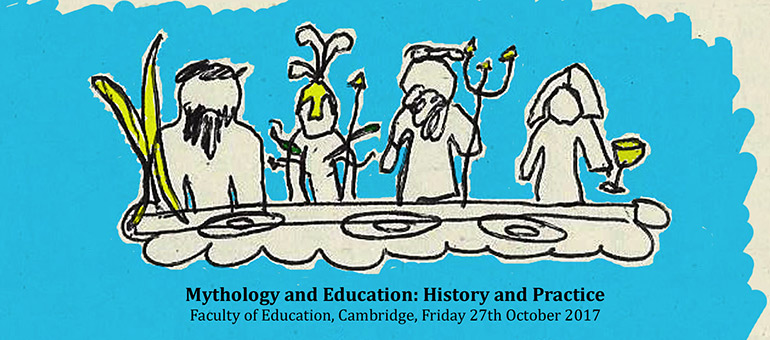 Faculty of Education, Cambridge, Friday 27th October 2017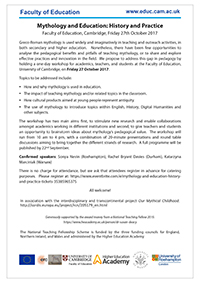 Greco-Roman mythology is used widely and imaginatively in teaching and outreach activities, in both secondary and higher education. Nonetheless, there have been few opportunities to analyse the pedagogical benefits and pitfalls of teaching mythology, or to share and explore effective practices and innovation in the field. We propose to address this gap in pedagogy by holding a one-day workshop for academics, teachers, and students at the Faculty of Education, University of Cambridge, on Friday 27 October 2017.
Mythology and Education Conference 2017 Poster
Infromation about the Mythology and Education Conference 2017
NEW* Mythology and Education Conference 2017 Programme of Events
*Updated 23/10/17
Topics to be addressed include:
How and why mythology is used in education.
The impact of teaching mythology and/or related topics in the classroom.
How cultural products aimed at young people represent antiquity.
The use of mythology to introduce topics within English, History, Digital Humanities and other subjects.
The workshop has two main aims: first, to stimulate new research and enable collaborations amongst academics working in different institutions and second, to give teachers and students an opportunity to brainstorm ideas about mythology's pedagogical value. The workshop will run from 10 am to 4 pm, with a combination of 20-minute presentations and round table discussions aiming to bring together the different strands of research. A full programme will be published by 22nd September.
Confirmed speakers: Sonya Nevin (Roehampton), Rachel Bryant Davies (Durham), Katarzyna Marciniak (Warsaw).
There is no charge for attendance, but we ask that attendees register in advance for catering purposes.
Please register at: https://www.eventbrite.com/e/mythology-and-education-history- and-practice-tickets-35385965375
All welcome!
In association with the interdisciplinary and transcontinental project Our Mythical Childhood: http://cordis.europa.eu/project/rcn/205179_en.html
Generously supported by the award money from a National Teaching Fellow 2015: https://www.heacademy.ac.uk/person/dr-susan-deacy
The National Teaching Fellowship Scheme is funded by the three funding councils for England, Northern Ireland, and Wales and administered by the Higher Education Academy.