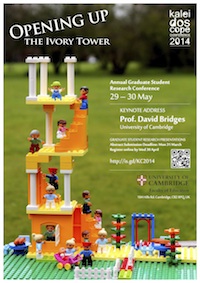 Faculty of Education, University of Cambridge, UK
May 29th & 30th, 2014
Kaleidoscope 2014: Opening up the Ivory Tower
Kaleidoscope is an annual, two-day event hosted by research students at the Faculty of Education, University of Cambridge, UK. It is aimed at the needs of current research students in the broad field of education studies, and seeks to provide a space where research students can connect with others, find inspiration and food for thought, and share their own in-progress research with others in a supportive environment.
This year's theme, 'Opening up the Ivory Tower', challenges us to reflect on the troubling question of how our educational research does or does not connect us to communities, inside and outside of academia. The 'Ivory Tower' is a provocative image, symbolising the separation of academics and their work from the practical concerns of everyday life, a separation that is especially problematic in the field of education. We wish to provide a forum in which we can honestly reflect on the fear that our research will ultimately sit on a library shelf gathering dust, and think creatively and critically about more hopeful alternatives.
Last year's 10th anniversary conference embraced the diversity of ideas and research directions of 146 delegates from 17 different universities. This year, we are inviting student delegates from throughout the UK and internationally. We welcome submissions from students who want to experiment with creative and interactive formats for communicating their research, alongside high quality traditional presentations and posters.

Key Dates
March 1st: abstract submission form opens, registration website opens
March 31st: final day for abstract submissions, final day for £20 registration
April 30th: reviewed submissions returned to student presenters, final day for £25 registration
May 15th: final day for conference registration
May 29th & 30th: Kaleidoscope Conference