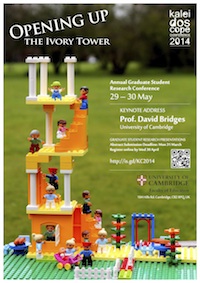 Poster Presentation
There is also an option of submitting a poster on A1-size paper (594 x 841 mm, any orientation).
In the poster, please include:
• Your name
• Institution
• Contact details
There are no design restrictions as long as these details are included on the poster.
Please e-mail the organising committee at kaleidoscope@educ.ac.uk, attaching an electronic version of the poster.
Lastly, please bring the printed poster with you on the day to the venue to display in one of the main rooms.
Kaleidoscope promo poster download
If you would like to help us promote this event, feel free to download this high resolution poster file for any printing purposes.
POSTER DESIGN TEAM
Idea and Photography: Nigel Meager
Art Direction: Amelia Hendra
Builder: Hema Letchamanan
Many thanks to Marisol Basilio and Dr. David Whitebread for lending us Lego building blocks.