Affiliated PhD Students
The Education Reform and Innovation team also relies on the valuable support and input of PhD students on various projects and ventures.
Adam Barton
Adam Barton is an educational researcher studying global innovations that can help all learners thrive. He is interested in implementation science and social change: how to make new ideas work in practice. Adam is currently a doctoral student and Cambridge International Scholar at the Faculty of Education, Cambridge.
As a consultant, he regularly advises global organizations and policy leaders on designing and implementing sustainable policies and programmes. He most recently served as a visiting fellow and Luce Scholar at the Asia Pacific Initiative, a Tokyo think tank. There, he led research on "social implementation" for the Fourth Industrial Revolution - harnessing community demand to collaboratively design and sustainably implement innovations.
---
Thomas Cowhitt
Thomas Cowhitt is a PhD researcher with the Faculty of Education. His research interests cover the development and implementation of new educational programs. Specifically, he uses Social Network Analysis to identify innovators within complex school systems.
His research then embraces a mixed methods approach to learn about how practitioners develop and scale-up their own initiatives. This process-oriented research focuses on inter-organisational recruitment and is significant in terms of amplifying the work of practitioners within a school improvement industry that is currently dominated by government actors and other external organizations to schools. Please visit EdNetResearch for more information on Thomas' work.
---
Catrin Darsley
Catrin has a decade of experience working in operational sustainability and supporting sustainability-related student research projects at university level.
A proponent of real-world research with positive social and environmental impact, her PhD research now seeks to explore the impact of different UK HE 'education for sustainability', or 'education for sustainable development', mechanisms on students' competence development.
---
Raquel Scarpa-Gebara
Raquel holds a master's degree in Neuroscience and Behaviour from the University of São Paulo (USP), Brazil and earned an MPhil with distinction in 2020 in Educational Leadership and School Improvement (ELSI) from the Faculty of Education, University of Cambridge.
Her work on designing an evaluation model for Lesson Study implementation and outcomes in Kazakhstan was awarded with a Jennings Prize for outstanding academic achievement by Wolfson College in 2020 and Best Dissertation in ELSI 2020 by the Faculty of Education, University of Cambridge. Raquel is currently working on her PhD at the Faculty of Education University of Cambridge, conducting research in Education Impact Analysis.
---
Steven Day
Steven Day is an EdD student at Robinson College and the Faculty of Education, University of Cambridge. Steven is researching the real-world impacts of sustainability-educated graduates.
As a practitioner in sustainability (he co-founded a renewable energy company), his studies explore the links between higher education and change-making, graduate knowledges and self determination, and how universities and businesses can accelerate the sustainability agenda.
---
Kamila Rollan
Kamila is a PhD student at the Faculty of Education. She focuses her research on inclusive education system development in Central Asia. Her specific interests include the political philosophy behind educational and social inclusion, inclusive education policy, and civil society activism.
She holds a Master's degree in Educational Leadership (Inclusive Education track) from Nazarbayev University, Kazakhstan. She has been a fellow of the Americans with Disabilities Act (ADA) Inclusive Education Fellowship programme based in Minnesota, USA. She founded and chairs the Education For All non-profit organization in Kazakhstan, promoting inclusive education for youth with special needs and disabilities. Kamila is an Equalities officer at Clare Hall, Cambridge.
---
Ema Kristina Demir
Ema is PhD researcher at the Faculty of Education and a member of Fitzwilliam College, Cambridge. Her research investigates the role of organisational structures of schools for teacher social capital, teacher professional learning, student achievement and educational equity. She is also involved in Leadership for Professional Learning: the Cambridge Network.
Ema holds dual master's in Education and English linguistics from Stockholm University. She has extensive experience as a secondary school teacher in Sweden, where she has been awarded the title of Especially Skilled Educator and appointed head teacher of languages.
---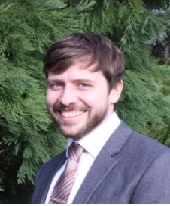 Tom Harriott
Tom Harriott is a Doctor of Education candidate at the Faculty of Education and a member of Queens' College. Tom is also an experienced chemistry teacher, and currently an Assistant Principal in a London secondary school. He has contributed to the PGCE science course, and supervised undergraduate students at the Faculty for the last four years.
Tom's doctoral research aims to better understand the function of regulation of learning in collaborative groups, and the implications of this for classroom practice. More broadly, Tom is interested in the intersection between theory and practice, particularly in the social context of the classroom.