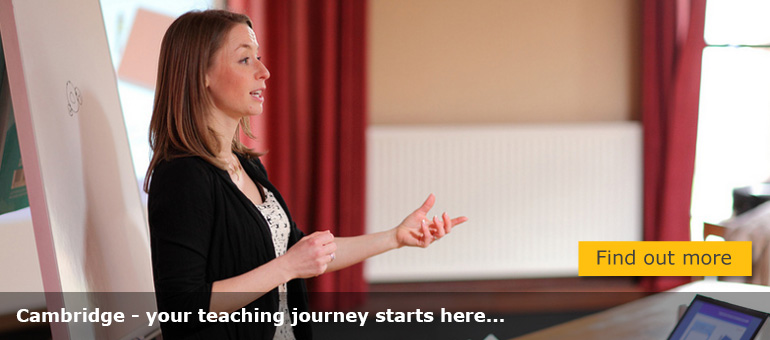 ---
Virtual PGCE Open Event Monday 20th February
Are you thinking about training as a teacher in academic year 2023/24 – or maybe just interested in what teacher education at Cambridge is all about?
Join us for our Virtual PGCE Open Event on Monday 20th February at 5pm.
Our event will introduce the Cambridge PGCE. The University provides outstanding courses in both the Primary and Secondary age ranges and is renowned for its personalised, innovative and high-quality approach to teacher education. Our trainees come from a wide mix of backgrounds, places and previous educational settings – but they all share our commitment to providing excellence to the UK state maintained school sector. They are also always in high demand and many quickly go on to leadership roles as their careers develop.
Come and discover for yourself what makes the Cambridge course different.
Registration is required for this event. To register please use the link below:
Not every PGCE subject will be represented by a subject lead at our event, but you may still find event useful for finding out about the Cambridge PGCE. If you would like to know more about one of the following subjects specifically (Design & Technology, History, Latin with Classics or Religious Studies), please contact Grace Chapman at outreach@educ.cam.ac.uk
If you have any questions or queries, please direct them to Grace Chapman at outreach@educ.cam.ac.uk
---
Keeping Children Safe in Education
The University of Cambridge is committed to safeguarding and promoting the welfare and safety of children. In all aspects of PGCE course provision, including the recruitment of trainees, we adhere to relevant aspects of the ITT criteria, of Keeping Children Safe in Education, and of relevant legislation, and expect all members of our community to fully commit to their associated responsibilities.
---
Important notice on blended learning for all 2022/23 courses
Given the unpredictability of health, safety and travel restrictions over the 2022/23 academic year, students enrolled in courses at the Faculty of Education should expect some form of blended learning.
The Faculty will continue to follow guidance published by the University and by the Government. The specific nature of blended learning will be course-dependent, and may be subject to changes in line with guidance.
---
Covid-19 update
Due to the effects of the Covid-19 pandemic and government guidance, we have had to make some changes to the programme in order to give you the best possible academic experience in the current circumstances. We will continue to monitor and respond to the changing public health situation.
While the learning aims and outcomes will remain the same, the mode of teaching while you are in the Faculty will be a combination of online and face-to-face experiences, the balance between which will depend upon your programme. There will be differences between primary and secondary, and between the different subject programmes within secondary. More information will follow at the start of September. We will also keep the mode of teaching under review. Further adaptations may be required throughout the year to accommodate any illness of trainees or teaching colleagues, and restrictions imposed by track and trace systems etc. We will work hard to ensure that those affected continue to have the opportunity to participate in all aspects of the course.
It is always the case for PGCE trainees that individual experiences will differ. This is due to the nature of subjects and age-phases (e.g. some have more practical elements than others) and of the partnership schools we work with (where adaptations made by the school to mitigate for Covid will differ in line with their particular context). It is also due to the importance we place on personalising the course to allow each trainee the very best opportunity to meet and exceed the course requirements. We would like to reassure you we will continue to offer a high quality experience to all trainees, both through our face to face and remote teaching provision.
---
My Cambridge PGCE
Get the inside track from our students on PGCE teacher training at the University of Cambridge
Visit My Cambridge PGCE for blogs written by current trainees and videos of recent graduates sharing their experience of our PGCE courses.
---
We are outstanding
Our latest Ofsted report, published November 2018, rates teacher education at the Faculty of Education as Outstanding.
We are also ranked number one teacher training provider in England in the Good Teacher Training Guide.
---