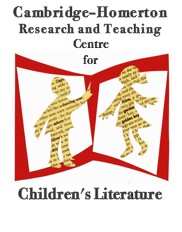 The Cambridge/Homerton Research and
Teaching Centre for Children's Literature
Is a joint enterprise between the Faculty of Education and Homerton College
Both institutions have a long tradition in children's literature and a strong national and international profile for high quality research and teaching. The Centre brings together researchers, teachers and students in a vibrant, thriving scholarly community.
News
Claudia Mendes, PhD Student and Visiting Scholar for 2015 from Federal University of Rio de Janeiro, Brazil, shared the following report upon the completion of her visit: "I had an extraordinary experience as a visiting scholar at the Centre for Children's Literature for one year. Being part of such a vibrant and international community of researchers broadened my horizons in unexpected ways. Besides finding precious resources for my current research, I made friends for life and developed ideas for future joint projects. As a researcher in picturebooks, I had great time meeting my colleagues every other week at the Picturebook Club, where we examined interesting books, discussed stimulating articles and exchanged impressions about our investigations. We had access not only to the wonderful libraries at the Faculty of Education and Homerton College, but also the University Library. My host, Maria Nikolajeva, was very welcoming and encouraging, and I am very thankful to her for granting me such a unique opportunity."
On December 1, 2015, Anna Savoie won the 2015 Jacqueline Wilson Award for her MPhil Thesis.
On November 14, 2015, the Centre hosted its annual Open Day at the Mary Allan Building, Faculty of Education, from 2-5pm. The award-winning children's book author and illustrator Mini Grey was the guest speaker.
From September 15-19, 2015, the Centre celebrated the 150th anniversary of 'Alice in Wonderland,' the UK's largest celebration of its kind, entitled 'Wonderland at Homerton College,' inclusive of a three-days international conference, a gala mad tea party, and many other attractions.
On September 10, 2015, the celebrated writer Meg Rosoff delivered the 8th Annual Philippa Pearce Memorial Lecture.
On June 2, the Centre celebrated the launch of three publications by its members: 'Children's Literature and the Posthuman,' by Dr. Zoe Jaques, 'The Mighty Child,' by Dr. Clementine Beauvais and 'Cambridge Literary Review, Vol. 8,' edited by Eve Tandoi.
On May 15, the Centre played host to a Bilateral German-UK PhD workshop in Children's Literature, where students from the Universities of Siegen (Germany) and Cambridge came together to participate in a hands-on research workshop to peer-critique a piece of work and have their own work peer-critiqued as well as assessed by a senior colleague.
On March 6, the Centre organised an international mini-symposium titled 'Digital Literature for Children,' where various scholars innovatively discussed the potential and politics of this contemporary genre.
The year 2014-15 saw numerous well-respected and new scholars and practitioners of children's literature, such as Juliet Dusinberre, Seth Lerer, Peter Hunt, Pamela Smy, Nancy Wei-Ning Chen, and many others visiting and presenting their research at the Centre.
The Centre's 2014 Open Day took place at the University of Cambridge's Faculty of Education on Saturday 22nd November. For further information on the event, please click here.
Please click here for information concerning 'The Poetry and Memory Project', which began in January 2014. The interdisciplinary research project investigates the experience of poetry learning and is lead by senior lecturer David Whitley and fellow researcher Debbie Pullinger.
Read the latest entry on the Children's Literature at Cambridge blog.
Join the Cambridge Children's Literature Facebook group.
What we do
Because of its unique foundations, the Cambridge/Homerton Centre has distinctive strengths that combine to make it a special place for children's literature research. We aim to:
create a favourable environment for high-quality and innovative research in children's literature
combine literary, aesthetic and educational approaches to the subject
accommodate theoretical, empirical and interdisciplinary research
support practitioners through dissemination of research findings
We have active links with:
the artistic community of authors, artists and poets
literary and artistic institutions, including the Arts Council, the Poetry Society, the Poetry Book Society, Book Trust, and the British Council
other children's literature research centres and research institutions, nationally and internationally
The Philippa Pearce Memorial Lecture
This is a series of annual lectures given in memory of Philippa Pearce. Previous speakers include Michael Rosen, Michael Morpurgo, Philip Pullman and Malorie Blackman. For information pertaining to the forthcoming annual lecture, please click here.
The Astrid Lindgren Memorial Award
The Centre is a nominating body for the Astrid Lindgren Memorial Award. Please click here for further information.
The Jacqueline Wilson Award
Established in 2010 in recognition of the high quality research in children's literature at the Faculty of Education and Homerton College, this award for an outstanding Master's thesis has been made possible through a generous donation by Jacqueline Wilson, one of the most popular children's books writers in the UK. The winner of the 2014 award was Annabel Leigh. Information concerning the 2015 Jacqueline Wilson Award ceremony will be released in due course.
The Child and the Book Conference
In 2012, the Centre hosted the eighth international Child and the Book conference at the Faculty of Education in Cambridge. Please click here for further information on this particular event.