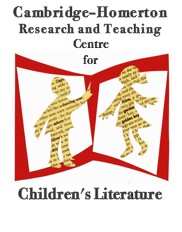 The Cambridge/Homerton Research and Teaching Centre for Children's Literature
Is a joint enterprise between the Faculty of Education and Homerton College
Both institutions have a long tradition in children's literature and a strong national and international profile for high quality research and teaching. The Centre brings together researchers, teachers and students in a vibrant, thriving scholarly community.
News
Dr. Clémentine Beauvais from The University of Cambridge will be giving a talk entitled 'The miserly adult and the eternal child: an existentialist reading of The Little Prince'. Having recently been appointed a Junior Research Fellow at Homerton College, Clémentine will be presenting on Wednesday 20 November. For further information, please click here.
Dr. Helena Hoyrup from The University of Copenhagen, Denmark, will be giving a talk entitled 'Digital Literacy - A Cultural Perspective on Knowledge Mediation' on 21st November 2013. For further information, please click here.
Anna Nordenstam from Gothenbrug University, Sweden, joins the centre as a visiting scholar in August for a period of six months. Her research project is on the representation of birthday parties in children's literature.
Read the latest entry on the Children's Literature at Cambridge blog.
Join the Cambridge Children's Literature Facebook group.
What we do
Because of its unique foundations, the Cambridge/Homerton Centre has distinctive strengths that combine to make it a special place for children's literature research. We aim to:
create a favourable environment for high-quality and innovative research in children's literature
combine literary, aesthetic and educational approaches to the subject
accommodate theoretical, empirical and interdisciplinary research
support practitioners through dissemination of research findings
We have active links with:
the artistic community of authors, artists and poets
literary and artistic institutions, including the Arts Council, the Poetry Society, the Poetry Book Society, Book Trust, and the British Council
other children's literature research centres and research institutions, nationally and internationally
The Philippa Pearce Memorial Lecture
This is a series of annual lectures given in memory of Philippa Pearce. Previous speakers include Michael Rosen, Michael Morpurgo, Philip Pullman and Malorie Blackman. For information pertaining to the forthcoming annual lecture, please click here.
The Astrid Lindgren Memorial Award
The Centre is a nominating body for the Astrid Lindgren Memorial Award. Please click here for further information.
The Jacqueline Wilson Award
Established in 2010 in recognition of the high quality research in children's literature at the Faculty of Education and Homerton College, this award for an outstanding Master's thesis has been made possible through a generous donation by Jacqueline Wilson, one of the most popular children's books writers in the UK. Previous winners include Clementine Beauvais (2010) and Susan Tan (2011). Nominations for this year's award will be made in due course, whilst the ceremony itself will take place in December.
The Child and the Book Conference
In 2012, the Centre hosted the eighth international Child and the Book conference at the Faculty of Education in Cambridge. Please click here for further information on this particular event.