A vibrant network dedicated to leadership, learning and their inter-connection.
Leadership. Learning. Two ideas at the heart of education. Both are complex, open to widely differing interpretations and the subject of continuing debate among academics, policymakers and practitioners. The LfL network is concerned with both concepts and particularly with their connection, seeking to understand and share knowledge about leadership in education that supports learning.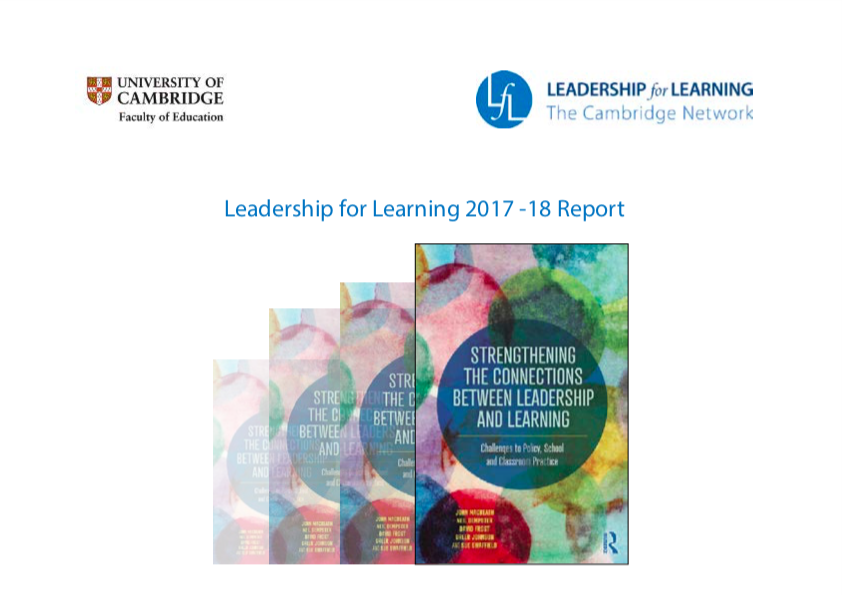 The 2018 Annual Report offers an overview of our recent work and current focus and reach. Read online or download as a PDF.
Explore About to learn about our principles and framework, the team behind LfL, our Current Collaborations, Publications (including our own series InForm), our Resources, and also opportunities for Visiting and Studying with us.
Events carries details of our seminars and conferences.
Projects introduces our current portfolio and also contains a rich archive of resources from past programmes.
Join us to become part of the network and keep in touch via our regular newsletters


New Publications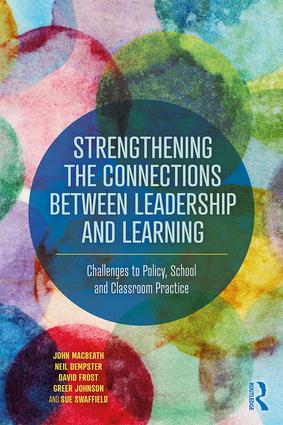 Strengthening the Connections between Leadership and Learning
By John MacBeath, Neil Dempster, David Frost, Greer Johnson, Sue Swaffield
Examining a decade of research and practice, this book makes the case for a radical reappraisal of leadership, learning and their interrelationship in educational policy. Discussing whether policy direction is progressively constraining the professionalism and initiative of teachers and school leaders, it challenges conventional understanding and argues the case for thinking differently about the way to lead learning.
It is an essential read for postgraduate students, especially those in leadership in education, as well as for teachers and policymakers in schools.
Read more here, and find this book on Routledge.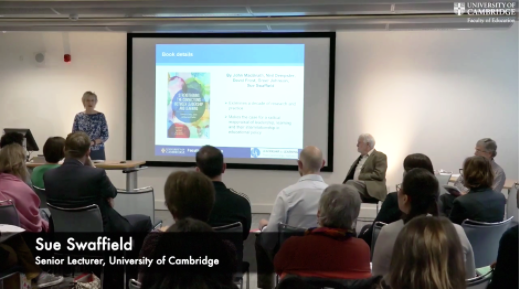 We were thrilled to see so many of you and meet some new members at the book launch! If you couldn't join us in person, or would like to re-visit this interesting event, you can now watch the film footage online.
.
InForm 19 - Teacher Leadership: a tragedy in five parts?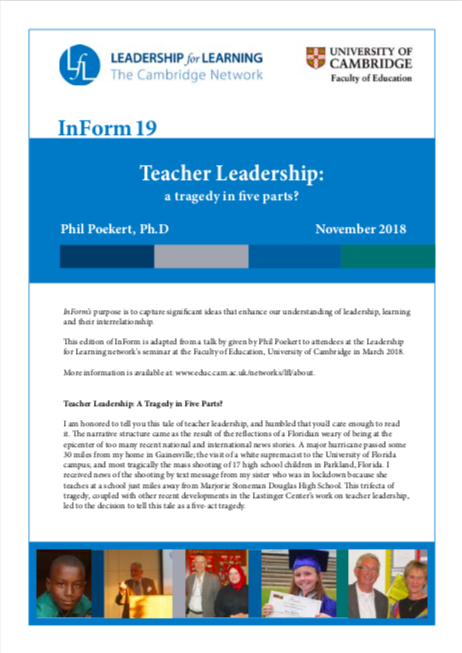 The development and practice of teacher leadership is directly aided and inhibited by the conditions for learning that exist within a school setting and the policy context in which it operates.
This latest InForm is adapted from a talk given by Phil Poekert to attendees at the Leadership for Learning network's seminar. This seminar drew on the creation of the Teacher Leadership for School Improvement graduate degree program at the University of Florida and the subsequent theoretical model for teacher leadership development that emerged from its implementation in contexts across the State. Noting that external support from a university and philanthropy were key facilitators, the seminar entertained the question: "if external support seems necessary, what hope do we have of institutionalizing teacher leadership within schools?"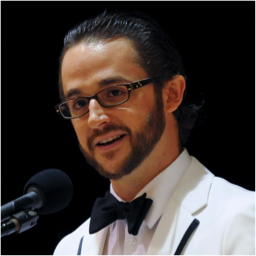 Phil Poekert is the Director of the University of Florida Lastinger Center for Learning. His research focuses on the development of teacher leadership and the impact of collaborative professional development on teaching quality.
You can read this InForm online or download as a PDF.
.
Events
Leadership for Professional Learning International Symposium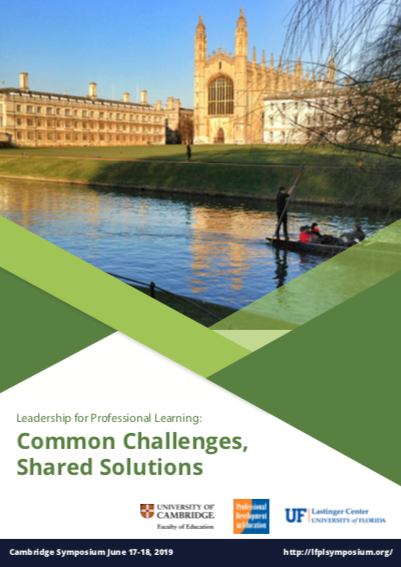 JUNE 17-18, 2019 | CAMBRIDGE, UK
Apply before 15 January for early-bird rate
The LEADERSHIP FOR PROFESSIONAL LEARNING SYMPOSIUM will convene a small (max 100) diverse group of educational leaders focused on leading and enabling sustainable professional learning cultures. Participants will share innovations, research and lessons from their experience, and be able to seek support and solutions to challenges facing the field.

The structured dialogue over two days will be focused around five strands:
1. FOCUSING ON, AND CONDITIONS FOR, PROFESSIONAL LEARNING
2. DIALOGUE, PROFESSIONAL LEARNING AND LEADERSHIP
3. SHARED LEADERSHIP AND MUTUAL ACCOUNTABILITY FOR PROFESSIONAL LEARNING
4. STUDENT LEARNING AND LEADERSHIP
5. LEADERSHIP WITHIN A VIRTUAL LEARNING SPACE
The symposium, being held at a high quality venue, is designed to connect educational leaders (in the broadest sense) worldwide, serve as a catalyst in the creation of new ideas, and lead to academic and practice outputs.
Application proposals are invited from anyone with something to offer to the dialogue about leadership for professional learning: teachers and students from all phases and types of education; school, organisation and system leaders; researchers, academics and policy influencers.
Registration is only possible once your proposal has been accepted. Proposals submitted by 15 January 2019 will be reviewed in time to meet the date for early-bird registration rate. We are planning for a diverse group of participants and contributions, and welcome proposals from anyone with a perspective on the leadership of professional learning in the field of education. Due to the nature of the event the number of places available at the symposium is limited.
The organisers and advisory group are keenly awaiting your proposals!

LEARN MORE AT: http://LFPLSYMPOSIUM.ORG/

Click Here for the proposal submission form.
For any queries please contact info@lfplsymposium.org cc lfl@educ.ac.uk. You can also download the flier.
A collaboration among;
The University of Cambridge Leadership for Learning Network
The University of Florida Lastinger Center for Learning
'Professional Development in Education' international journal.
.
Supper Seminar: Myths, bears, monsters and muddles – leading and learning with stories.
We are delighted to announce that Louise Johns-Shepherd will be leading our next LfL Network supper seminar.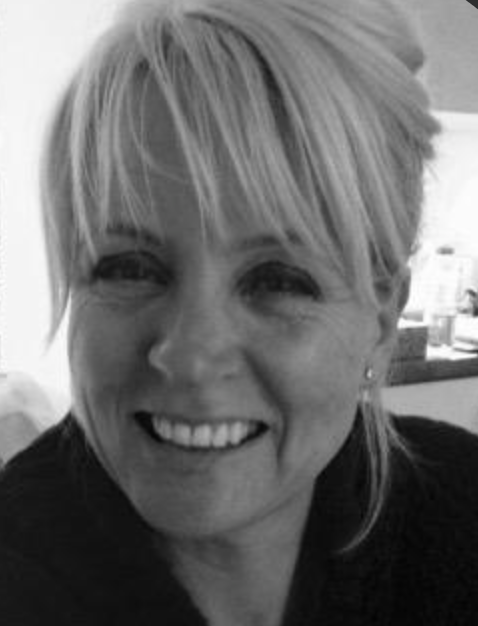 Louise is the inspiring and tireless leader of Britain's Centre for Literacy in Primary Education (CPLE) whose belief that every child can learn and succeed is equalled by her determination that we should all help ensure they do succeed.
Her career has included headships in diverse urban schools, leadership of a highly innovative and successful London Education Action Zone and of school networks at the National College for School Leadership. She also held responsibility for Personalisation and Progression in learning at the National Strategies. These roles involved leading across-phases and across-communities.
Louise will talk about the values, beliefs and knowledge that have guided her in these varied and challenging roles including her current role as a champion of literacy and learning. She will also reflect on how her approach to leadership and to leading and inspiring learning has evolved through her career and on key influences that have shaped her as a leader.
This supper seminar will take place on Wednesday the 15th of May, 5pm-7pm at the Donald McIntyre Building, Faculty of Education (exact room tbc).
Please register for this free event by emailing lfl@educ.cam.ac.uk.
Details of other recent events can be found here.

LfL Resources