A vibrant network dedicated to leadership, learning and their inter-connection.
Leadership. Learning. Two ideas at the heart of education. Both are complex, open to widely differing interpretations and the subject of continuing debate among academics, policymakers and practitioners. The LfL network is concerned with both concepts and particularly with their connection, seeking to understand and share knowledge about leadership in education that supports learning.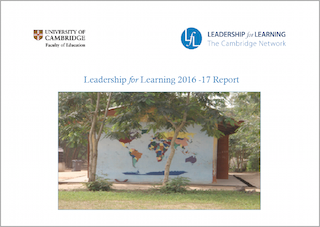 The 2017 Annual Report offers an overview of our recent work and current focus and reach. Read online or download as a PDF.
Explore About to learn about our principles and framework, the team behind LfL, our Current Collaborations, Publications (including our own series InForm), our Resources, and also opportunities for Visiting and Studying with us.
Events carries details of our seminars and conferences.
Projects introduces our current portfolio and also contains a rich archive of resources from past programmes.
Join us to become part of the network and keep in touch via our regular newsletters


New Publication
Strengthening the Connections between Leadership and Learning
By John MacBeath, Neil Dempster, David Frost, Greer Johnson, Sue Swaffield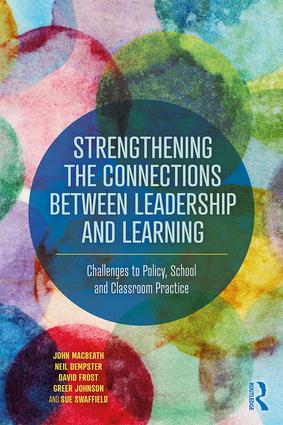 Examining a decade of research and practice, this book makes the case for a radical reappraisal of leadership, learning and their interrelationship in educational policy. Discussing whether policy direction is progressively constraining the professionalism and initiative of teachers and school leaders, it challenges conventional understanding and argues the case for thinking differently about the way to lead learning.
Based on the Leadership for Learning (LfL) Project, the book clarifies, extends and refines LfL principles and practices, and their contribution to ameliorating some of the difficult conditions encountered in the contemporary educational policy environment. It starts by discussing the direction and influence of current education policy and its subsequent consequences; chapters then move on to explore the framing values informing the LfL Projects, particularly focusing on what they imply for commitments to social justice, children's rights and breadth in student learning, and considering how to create favourable conditions for learning.
Identifying a disconnect between seminal principles and the nature of day-to-day practice, Strengthening the Connections between Leadership and Learning challenges school policy and practice at national and local levels. It is an essential read for postgraduate students, especially those in leadership in education, as well as for teachers and policymakers in schools.
Find this book on Routledge.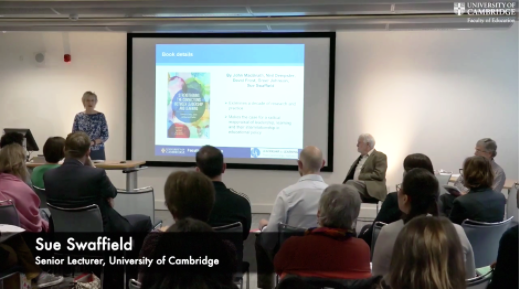 We were thrilled to see so many of you and meet some new members at the book launch! If you couldn't join us in person, or would like to re-visit this interesting event, you can now watch the film footage online.
.
Events
SAVE THE DATE: International Symposium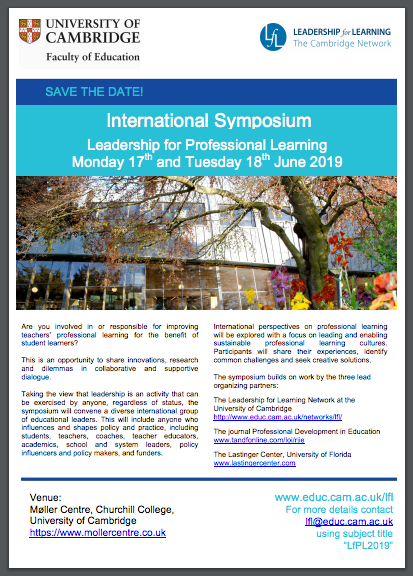 Leadership for Professional Learning
Monday 17th and Tuesday 18th June 2019, Cambridge UK
A joint partnership between The Leadership for Learning Network (University of Cambridge), The Lastinger Center (University of Florida) and the journal Professional Development in Education
Are you involved in or responsible for improving teachers' professional learning for the benefit of student learners?
This international symposium is an opportunity to share innovations, research and dilemmas in collaborative and supportive dialogue. Taking the view that leadership is an activity that can be exercised by anyone, regardless of status, the symposium will convene a diverse international group of educational leaders. International perspectives on professional learning will be explored with a focus on leading and enabling sustainable professional learning cultures.
For more information, you can download the flier and email us at lfl@educ.cam.ac.uk using the subject title "LfPL2019" to confirm your interest.
.
Upcoming Seminars

Both upcoming seminars below will be led by Dr Angela Fenton, Associate Head of the School of Education, Charles Sturt University, Australia.

Strengths Approaches to Education linking to the LfL Framework

Angela will introduce the use of a socially-just approach to bringing about change, known as the Strengths Approach (McCashen, 2005), and examine how it aligns with the five key principles of the LfL framework. Angela will use photos and examples from her strengths research with Charles Sturt University and local schools/services to present a portrait of how she is examining leadership for learning in a unique Australian cultural context.
Monday 8th October, 4.15pm - 5.45pm

Room GS3 - Faculty of Education, DMB,
University of Cambridge, 184 Hills Road, CB2 8PQ, UK
All welcome. Free to attend, please email lfl@educ.ac.uk to register. Refreshments served.
Case Study and Strengths Approaches Research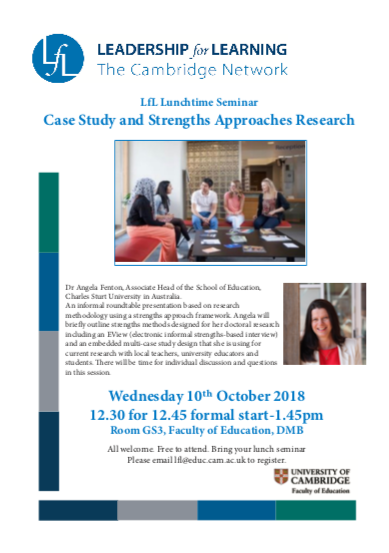 An informal roundtable presentation based on research methodology using a strengths approach framework. Angela will briefly outline strengths methods designed for her doctoral research including an EView (electronic informal strengths-based interview) and an embedded multi-case study design that she is using for current research with local teachers, university educators and students. There will be time for individual discussion and questions in this session.
Wednesday 10th October, 12.30 for formal start at 12:45pm - 1.45pm

Room GS3 - Faculty of Education, DMB,
University of Cambridge, 184 Hills Road, CB2 8PQ, UK
All welcome. Free to attend, please email lfl@educ.ac.uk to register. Bring your lunch seminar.
Details of other recent events can be found here.

LfL Resources