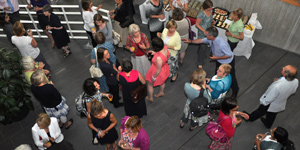 People in the Faculty
This section contains details of the research interests and teaching activities of people at the Faculty. The details are provided in the form of profile pages.
Academic Staff
The University of Cambridge Faculty of Education academic staff are committed to the highest standards of research and teaching - visit their profiles.
Associated Academic Staff
Our Associated Academic Staff includes an extensive array of researchers, project directors and teaching staff.
Doctoral students
Details of our Doctoral students are listed and their completed theses catalogued.
For a full, quick reference guide to all staff contact details, please see our Staff Contact List.
Senior Leadership Team

Co-Deputy Head of Faculty

Co-Deputy Head of Faculty
Director of Postgraduate Programmes
Director of ITT and UG Programmes
Director, International Initiatives

Kate Allen
Secretary of
the Faculty