CIAN News
January 2015:
A collection of recordings from the first Building Interdisciplinary Bridges Across Cultures (BIBAC) conference, held in October 2014 is now available via the University's Streaming Media Service. The collection includes the conference introduction by Professor Geoff Ward, Principal of Homerton College, Dr Alan Blackwell's opening keynote on Interdisciplinarity, Professor Jaideep Prabhu's keynote entitled 'Applying frugal and inclusive innovation: building bridges across cultures and practices' as well as a selection of presentations from across the three days. For the full list please visit: http://sms.cam.ac.uk/collection/1882655.
December 2014:
"Out of the shadows"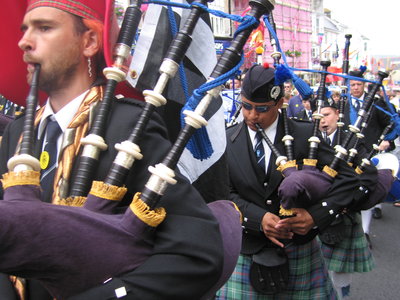 Last month I collaborated with the Northern Irish poet Scott Annett on a poetry response to a few tunes by the intercultural duo "Follow the Rats". As I was doing so, an idea music student Andrew Goldberg had floated at a seminar was lingering in my mind: "Notes are just shadows of performance, but a lot can be inferred from shadows." In a similar way, Scott and I attempted to infer something from the sounds by the two Follow the Rats musicians, Cassandre Balosso-Bardin and Phil Alexander. This all took place at a recent Building Interdisciplinary Bridges Across Cultures [BIBAC] international conference public event which was part of the Cambridge Festival of Ideas. The performance was a meaningful experience for us as performers, poets, researchers and teachers. We felt the audience enjoyed it too and realised that 'estrangement from oneself' emerges both in the creative and intercultural process.
The BIBAC international conference, was convened by Dr Pam Burnard and Valerie Ross. It was a result of the Commonwealth Creativities in Intercultural Arts Network [CIAN], founded and convened by Dr Burnard to advance and facilitate collaborations in intercultural arts practice, research and policy and to reconceptualise intercultural creativities in education. In a diverse programme, there were keynotes by Dr Alan Blackwell, Professor Liora Bresler and Professor Jaideep Prabhu. I was also moved by Liz Mackinlay's reminder on ethical research. Reflecting on interdisciplinarity, she stressed: "Laurel Richardson's assertion that anyone who thinks the 'creative and analytic are contradictory and incompatible' is a dinosaur waiting to be hit by a meteor."
The process of A/R/T/ography
The performance embodied the concept of A/R/T/ography, the multiple identities of 'Artist', 'Teacher', 'Researcher' that follow our personal and professional life journeys. Initially, Cassandre was just a name on an email to Scott and m. This enhanced the 'apprehensive appeal' of the unknown which is present in intercultural encounters. The three pieces of music Casandre sent us, a Barrel Organ Set, a Klezmer Set and a Galician Set, were our shared resource. A Galician Set sparked an interesting response. Both in Macedonia and Northern Ireland the bagpipe is used in traditional music. Subsequently, Scott and I stumbled upon the cultural stereotypes surrounding this instrument in the places we come from and we consciously tried to move past them. Afterwards Cassandre, who organised the 1st UK International Bagpipe Conference, pointed out that there are over 130 types of bagpipes in the world producing many different sounds.
Working with Scott and sharing poetic sensibilities, we discovered passions for fluidity, repetitiveness and sound-driven syntax. Surprisingly, we enjoyed the comic elements that pervaded the melodramatic sadness. Scott listened to the music repeatedly while I anticipated it by writing before listening to it and then did some automatic writing after hearing it. We both agreed on a prompt without discussing the meaning we attributed to it.
I contributed a poem in which Cassandre and I go backpacking, end up on a rooftop bonding over her late night bagpipe performance with the neighbours threatening to call the police. Scott's poem showed his internal poetic and cultural dualities and the influence of Seamus Heaney's writing. We both interrogated our cultural positionings – Scott's from Northern Ireland and mine from Macedonia. Yet we were challenged by the Eastern-European Jewish music of A Klezmer Set and found it impossible to give up our cultural baggage, even temporarily. To this confused response, Alan Blackwell programmed a visual art response on his laptop which sparked a discussion on 'liveliness' – the difference for both performer and audience between a live performance and a filmed one or recording.
To sum up, our attempts to overcome intercultural stereotypes confirmed their presence in our lives. After accepting this, the intercultural collaboration gave us new ways of considering what is beautiful and how we demarcate or melt the boundaries between our A/R/T/ography endeavours.
*Afrodita Nikolova [2014] is doing a PhD in Education. Picture credit: Golowan Festival Penzance June 2005 Mid-Argyl band2. Licensed under Creative Commons Attribution-Share Alike 2.0-uk via Wikimedia Commons.
---
IMPAC 19-21 November 2014
The 1st International Music and Performing Arts Conference (IMPAC) organised by the Faculty of Muisc and Performing Arts, Universiti Pendidikan Sultan Idris will be held in conjuction with the "Malaysian International Performing Arts Festival (MIPAF) (22-26 November 2014)" sponsored by Tourism Malaysia.
Introduction
This conference invites academicians, researchers, performers and practitioners in music and performing arts to share their research, ideas and creative works. We believe that innovative research, intellectual skills and creative ideas in music and the performing arts are crucial to the construction and shaping of an optimistic, humanistic and healthy society. This conference provides a conducive and scholarly environment to foster international dialogue and social networking for promoting, sustaining and strengthening the development of music and the performing arts at the national and global level.
Keynote speakers:
1. Y.B. Dato' Seri Mohamed Nazri Tan Sri Abdul Aziz, Minister of Culture and Tourism, Malaysia.
2. Professor Dr. Huib Schippers, Griffith University, Australia.
3. Professor Dr. Mohd Anis Nor, University Malaya, Malaysia.
Abstract submission deadline: 1st May 2014. Further details available from the IMPAC webpage.
BIBAC Conference 24-26 October 2014

Call for Papers for BIBAC 2014
BIBAC2014 is a 3-day international conference to be held from the 24-26 October 2014 in Cambridge, UK. Themed 'Building Interdisciplinary Bridges Across Cultures' the conference provides a platform for scholars, educators, researchers, creative arts practitioners, performers and composers to sculpture interventionary frameworks and challenge ways of thinking, presenting and researching in the nascent fields of interdisciplinary arts practice.
Visit our BIBAC conference page for further information and to download the Call for papers. Deadline for submissions 30th April 2014.
CFMAE14
The 3rd International Conference, The Changing Face of Music and Art Education, CFMAE14 took place April 24-25, 2014 at Tallinn University in Estonia. Conference themes were 'Communication' and 'Processes' and 'Intercultural Research' in several fields of music, art and art education.
Forum 4 Playscript
Forum 4 began with performance of a script titled "Playing inter-cultural/arts pedagogies". The purpose of the script was to interpret and express the learning from the first three CIAN fora, and in doing so, summarise the essence of our discussions from all fora in a way that embodied the intent of CIAN – to explore, disrupt and open up possibilities for creativity in intercultural arts research.
Join CIAN
Following the groundbreaking 2013 fora series held in Cambridge which brought together contributors from diverse backgrounds from around the world and marked the official launch of the network, the fellows are now collaborating with fora contributors on various bids and outputs. We will be updating the website regularly with new developments and you can also follow CIAN via the facebook page, or sign up to join the network.
The following images are samples of Visual Minutes from the 2013 fora series. Minutes were prepared by Ariadne Radi Cor.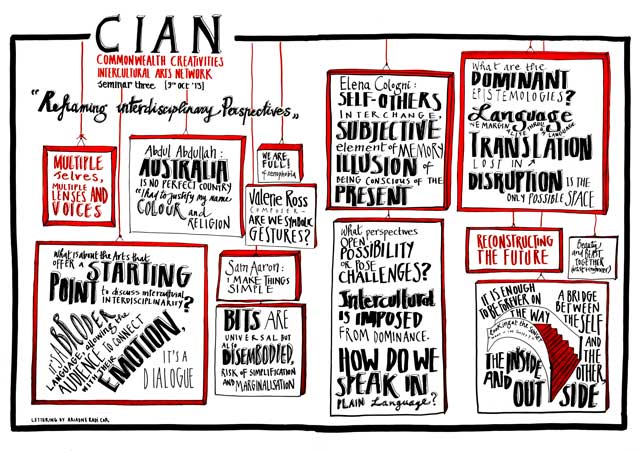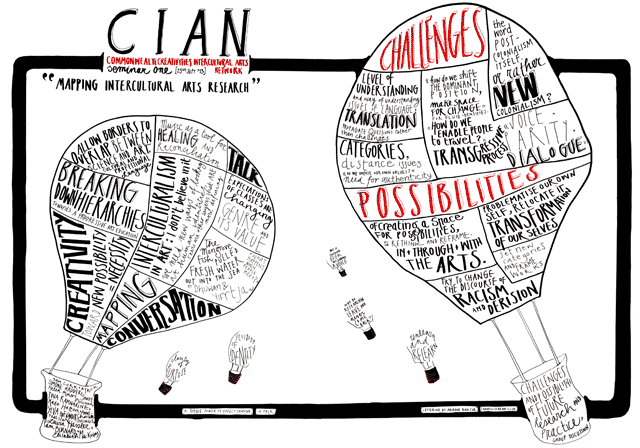 CIAN Fora series 2013. Download flyer.
Manuscript on Aboriginal identity wins the 2013 Stanner award
An Indigenous academic writer's manuscript on the way Aboriginal people understand and live out their Aboriginality has been named as the winner of the 2013 Stanner Award.
Dr Bronwyn Carlson, a senior lecturer at the University of Wollongong, was presented with the Stanner Award by AIATSIS (Australian Institute of Aboriginal and Torres Strait Islander Studies) Chairperson Professor Mick Dodson in a special ceremony at AIATSIS in Canberra.
Her manuscript 'The politics of identity: Who counts as Aboriginal today' uses a range of historical and research literature as well as interviews, surveys and a range of social networking sites to explore this complex and timely subject. More ...
Funding award
In March 2013 the Centre for Commonwealth Education agreed to fund three Visiting Scholar Fellowships for leading Commonwealth researchers working in the field of intercultural arts practices. Hosted by Pam Burnard, the Fellows will visit Cambridge for 4 weeks from 21st September to 20th October 2013 to collaborate on the formation of the Commonwealth Intercultural Arts Network (CIAN) to share research and performance practices; plan a joint research bid on intercultural arts practice; link projects across the Commonwealth; co-author scholarly articles and develop a website to expand the outreach of the network, disseminate information and build an international community of practice around intercultural arts practice and pedagogy in diverse settings. This initial phase will be followed up during a reciprocal visit by Pam Burnard to Australia in November 2014.
Initial Aims
The formation of the Commonwealth Intercultural Arts Network (CIAN);
A seminar series in both the UK (September-October, 2013) and Australia (November 2014);
A range of co-authored scholarly articles;
Expansion of the outreach of the network to disseminate information and build an international community of practice via the website;
Submission of a joint research bid on intercultural arts practice.
Planned outcomes of interconnected Commonwealth Fellowships