Special Events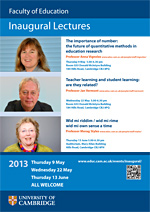 The Faculty of Education runs a wide variety of special events. These include lectures by eminent guest speakers, Professorial inaugural lectures, debates on controversial issues in Education as well as Professional Development taster sessions and sessions offered as part of the universities Science Festival and Festival of Ideas.
---
Upcoming Inaugural Lectures
From time to time new professors join the Faculty of Education, either through appointment to an advertised post or through promotion to professorial rank. It has become the custom, reasonably early in their tenure, for new professors to give an inaugural lecture, invitations to which are extended to colleagues within, and beyond, the University of Cambridge, and to the Professors' family and friends. The Faculty is delighted to announce that, during Easter Term 2013, inaugural lectures will be given by Professors Anna Vignoles, Jan Vermunt and Morag Styles.
Details of each lecture are below:
---