The Faculty of Education runs a wide variety of special events. These include lectures by eminent guest speakers, Professorial inaugural lectures, debates on controversial issues in Education as well as Professional Development taster sessions and sessions offered as part of the University's annual 'Science Festival' (Spring) and 'Festival of Ideas' (Autumn).
---

Festival of Ideas 2014
The Faculty held a full week of events for this year's University Festival of Ideas.
There was not only a great variety of evening talks between Monday 27 October and Thurs 30 October, but also an opportunity to share in some of the music events of the BIBAC conference.
---
Vice Chancellor opens Professor Pauline Rose's Seminar on the Education for All Global Monitoring Report
On Thursday 19 June 2014 Pauline Rose (pictured below), Professor of International Education at the Faculty of Education and previously director of the EFA Global Monitoring Report, gave a seminar in the Faculty's Donald McIntyre Building about the 2013/14 Education for All Global Monitoring Report published by UNESCO. Vice Chancellor Leszek Borysiewicz opened the event, stressing the importance of education, saying: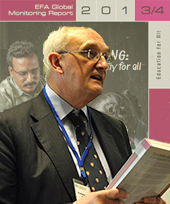 'This report matters. My take-home messages from it, in my own view from medicine, were very clear: if you educate, and you educate girls, you reduce maternal mortality, you reduce childhood mortality, you increase vaccination uptake, you improve everything that can happen through preventative medicine…When you do the back calculation…it is actually cheaper and more effective than building any number of hospitals.'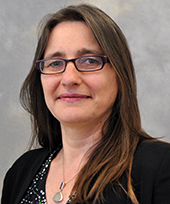 Dame Barbara Stocking, former CEO of Oxfam and current President of Murray Edwards College, acted as chair. The seminar was attended by around 70 people, including staff and students from the faculty, colleagues across the university and guests from external organisations, including Cambridge University Press, Cambridge Education and Cambridge International Examinations.
The Education for All Global Monitoring Report tracks progress in education worldwide each year and reaches a global audience including government ministers, policymakers, parliamentarians and education planners, as well as teachers, NGOs, university researchers and the media. Professor Rose's presentation highlighted the key findings of the report, the most significant of which is that many countries are unlikely to meet the 6 education goals in 2015 set by governments around the world in 2000. The presentation argued that the two reasons for this failure are lack of sufficient attention to the most marginalised and a chronic lack of finance for education. Professor Rose emphasised that a focus on these is needed for the new goals being set after 2015. The report's findings show that with current trends most poor rural girls are unlikely to complete primary schooling until 2086 unless urgent action is taken. In addition to this, poor-quality education is leaving 250 million children without basic education, even though half of these children spend at least 4 years in school. In order to address this learning crisis the Report shows the need for teachers to be supported in ways that will enable disadvantaged children to learn.
In response to the presentation there was a lively discussion, with participants raising a variety of points, including the role of technology in learning, how learning can best be monitored after 2015, how language affects learning, and the role of parents in children's learning. Dame Barbara Stocking closed the event by posing a question about how the faculty intends to build on its work in international education in the future. Professor Rose responded by noting that planning is currently underway to develop a research strategy for international education that will identify core areas of focus and include collaboration with colleagues in the wider university and beyond.