Valē, Peter Mitchell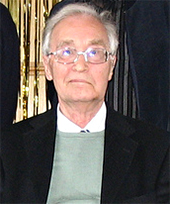 Peter Mitchell, who died on 20 January, aged 85, came to work for the Department of Education in 1974. There he became responsible for Secondary PGCE training in Religious Education and subsequently also made a major contribution to the teaching of Philosophy of Education, initially on the B.Ed course and then on the B.A. He was still teaching in the Faculty well into his seventies - and had been for many years a Fellow at Hughes Hall.
Peter came from a very large and Christian family. He once said that his mother had made all the boys train for different careers so that in times of need they would always be able to help each other. Hence in his first job he was a surveyor!
He maintained a wide range of interests in economics, ethics and philosophy of religion but his contribution in the faculty to philosophy of education spanned decades and was endlessly stimulating for both students and colleagues. He had a wonderful sense of humour and a deep sense of commitment to those he taught.
In training activities for PGCE RE he was also a true philosopher, theologian and critical friend to those he taught. His ability to spot and clarify aspects of a students' classroom practice which needed attention was legendary. His students were in awe of his ability to weave together theological, philosophical and ethical aspects of educational practice. He had a profound grasp of educational principles and a keen capacity to rigorously apply and interrogate them.
He will be missed by generations of RE teachers and by the hundreds of students at every level from undergraduate to postgraduate who came into contact with him.
Mary Earl, Chris Doddington and John Beck, 28 January 2014