The ChiPE project brings together Dr. Garcia's previous research in the EU FP6 project "INCLUD-ED" with Hargreaves' and Kershner's research on Children's Awareness of Learning and Knowledge "ChALK".
INCLUD-ED identified educational actions that enhance social cohesion by making sure (as far as possible) that no one is "left behind" at school. This is important not only because inclusion is the key to stability and welfare, but also because every child who cannot fully realize their potential constitutes a wasted talent. Wasting such talents can be avoided, according to the project's findings, mainly through: "inclusion" in the classroom and family participation at school.
ChALK revealed the existence of sophisticated younger children's beliefs about knowledge, traditionally uncovered in school. Dialogue played a crucial role in access and elicits those beliefs. Acknowledge and value children's knowledge from inside and outside school might potentially achieve potentially a more inclusive classroom.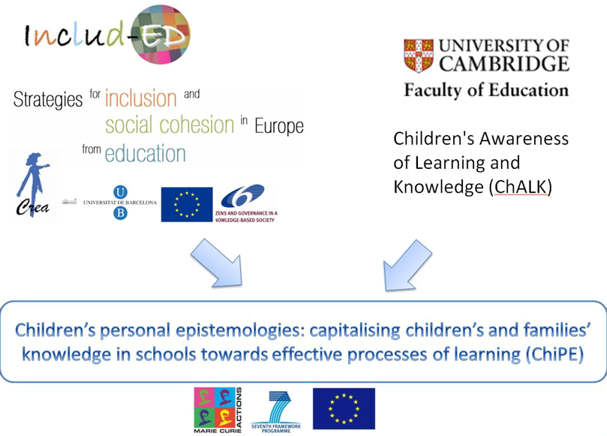 ChiPE is relevant to the EU Framework Programme of Research because...
Synergies between children's epistemic beliefs and academic success in schools working as learning communities, introduces a new variable in the analysis of an educational model that has already been recommended to be expanded in the enlarged EU.
Better understanding of the role of personal epistemology in schools contributes to develop and consolidate innovative educational practices in education systems.
The enhancement of effective teaching and learning in dialogic learning environments lays the foundations for providing people with more and better skills and competences.