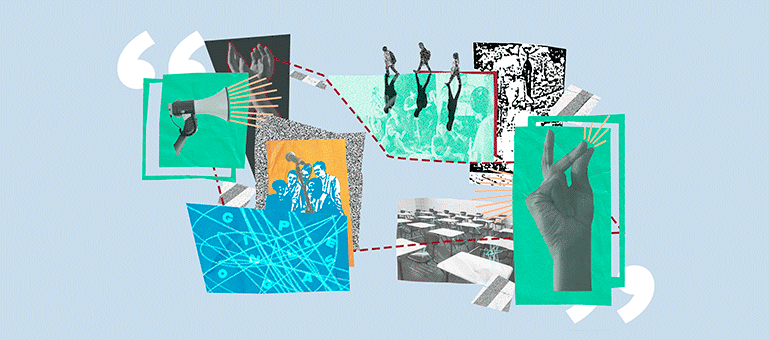 "Going Places" with the Spoken Word Community:
Youth Education Between Spiritual & Poetic Justice
Online | In-person 02 - 03 December 2022
How is the digital and live spoken word educating the young spirit? What does a reparative curriculum look like? How do youth imagine educational futures, or rather, how are youth poets already reimagining decolonial, abolitionist and just-peace pedagogies? Or, in the words of poet Bhanu Kapil: "Is a poet/ an imperial dissident, or just/ an outline/ of pale blue chalk?" What is spoken word's resonance with hip hop, grime, oral traditions, young adult literature, and performance art towards healing post-pandemic trauma? Noted by scholar Bettina Love, is the education system turning into an "educational survival complex", when schools feel like a roadmap to prison, not a place to thrive?
Conference format
"Going Places" will be a 2-day hybrid conference (online and in-person), inspired by the poem Going Places and its verses: "I think I'll paint roads/ on my front room walls/ to convince myself/ that I'm going places", penned by acclaimed British author Lemn Sissay OBE, who will open the conference. The government requires English Schools to teach for young people's spiritual, moral, social, and cultural development with British Values, known as SMSC, rife with historical prejudice. With Covid-19 poetry cuts on the GSCE, UK youth poet Kadish Morris warned "poetry saved me, don't deny to next generation". The conference will bring together young people, poets, educators, teachers, academics, scholars, creative and cultural organisers, activists and policy-makers, to harness community to "go places" spiritually, morally, socially, and culturally. In this spirit of this, the opening welcomes special guest poets from Young Identity.
Conference aims
The conference recognises Lemn Sissay's landmark legacy across poetry, education, advocacy and equity in the care system, which has been honoured by the Battersea Arts Centre's annual Festival - Going Places - celebrating the talent and work of care experienced artists. The Going Places festival was hailed as a "blueprint for arts institutions". The conference wishes to honour and extend the festival ethos to widening access in academia for underepresented groups to inspire careful work with artists as educators, community-builders and creative-critical researchers - offer a creative blueprint for education to counter intersectional trauma, and be a place to thrive, not survive.
First, the conference will critically celebrate spoken word poetry as a pioneering art form, which has innovated the British and international poetic landscape.
Second, we aim to centre young people's voices, and imagination to mobilise creative communities as sites of political activism and widening access to education.
Third, the conference will progress creative-critical, decolonial and intersectional research. We want to deepen conversations on countering state-sanctioned violence and social stigma reproduced in the elitist education system, and literary canon, which discredit the experiences and artistry of traditionally underserved young people and poets.
The conference views 'spoken word' as an aesthetic-political tool, rejecting stereotypical uses of the term 'spoken word artist'. The conference is held by ESRC-funded project, Poetic Justice Values that explored these questions, in collaboration with Manchester's spoken word collective Young Identity, founded by renowned poet Shirley May. Young Identity's award-winning poet Princess Arinola Adegbite aka P. A. Bitez captured the collective youth voice in her original poem Oral to A4, funded by the Cambridge Digital Humanities (CDH). A poetry video of Oral to A4 will launch on "AndWhat TV", a spoken word channel and education resource founded by Nicole May, Young Identity's Executive Director.
We invited proposals for 20-minute presentations. In addition, we encouraged submissions of imaginative, performance-based, and interdisciplinary format and collaborations.
---
Special Guest Speaker (Opening Reading)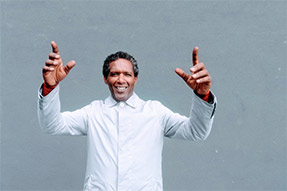 Lemn Sissay OBE
Lemn Sissay OBE is a poet playwright, memoirist performer and broadcaster.
Lemn's Landmark Poems in public spaces can be seen throughout Manchester and London at venues such as The Royal Festival Hall. His Landmark poems can also be found at The British Council in Addis Ababa.
In 2021 alongside Hans Ulrich Obrist of the Serpentine Gallery Lemn co-curated the acclaimed exhibition Poet Slash Artist which included artists and poets such as Lubaina Himid, Tracy Emin and Imtiaz Dharkar for Manchester International Festival 2021.
Lemn was awarded The Pen Pinter Prize in 2019 when his memoir 'My name Is Why' reached number one in The Sunday Times bestseller list. In 2021 it won Indie Book Awards non-fiction prize. If you google the name 'Lemn Sissay' all the returning hits will be about him. There is only one person in the world named Lemn Sissay.
Lemn is Chancellor of The University of Manchester. He is trustee of The Foundling Museum and The Christmas Dinners. He is patron of Twenty Stories High , The National Association for the Teaching of English Theatre and Ambassador for Place2B. University of Manchester runs The Lemn Sissay Law bursary. University of Huddersfield established and runs the first Lemn Sissay PhD scholarship for Care Leavers. He is artistic advisor to The Manchester International festival and was the Guest Director of Brighton Festival 2020 and 2021.
---
Speakers include one of the foremost UK writers Patience Agbabi FRSL, as well as leading scholars in education, social justice, the arts, and youth spoken word:

· Dr Helen Johnson - University of Brighton
· Dr Raphael D'Abdon (online) - Human Sciences Research Council (HSRC)
· Dr Sadia Habib - Manchester Institute of Education (University of Manchester) and Manchester Museum,
and the renowned youth mentor, poet Shirley May FRSL, CEO of spoken word collective Young Identity and - more speakers to be announced.

At the heart of the conference is social creativity and making community together to explore topics: live and digital poetry, educational justice, advancing youth spiritual well-being, and widening access in education, embracing lived experience, heritage, belonging and multilingual creativity, decolonising personal and collective traumas, and re-creating a reparative curriculum.
Art by © Naomi Gennery
---
Themes
Transnational Creative-Digital Experiments & "Writing Back"
Spiritual Youth Pedagogies & Civil Disobedience
Poetic Justice & the "Educational Survival Complex" (Read more in the Call for Papers).
Submissions were invited across Social Sciences, Arts, and Humanities (e.g. Education, Digital Humanities, Sociology, Prison Research, Literary/Cultural/Creativity Studies, Performing Arts). Careful consideration was given to proposals that meaningfully advance justice in spoken word and spiritual youth education, open to broad interpretation. The conference will result in a special issue and/or research network.
Topics include:
Social, restorative, and transformative just-education and education policy

The police state, hidden curriculum and love as decolonial ethico-political practice

Abolitionist theory in moral education and widening participation in higher education
Live and digital homeplaces of spoken word, grime-poetry, spoken word theatre, hip hop culture

Popular poetry, "popular postcolonialisms"? (Atia & Houlden, 2019)

Counter-stories of heritage, migration, chronic belonging, un/conditional hospitality (Ahmed, 2012)

Collective spiritual self-recovery, expansive compassion, and plurilingual pedagogy (hooks, 2003)

Social turn in poetic movements, digital pedagogies, and post-pandemic healing rituals

Trauma testimonies, poetry of witness and collective mourning

The practice and research of moral imagination in peace education in school and prisons contexts

Imaginaries of beloved futures with young adult literature and youth counterculture

Post-spoken word poetry canon and the creative industry

Creative-critical practice as research and transgenerational/intersectional justice

Destigmatisation and care in youth justice, and school to prison pipeline

Call for papers
Please see the original conference call for papers. All submissions have now been reviewed and the programme is well underway. Please send enquires to: PoeticJusticeValues@educ.cam.ac.uk.
---
Fees
We welcome international delegates and individuals from underrepresented groups in academia and the creative sector are especially encouraged to join us. Please refer to conference registration page for details about registration fees. A sizeable number of complimentary tickets are available for young people and individuals who would otherwise not be able to attend. Please email: PoeticJusticeValues@educ.cam.ac.uk.
Follow us on Twitter (@PJV_project) for announcement of the final programme and any upcoming news.
Key dates

Submission deadline closed
31 October 2022
Notification of acceptance

2 Nov 2022

Registration opened
Oct 18 2022
---
Conference Venue
The conference will be held in-person at the Faculty of Education and online. The Opening Address will take place at the North Wing Auditorium, Homerton College.
Registration
Registration is now open. Read more and register for Going Places 2022. Places are limited.
Get in Touch
Email:
PoeticJusticeValues@educ.cam.ac.uk.
Follow the Poetic Justice Project on Twitter: @PJV_project