Deutsche Samstagsschule Cambridge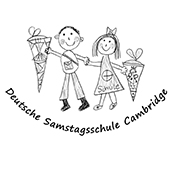 The German Saturday School Cambridge started in 2009 as a non-registered charity and in 2014, became a Community Interest Company (CIC), company number 08846916. As of 2016/17, it caters for over 70 children in the age range 5-14 years, divided into 6 classes. It currently meets in class rooms of St. Bede's school in Birdwood Road, Cambridge. On most Saturday mornings during term time, the German Saturday School provides two hours of lesson in German to German-speaking children in and around Cambridge. The aim is to support the children in their learning and use of the German language.
The school fosters a positive attitude towards the cultures from all German speaking countries and provides the children with a sense of normality to grow up in a multi-cultural environment. The children in the German Saturday School Cambridge advance their German language skills, including oral understanding, speaking, reading and writing. They experience typical German customs for festivals such as carnival, Easter, St. Martin, Nikolaus and Christmas.
The older children also learn about German geography and history. A small volunteer-run library of German books is available to all students. The German Saturday School Cambridge is part of the German-speaking and other bilingual communities in Cambridge. In particular, it allows children who have outgrown the German playgroup and pre-school to continue to broaden and strengthen their German language skills. In addition, it is a member of the Association of German Saturday Schools (VDSS), the umbrella organisation of German Saturday Schools in the United Kingdom.
Contact: info@schule-cambridge.org.uk