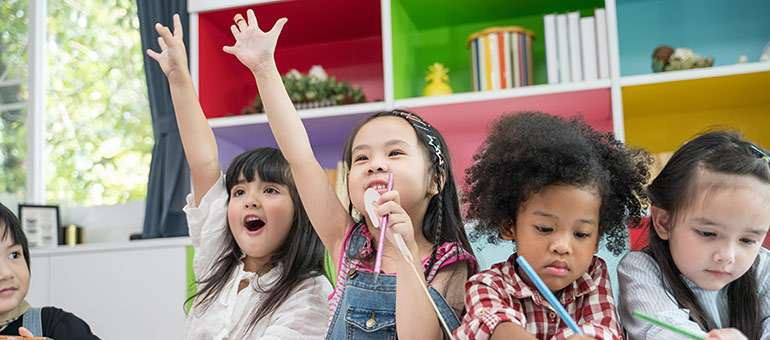 Lesson Study and Oracy to improve learning and teaching and to develop school systems and policy
Two linked areas of research, in Lesson Study and Oracy, have improved student outcomes, increased skill levels among teachers, and informed positive changes to school practice across the UK and internationally.

Our work
Oracy focuses on the ability to speak and listen effectively in different contexts, which is widely regarded as being of great importance to individuals' learning and life outcomes. Research by Faculty members Neil Mercer, Paul Warwick, and Ayesha Ahmed, conducted with School 21 in Stratford, London, enabled the development of an Oracy Skills Framework that has become central to practice for those developing oracy across schools.
In 2018, a Royal Society and British Academy report called for greater use of teacher-led classroom research in developing the UK education system. Building on Pete Dudley's development of Research Lesson Study (RLS) – a version of Japanese professional development in which teachers learn together through oracy. Research and development activities led by Faculty teams have extended the use of RLS across school systems in the UK and beyond, often with a focus on oracy at the work's heart.

The results
Several studies have shown that RLS increases teaching effectiveness dramatically in traditionally hard-to-teach areas of the curriculum. It also supports the development of strong teacher learning communities that work together and share what would otherwise often be unexpressed, tacit professional knowledge.
In an RLS study funded through the London Schools Excellence Fund, mathematics results increased against the national test average, even as the results of similar schools fell. Data gathered from 50 London RLS hub schools similarly showed that fewer students than predicted required additional teaching, while significantly more achieved or exceeded their expected learning outcomes. An independent study of 800 schools in England has recommended RLS as one of just two interventions for closing attainment gaps for underperforming groups. RLS is now used across the UK in an estimated 20% of English schools. It is a central tool of organisations such as the Teacher Development Trust. The core structure of the RLS approach has also been widely adopted internationally and the RLS handbook has been translated into nine languages.
The Oracy Skills Framework has become embedded in teacher development approaches nationally and internationally. School 21, the partner school involved in its development, has initiated a charity called Voice 21 which has provided CPD and school improvement for 6,000 teachers and 900 schools across the UK. Members of the research team have created 'Oracy Cambridge' and run an Oracy Leaders Programme. This work, in partnership with Voice 21, was pivotal in the establishment of an All-Party Parliamentary Group on Oracy Education, which aims to inform legislative changes to school practice. A report from Oracy Cambridge has also informed the development of a new oracy strand within the Welsh National Curriculum.