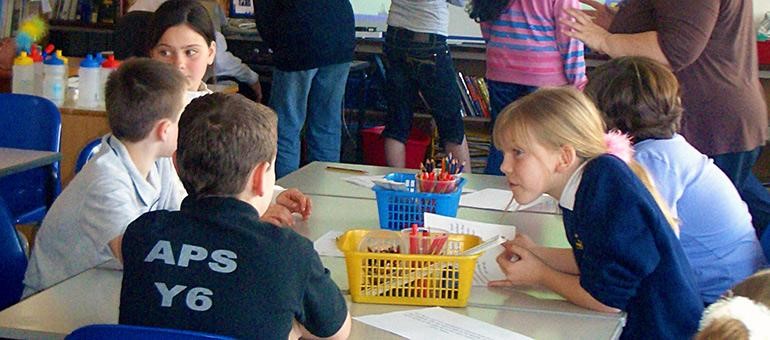 Teacher Scheme for Educational Dialogue Analysis (T-SEDA): An impact acceleration project
This project bridges and capitalises upon the outcomes of two recent research projects about classroom dialogue. 'Classroom dialogue' refers here to productive forms of student-teacher talk that stimulate students' critical thinking and help to develop students' deep knowledge and understanding in different subject areas.
Our recent large-scale ESRC-funded project encouragingly demonstrated that certain features of whole-class dialogue are strongly linked to student learning and positive attitudinal outcomes. This significant finding calls for widespread teacher professional development to promote this practice. We are now scaling up impact by employing a custom-designed set of guidelines to support teachers working independently of a research team. The impact project includes primary schools from the original ESRC sample as well as further primary/secondary schools and networks. The T-SEDA pack is an extensive resource that supports teachers in leading their own inquiry and impact activities. It focuses on identifying key features of classroom dialogue using a teacher-friendly version of the Scheme for Dialogue Analysis (SEDA) derived from British Academy funded research with Mexican collaborators.
T-SEDA has been developed by a team at the University of Cambridge that includes researchers and practising teachers. It has also been used by practising teachers beyond the team in a range of schools in different countries, across age groups and subject areas. This ongoing trialling has generated useful feedback which continues to improve the pack. A summary of the pack contents is as follows:
T-SEDA: A User's Guide

T-SEDA Resources
Section 1: Coding framework
Section 2: Developing dialogic practice
Section 3: Identifying aims, interests and inquiry focus
Section 4: Observation methods including technical guidance for audio/video recording and transcribing
Section 5: Templates for observing and coding
Section 6: Case studies
Section 7: References to other research on dialogue and links to related resources
Project activities to cascade impact and dissemination will include introductory impact workshops, remote support for professional development, and further engagement with a wider audience of practitioners. While our previous research has confirmed the value of working with teachers as research participants and co-researcher colleagues, we now aim to engage in wider capacity building in schools. This impact project relates to the current public policy push for teacher inquiry. Our approach is in line with what is already known about factors that support impact, including the furthering of existing networks and relationships with teachers, acknowledging the expertise and active role of teachers, developing good understanding of policy/practice contexts and encouraging teachers, as users, to bring their knowledge of context to enhance impact.
Anticipated outcomes include:
evidence of improvements in practice (higher quality dialogue features shown by our recent study to correlate with student attainment); increased teacher understanding of dialogue
insights into influence of teachers' initial understandings and levels of dialogic practice
impact case study materials including illustrative video exemplars
a resource website for dissemination
reports for schools and journal publication
Would you like to try out T-SEDA?
We are currently looking for teachers, lecturers and school leaders from any country, any age group and any subject to take part in our ongoing research with T-SEDA. No prior knowledge needed. You can use T-SEDA in order to address your own inquiry questions, adjusting it to your available time and resources. We will provide resources and conduct before and after research measures for you, so we can jointly chart impact over time – changes in teaching practice and/or student responses. This may include a short survey. For local teachers we may be able come and video your lessons before and after using T-SEDA as we want to build up a resource bank of video examples for general use. To register your interest please email us t-seda@educ.ac.uk
Information and materials
We are pleased now to have T-SEDA materials translated into Spanish and Mandarin
English
Information for teachers (T-SEDA) - updated 18/06/2018
Information for teachers (T-SEDA non-UK) - updated 18/06/2018
Teacher SEDA pack (V7c) Additional Resources
Teacher-SEDA pack (V7c) Editable templates
- Editable Template A for transcript coding
Teacher-SEDA pack Inquiry Report and case study template
Espanol
TSEDA v7b Plantillas Editables Version en espanol
TSEDA v7b Recursos Adicionales Version en espanol
Teacher-SEDA (V7b) - Esquema de codificación actualizado en Marzo de 2019 en respuesta a la retroalimentación de docentes participantes (ver secciones destacadas en amarillo para identificar los cambios). Como equipo T-SEDA, apreciamos su retroalimentación respecto del esquema de codificación así como los demás componentes de los recursos educativos T-SEDA. No dude en contactarnos con sus sugerencias o comentarios al correo electrónico del proyecto T-SEDA@educ.cam.ac.uk
Mandarin
Traditional Mandarin
教師教學對話分析資源_(版本7c)_PACK_TraMandarin
教師教學對話分析資源_(版本7c)_附加資料_RESOURCES_TraMandarin
教師教學對話分析資源_(版本7c)_可編輯模版_Editable Templates_TraMandarin
教師教學對話分析資源_(版本7c)_可編輯編碼模版_Editable Coding Templates_TraMandarin
教師教學對話分析資源_(版本7c)_關鍵詞翻譯_Key Terms_TraMandarin
T-SEDA Trial 2018-19
Our first formal trial has now finished and we will soon be reporting on its findings. But you are welcome to download the latest version of the T-SEDA resources, by clicking the links above. We would welcome feedback from your work with T-SEDA so please complete a short feedback form and send it to us using the email address below. If your institution requires an ethical clearance approval before you start your trial, please contact us and we will send you the approved form from the University of Cambridge accompanied by a covering letter.

Project Information
Investigators:
Sara Hennessy
Ruth Kershner
Other T-SEDA team members:
Farah Ahmed

Elisa Calcagni

Laura Kerslake
References
Vrikki, M., Kershner, R., Calcagni, E., Hennessy, S., Lee, L., Estrada, N., Hernández, F., and Ahmed, F. (2018). The Teacher Scheme for Educational Dialogue Analysis (T-SEDA): Developing a research-based observation tool for supporting teacher inquiry into pupils' participation in classroom dialogue. International Journal of Research and Methods in Education. Available here
Funder
ESRC Impact Acceleration Account
May 2018 - March 2019 (11 months); now extended to July 2019

Contact details
t-seda@educ.cam.ac.uk
Cambridge Educational Dialogue Research Group