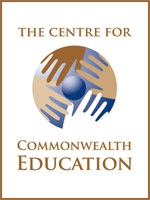 CENTRE FOR COMMONWEALTH EDUCATION
The Centre for Commonwealth Education within the Faculty of Education receives significant funding from the Commonwealth Education Trust. The Commonwealth Education Trust and the University have established the Centre within the Faculty to make a vibrant and long term contribution to primary and secondary education, and to initial and continuing teacher education, throughout the Commonwealth.
Forthcoming Seminars:

Young People Still Revolting into Style as a Political Act: Mixing and Breaking the Urban Codes of Austerity and Xenophobia - Jo-Anne Dillabough (Thursday 5th December, 1.30-3.30 pm)

Faculty of Education, Room 2S8.

Learning from Good Practice: Raising School Performance in Developing Countries (Monday 9th December, 16:00-17:30 pm)

Faculty of Education, Room DMB GS4

ALL WELCOME

See the ZAPP website for news of the Southern African Poetry Project launch in South Africa
CCE Initiatives
See our Initiatives page, or click on the images below to visit individual project pages:
---
CCE Seminars and podcasts:
Podcasts of CCE seminars are available via the University of Cambridge Streaming Media Service.
---