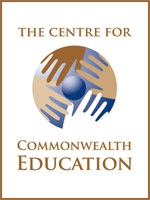 CENTRE FOR COMMONWEALTH EDUCATION
The Centre for Commonwealth Education within the Faculty of Education receives significant funding from the Commonwealth Education Trust. The Commonwealth Education Trust and the University have established the Centre within the Faculty to make a vibrant and long term contribution to primary and secondary education, and to initial and continuing teacher education, throughout the Commonwealth.
Forthcoming workshop:

Language, Learning and Literacy in Africa: Practical and Policy Aspects of Effectively Implementing Bilingual Primary School Literacy Programmes

CCE is hosting a two day workshop on Language, Learning and Literacy in Africa on 24-25 March, 2014.

Download workshop programme for further details or click on image to download the flyer.

Further details also available via Talks.Cam
Forthcoming guest seminar:
Wednesday 26th March, 17:00-19:00, DMB 1S3
High School Regulatory Environment and Student Disengagement
Jeremy D. Finn, Graduate School of Education, State University of New York
Further details are available via Talks.cam and from our Seminars page.
ALL WELCOME
---
CCE Initiatives
Click on the images below to see examples of some current and emerging projects. Visit our Initiatives page to see the full range of CCE work.
---
CCE Seminars and podcasts:
Podcasts of CCE seminars are available via the University of Cambridge Streaming Media Service.
---