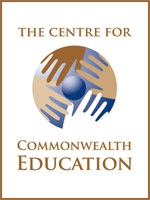 CENTRE FOR COMMONWEALTH EDUCATION
The Centre for Commonwealth Education within the Faculty of Education receives significant funding from the Commonwealth Education Trust. The Commonwealth Education Trust and the University have established the Centre within the Faculty to make a vibrant and long term contribution to primary and secondary education, and to initial and continuing teacher education, throughout the Commonwealth.
CCE Initiatives
See our Initiatives page, or click on the images below to visit individual project pages:
---
CCE Seminars and podcasts:
Podcasts of the recent Patricia George seminar on Opportunities, Risks and Challenges in Paradise: Educational Issues for the Future in Antigua and Barbuda and the Adrienne Alton-Lee seminar on The Use of Evidence to Improve Education and Serve the Public Good are now available as part of our 2012 Seminar Series collection via the University of Cambridge Streaming Media Service. (click on the images below to view seminars)
---
'The Power of Caribbean Poetry - Word and Sound'

The Caribbean Poetry Project conference, held at Homerton College 20-22 September, was hugely successful drawing participants from fifteen countries around the world and bringing together an historic combination of poets and speakers. The conference combined keynote lectures, academic papers, poetry readings and included a final day with workshops and a special focus on teaching for practitioners. Click on the image to view full report.
For a selection of blogs, papers and presentations from the conference please visit the project website.