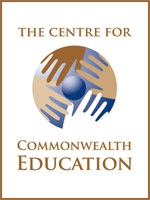 The Centre for Commonwealth Education within the Faculty of Education received significant funding over the period 2007-2014 from the Commonwealth Education Trust. The Commonwealth Education Trust and the University established the Centre within the Faculty to make a vibrant contribution to primary and secondary education, and to initial and continuing teacher education, throughout the Commonwealth.
Link to CCE Seminar Podcasts
Click on the images below to see examples of projects undertaken over this time period.
Podcasts of CCE seminars are available via the University of Cambridge Streaming Media Service.