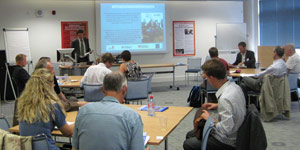 A doctorate designed
for educational professionals
The EdD is an innovative programme that harnesses the experience of excellent doctoral research at Cambridge in order to generate, develop and disseminate professional knowledge and support innovation that will have social, educational and practical impact. Participants in the EdD programme will design and implement substantial research projects while working within research communities. Candidates for the EdD will be experienced educational professionals, including teachers, school leaders and those working in related fields (for example, policy, advice and support or management), who are committed to extending their understanding and improving practice in their schools and educational systems through researching and theorising policy and practice.
If you are interested in visiting us, why not attend one of our EdD information sessions?
EdD One-Day Conference 2015
As part of the EdD programme, a one-day conference focused on 'Generating Impact Through Practice-based Doctoral Research Designed for Educational Professionals' is planned for Saturday 27 June 10.00-16.00.
Along with EdD papers and poster sharing sessions, roundtable discussions and networking, we are pleased to announce that Dr. Julia Flutter will be joining us to kick off the day with some inspirational showcasing of her work in educational research. Julia has not only worked with some of the UK's most influential educational researchers and thinkers, she has seen at first hand how education investigations are received in the public, political and practitioner domains. In this keynote she addresses some of the key debates surrounding notions of impact.
I am thrilled that our EdD teaching team, research community facilitators, and many of our EdD supervisors will be joining us. This event promises to be a very rewarding and enjoyable opportunity for each of the EdD year cohorts to network and share how educational professionals are generating impact through doctoral research.
Click here to read more about the conference. To submit a paper or poster, email EdDconference2015@educ.cam.ac.uk. Register your attendance here. Non EdD community members who wish to attend, register here.
Course Structure
The Doctor of Education is a 5 year, part-time, research degree, which is designed for educational professionals working in the United Kingdom.
In order to ensure that the EdD is accessible to practitioners, meetings will take place outside school hours. The EdD Research Methods programme will comprise a series of twilight sessions (5-8pm) and Saturday conferences (9am-1pm). Participants will also attend specially-tailored sessions with their chosen EdD community, as well as one-to-one supervisions with an academic whose expert interests link with the area in which they are conducting their research.
In the first two years there will be a programme of twilight sessions, EdD community meetings and Saturday conferences. The programme is more intense in Year 1: the number of taught research sessions being four per term and in Year 2 only three. Saturday conferences will become less frequent beyond Year 1 and in Years 3 and 4 support will increasingly take the form of supervision as students focus on their own research.
As the EdD programme comprises of twilight sessions and Saturday conferences, those wishing to apply are normally expected to live within a maximum of four hours travelling time of Cambridge. Those living at a greater distance than this are unlikely to be admitted to the programme.
EdD Communities and the research methods programme
The EdD is designed to facilitate knowledge building through engagement with practitioners and policy makers. An important aspect of the work of the EdD Communities is a focus on strategies for maximising the impact of students' research and dissemination of the outcomes.
Supervision
One of the great strengths of studying at Cambridge is the level of individual support you will receive from an expert in your field. The Faculty assigns all doctoral students a personal supervisor to guide them through their course. You will meet with them regularly to discuss progress and submit written work for scrutiny and comment at appropriate times. Doctoral students are also allocated an advisor who will offer additional, but less regular, support and with whom you can discuss your progress.
Your supervisor will help you to clarify your ideas, keep you on target and help you to meet and understand the standard of work required. He or she will direct you to information and resources, and should help you to produce research at a very high level. He/she will take a major role in guiding and supporting the conceptualisation and execution of the research whilst allowing you to develop the skills of an independent researcher and take responsibility for all aspects of planning, carrying out, and writing-up your research project.