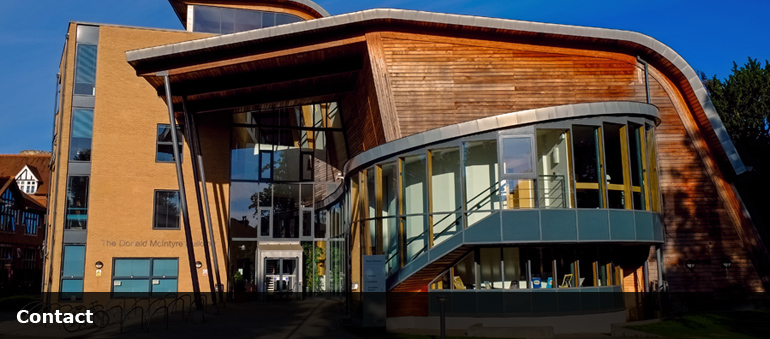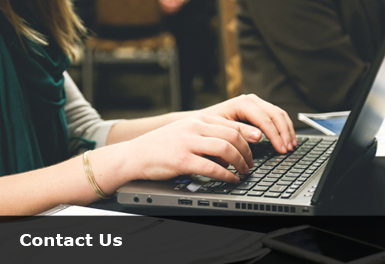 Contact Us
You are welcome to contact Eve, our Schools Liaison Coordinator, with any queries or to discuss your application.
e: outreach@educ.cam.ac.uk
t: 01223 767671
Tweet us: @CamEdFac
---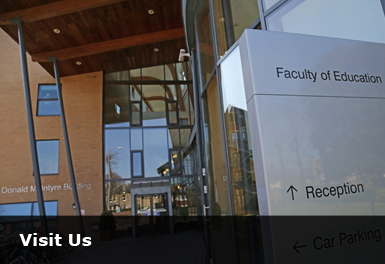 Visit Us
If you are interested in applying for one of the three Education tracks, we would be delighted to meet you at the Faculty to discuss your interest in the course and to show you round. This would give you an opportunity to ask any questions you may have and to find out more about the application process.
In addition to this, there are a number of opportunities to meet us and find out more about the course throughout the year.
You can join our mailing list to keep up to date with access and outreach news.
We will be represented at the University Open Days on the 6th and 7th July 2017, as well as at a number of College Open Days (please see College websites for more information).
We will also be represented at a number of University events throughout the year including a number of the Oxford and Cambridge Student Conferences in March 2017.
Sutton Trust Summer School
August 2017 will see the launch of an exciting new Sutton Trust Summer School strand for Education, Policy and International Development.
Applications will be open between the 9th January and 2nd March 2017.
All applicants to the Sutton Trust Summer Schools must be studying at a state-maintained school or college in the UK and have at least five A/A* grades at GCSE or five credit passes at Standard Grade.
It may be possible to reduce the academic criteria for students if there are extenuating circumstances but it should be stressed that the Summer Schools involve more than 20 hours of intense academic study and all successful applicants will need to demonstrate the ability to effectively handle this workload. Find out more about the Sutton Trust eligibility criteria.
You can find out more about the Sutton Trust Summer School and the application process here.
Subject Masterclass
The University will be holding a Subject Masterclass focusing on Education, Psychology and Learning on Friday 7 April 2017.
Subject Masterclasses are subject-specific events that offer aim to give you a flavour of undergraduate study and an introduction to the University of Cambridge.
Aimed at academically able Year 12 students from any school/college, the Masterclasses provide you with an opportunity to explore topics of interest beyond what is covered within the A Level syllabus and offer the chance to experience typical undergraduate teaching at Cambridge.
Booking is essential for this event. For more information and to book a place, please visit the University's Subject Masterclass page.
If you are interested in visiting the Faculty, or meeting us at one of the University or College events during the year, please email Eve at outreach@educ.ac.uk.
---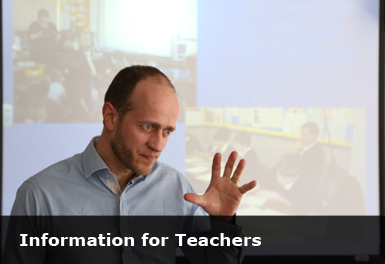 Information for Teachers
Do you teach students who are interested in the psychology of learning, the sociology and politics of education, or literature and the arts?
Join our mailing list to keep up to date with access and outreach news.
At the Faculty of Education, we are always keen to hear from students who would thrive on our courses. If you think the Education course would be the right fit for one or more of your students, we are always happy to help you find out more.
We can arrange for groups of students to visit the Faculty or for the Faculty's Schools Liaison Coordinator to visit your school. We predominantly work with students in Year 9 (or equivalent) and above, but we do sometimes work with younger year groups.
We can tailor visits to suit your group's requirements, but visits usually involve an interactive session introducing students to some of Education's most engaging topics, a session aimed at exploring what it's like to study at Cambridge and an overview of the Cambridge application process with an opportunity for staff and students to ask plenty of questions.
If you are interested in visiting the Faculty with a group of students, or if you would like to arrange for the Schools Liaison Coordinator to visit your school, please contact Eve at outreach@educ.cam.ac.uk.
If you are supporting someone who is applying to Cambridge, and if you would like to sign up to receive the University's Teachers and Advisers' Newsletter, you can find out more on the University's Teachers and Parents page.
---