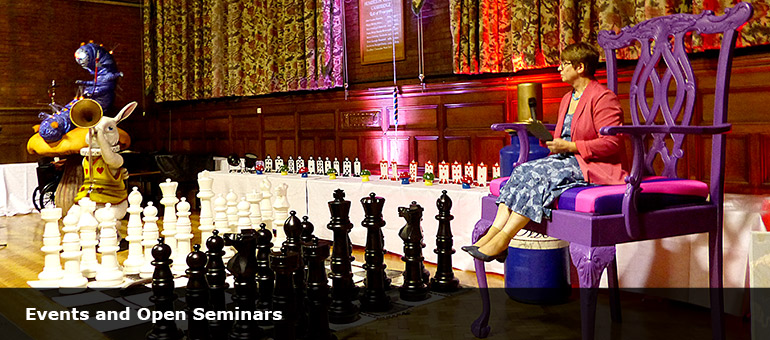 The CLRC hosts various events and open seminars each year reflecting the interests of researchers here as well as trends and movements in the larger field, at which the Children's Literature Research Centre at Cambridge stands at the forefront. Annual events include the Philippa Pearce Memorial Lecture and the Jacqueline Wilson Award ceremony.
For a list of previous events hosted by the CLRC, please see our Past Events page, and the archives section at talks.cam.ac.uk.
Upcoming in 2018:
28 April: International Symposium on Intergenerational Solidarity in Children's Literature and Culture
The significance of intergenerational alliance, dialog, and collaboration for the development of democratic societies is reflected in numerous campaigns promoting intergenerational partnerships. Launched in 2008, 29 April is the EU Day of Solidarity between Generations. This symposium, held in celebration of that ethos, explores how children's literature, often seen as reflecting age hierarchies, may in fact represent, embody and enable inter-age connectivity. Topics will include the representation of intergenerational justice in texts for young readers; fictional children's participation in public and political decision-making; intergenerational memory in children's books; and intergenerational solidarity in children's literature research.
The symposium includes a guest talk by Peadar Ó Guilín, the author of the YA novel, The Call. The confirmed speakers include Vanessa Joosen (University of Antwerp) and Maria Nikolajeva (University of Cambridge).
The symposium is organized jointly by the University of Cambridge (Dr. Zoe Jaques) and Anglia Ruskin University (Dr. Justyna Deszcz-Tryhubczak). It is an output of the Marie Sklodowska-Curie research project ChildAct -- Shaping a Preferable Future: Children Reading, Thinking and Talking about Alternative Communities and Times, conducted at ARU. The symposium received funding from the European Union's Horizon 2020 research and innovation programme under the Marie Sklodowska-Curie grant agreement No. 745888.
Places at the symposium are limited and can be reserved through the University of Cambridge Online Booking service. The last booking date for this event is 21 April 2018.
5 July: 4th Cambridge Symposium on Cognitive Approaches to Children's Literature
Cognitive approaches to literature (also known as cognitive poetics, literary cognitive criticism, and cognitive narratology) is a relatively new field of literary criticism. Over the past decade it has become an exciting and growing presence in children's literary studies. The day involves three panels of invited speakers, who through discussing their broad range of interests and specialisms demonstrate the current multiplicity of perspectives in cognitive approaches to children's literature. Professor Lisa Zunshine (University of Kentucky) will present the keynote. The last booking date for this event is 21 June 2018; please register through the University of Cambridge Online Booking service. Further inquiries may be addressed to Catherine Olver (co322@cam.ac.uk).
6 - 8 September: 2018 Picturebooks Conference; Synergy and Contradiction: How Picturebooks and Picture Books Work
The aesthetic aspects of storytelling through word and image have been studied extensively in the past thirty-odd years. In 1982, the Swedish scholar Kristin Hallberg launched the concept of iconotext that has been widely employed in discussing the phenomenon. Perry Nodelman's Words about Pictures (1988) was a landmark that placed the subject firmly within children's literature research. The first international conference wholly devoted to the art form was held in Stockholm in 1998, featuring, among others, Jane Doonan and William Moebius. An international network was established in 2007, running biennial conferences and workshops. Dozens of monographs and edited volumes have been published, the most recent More Words about Pictures (2017), edited by Perry Nodelman, Naomi Hamer and Mavis Reimer, and The Routledge Companion to Picturebooks (2017), edited by Bettina Kümmerling-Meibauer.
And yet there is no universal consensus about the object of inquiry, starting with the controversy of spelling. While most scholars agree that the interaction of words and images is essential, there is no clear agreement on the difference between illustrated books and picture book/picturebooks, nor on the differences and similarities between picture books/picturebooks and comics, nor on the relationship between printed and digital texts.
Registration details for this conference will be available shortly; further inquiries may be addressed to Maria Nikolajeva (mn351@cam.ac.uk).
2017 and 2018 events included:
Moving Experiences: Children's Literate Lives in a Mobile Ecology
Professor Margaret Mackey of the University of Alberta delivered this open lecture on March 20, 2018 at the CLRC, on the fluidity of children's literacy in a multi-media focused contemporary society.
A Bug's Life: Creeping and Crawling through Children's Literature
The one-day symposium was held by the CLRC on November 4, 2017 and featured a keynote from Professor Sarah Annes Brown from Anglia Ruskin University, and a guest appearance from Maya Leonard, the author of Carnegie-nominated Beetle Boy.
University of Cambridge Postgraduate Open Day
The CLRC joined the Faculty of Education for the university's Postgraduate Open Day on Friday, November 3, 2017. After talks by current students and the Faculty of Education, the CLRC had a separate session with presentations and time to meet the staff and students in the research group.
10th Annual Philippa Pearce Memorial Lecture
Celebrated multi-award-winning illustrator and political cartoonist Chris Riddell delivered the 10th Annual Philippa Pearce Memorial Lecture at the CLRC on September 8, 2017.
3rd Cambridge Symposium on Cognitive Approaches to Children's Literature
The CLRC hosted the symposium on March 17 and 18, 2017, with keynotes delivered by Professor Karen Coats from Illinois State University and Professor Rosalind Ridley from the University of Cambridge.