ARCHIVE: This material is no longer maintained and should be viewed for reference only
The recipients of the 2013 Helga Todd Foundation Award were Amandeep Ark, Alice Bowe, Thomas Harriott and Natalia Kieniewicz. Amandeep Ark and Alice Bowe spent their placement at Jaswant Modern Secondary and Primary School, Dehrudun, where they taught English and worked in collaboration with local teachers. They also organised interactive workshops for school staff to introduce them to current UK English teaching methods. Thomas Harriet and Natalia Kieniewicz were based at Akal Academy, Baru Sahib, and taught students at the Hindi-medium school. They also conducted sessions at the teacher training centre and within the context of the rural women empowerment programme, which trains girls from rural areas to be primary teachers. Tom and Natalia both participated in the Kalgidhar Trust's Global Conference on Redefining Education and visited rural schools.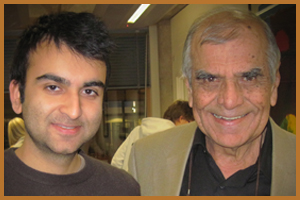 From 2009-2013 the Helga Todd Education Trust Award funded graduating PGCE students from Cambridge Faculty of Education to take part in a teaching exchange programme in India during the summer break (late June to mid August). The Helga Todd Foundation continues to promote the role of teacher education in the struggle to break cycles of poverty in India.

"This scheme benefits everyone greatly and I strongly recommend it to anyone who is willing to put in the time and effort." Sian Turnbull (2011)
"The purpose of this visit was to share what I had learnt about teaching in PGCE year with the teachers in India. I had not expected that I would learn so much myself." Emma King (2009)
Photo: Ronak Punjabi with Ram Todd (2011)