A vibrant network dedicated to leadership, learning and their inter-connection.
Leadership. Learning. Two ideas at the heart of education. Both are complex, open to widely differing interpretations and the subject of continuing debate among academics, policymakers and practitioners. The LfL network is concerned with both concepts and particularly with their connection, seeking to understand and share knowledge about leadership in education that supports learning.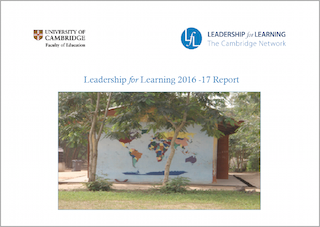 The 2017 Annual Report offers an overview of our recent work and current focus and reach. Read online or download as a PDF.
Explore About to learn about our principles and framework, the team behind LfL, our Current Collaborations, Publications (including our own series InForm), our Resources, and also opportunities for Visiting and Studying with us.
Events carries details of our seminars and conferences.
Projects introduces our current portfolio and also contains a rich archive of resources from past programmes.
Join us to become part of the network and keep in touch via our regular newsletters


New Publication
Empowering teachers as agents of change: a non-positional approach to teacher leadership
The second book in the LfL Teacher Leadership series.
Edited by David Frost
Exemplifying and illustrating non-positional teacher leadership through teachers' authentic narratives.
25 chapters authored by:
• practicing teachers who have led change in their schools
• teachers who have facilitated and organised support for teacher leadership
• researchers and policy activists
Find this book on Amazon.co.uk.

Events

LfL Resources