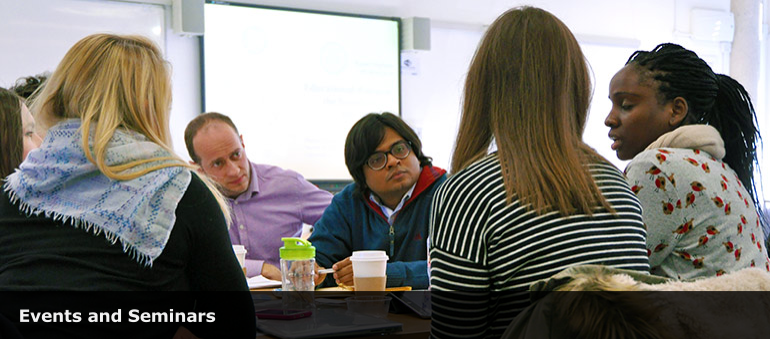 CEDiR hosts a number of events each year, catering to a wide range of the group's diverse interests in the field of dialogue. Many of our seminars are also open to the public. In the past, we have attracted many high-profile national and international speakers and participants.
Contact us if you have any questions about our events or if you are interested in attending.
Upcoming Events
Thursday May 14th 2020 12:30-13:30 (via Zoom - email cedir@educ.ac.uk for joining details): Introduction to CEDiR's Easter term sessions and discussion around dialogic teaching in times of Covid-19.
Thursday May 28th 2020 12:30-13:30 (via Zoom - email cedir@educ.ac.uk for joining details): 1st Work-in-progress meeting, PhD student Lydia Cao will be presenting 'Measuring responsiveness in science discussion'.
Thursday June 11th 2020 12:30-13:30 (via Zoom - email cedir@educ.ac.uk for joining details): Peer-review writing group meeting in which people can share completed drafts of abstracts/papers /chapters and receive feedback from one or a couple of peers from CEDiR.

Friday June 12th 2020 09:15-10:30 (via Zoom): Sign-up mandatory by 4 June (tinyurl.com/CEDIRPhDseminar). Organiser: Riikka Hofmann
To support doctoral students' planning in the current circumstance, CEDiR is offering a seminar to PhD students on multi-study PhDs which some students are contemplating as a way of managing barriers and risk due to the COVID-19 pandemic. The key to successful multi-study doctorates is conceptual coherence of the research questions. This seminar addresses the development of research questions and conceptual frameworks in multi-study PhDs. The seminar offers brief presentations by two guest speakers, Dr Anna Pauliina Rainio, a CEDiR affiliate and established academic in educational psychology at the University of Helsinki, and Anika Radkowitsch, a doctoral student in educational psychology at the LMU University of Munich. The presentations will be followed by a small-group Q&A with the speakers and a discussion. The seminar is open to all Faculty PhD students. The seminar (presentations and discussion) is also open to PhD supervisors and other staff, but the small-group Q&A part (breakout rooms) is restricted to doctoral students.
Please bring your own coffee/tea to Zoom and join us. Numbers are restricted and given on first come first served basis so please sign up by Thursday 4 June so we can establish discussion groups. Zoom link will be sent in advance of the seminar to signed-up participants. (Seminar will not be recorded.)
Thursday June 25th 2020 12:30-13:30 (via Zoom - email cedir@educ.ac.uk for joining details): 2nd Work-in-Progress meeting.
Monday July 13th 2020 09:30-11:30 (via Zoom - email cedir@educ.ac.uk for joining details): SEDA Coding Workshop.
Also in July, CEDiR's Dialogue, Professional Change and Leadership strands is presenting a mini-summer seminar series: "Creating Inclusive Dialogues for Learning", organised by Riikka Hofmann, with a particular focus on HE. The Zoom seminar series involves panel discussions by a range of experts, followed by an audience Q&A. All Faculty staff and students are invited, as well as CEDiR partners. Sign-up is required. Colleagues are welcome to attend one or all events.


The events in this seminar series are:
Listening and Hearing in Dialogues (Tue 7th July, 4-5pm - SIGN-UP by Fri 3 July: https://forms.gle/Y4jiQHBwtzzYYwHg8)
Transformative Inclusive Learning Dialogues in the HE Classroom (Tue 14th July, 1-2pm - SIGN-UP by Weds 8 July: https://forms.gle/dQcZBNcjjhPBEJsBA)
Disability and Inclusion in Remote Teaching and Learning in HE (Thu 16th July, 11-12pm - SIGN-UP by Fri 10 July: https://forms.gle/xzY8Ux8F7eUauuv69)


Details of other upcoming events will appear here soon.



---

Past Events

Details of CEDiR's previous events can be found here.