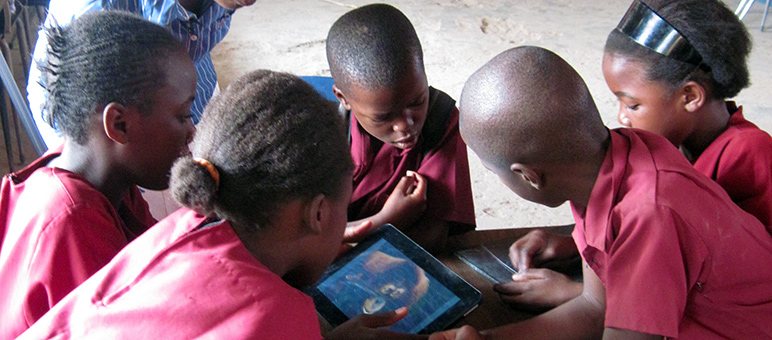 Projects
Current Projects
Research Council of Norway (Mar 2016 - Sep 2018): Digitalised Dialogues Across the Curriculum: design-based interventions for developing 21st century skills (DiDiAC) (Paul Warwick, Louis Major and Ingvill Rasmussen). DiDiAC builds on a long-standing collaboration between research groups at the University of Oslo and the University of Cambridge. In Norwegian and English secondary schools, the research team is conducting design-based interventions drawing on dialogic classroom strategies and on technology developed at the University of Oslo (the micro-blogging tool TalkWall). The research team will also conduct a longitudinal follow-up study in Norway with teachers who participate in the initial intervention.
British Academy/Leverhulme (Oct. 2016-18). The role of dialogic a/symmetrical interactions among peers in diverse, multimodal reading situations (Fiona Maine & Riikka Hofmann). An investigation of the role of dialogic a/symmetrical interactions among peers in diverse, multimodal reading situations in primary classrooms in the UK and Mexico.
ESRC (June 2015 – Aug 2017): Classroom dialogue: Does it really make a difference for student learning? (Christine Howe, Neil Mercer, Sara Hennessy, Maria Vrikki, Lisa Wheatley, Helen Lancaster). This experimental design project uses dialogue recorded in 72 Year 6 classrooms (children aged 10-11) to explore the link between the dialogicality of lessons in English, Maths and science and outcomes in standardised tests plus reasoning and attitudes to school.
Cambridge Mathematics Education Project (CMEP) (2014 -2017): This project involves the development of teaching materials and a refreshment of curriculum organisation in post-16 A-level mathematics. The development work is being undertaken by the CMEP team in the Centre for Mathematical Sciences, while research into classroom practice and student dialogue is being undertaken by a team in the Faculty of Education (Steven Watson, Lizzie Kimber, Louis Major and Lyn Jones).
http://www.maths.cam.ac.uk/about/community/cmep
Past projects
Round Square (Nov 2015 - May 2016): An investigation of Round Square's 'IDEALS' (Rupert Higham and Natalie Djohari). Round Square is a network of 150 schools worldwide committed to exploring and implementing in practice a set of values developed by Kurt Hahn, an environmentalist and philosopher who founded Outbound and Gordonstoun School. The project assesses different stakeholders' understandings of these 'IDEALS'.
British Academy (2014-16): Evidence-based programs to support the development of dialogue and self-regulation in early years: Building the foundation for comparative research – research aimed at constructing a professional development program for early years and primary school teachers (David Whitebread with Chilean team led by Valeska Grau).
British Academy (Jan 2013 - Dec 15): A tool for analysing dialogic interactions in classrooms – produced a theory-informed analytic scheme (SEDA: Scheme for Educational Dialogue Analysis) that distils and synthesises the features of dialogue characterised as optimal (at the level of communicative acts that is widely applicable across educational contexts (Sara Hennessy, Farah Ahmed, Elisa Calcagni, Rocio Garcia Carrion, Rupert Higham, Riikka Hofmann, Christine Howe, Ruth Kershner, Lisa Lee, Fiona Maine, Neil Mercer, Maria Vrikki, Paul Warwick, plus at least a dozen Mexican researchers led by Prof. Sylvia Rojas-Drummond).
British Council network focusing on Dialogue in STEM subject areas (led by Tec de Monterrey, Mexico & Hull University: Feb 2015-2016) involving Rupert Higham, Sara Hennessy, Tatjana Dragovic and 36 other researchers in UK and Mexico.
The Education Endowment Foundation with School 21: Oracy Assessment Toolkit: Developing a toolkit for assessing young people's oracy (Neil Mercer, Paul Warwick, Ayesha Ahmed). The toolkit is based on an Oracy Skills Framework which specifies the various skills young people need to develop to deal with a range of different talk situations.

LEGO Foundation: Play, Learning and Narrative Skills (PLaNS): The role of constructional and socio-dramatic play in the development of metacognition and narrative skills in primary-aged children (2013-2015). (with Marisol Basilio, Helen Bradford and Mary Anne Wolpert).
British Academy (June 2014-Sept 2015): Co-construction and the processes of learning in small-group contexts: The effects of student age (Christine Howe).
London Schools Excellence Fund (2014-15): Teacher learning and lesson study in mathematics higher order teaching and learning (Jan Vermunt, Neil Mercer, Paul Warwick and Maria Vrikki).
EEF with School 21: Developing a toolkit for assessing young people's oracy (2015-2015). (Neil Mercer, Paul Warwick, Ayesha Ahmed)
Esmée Fairbairn: CamTalk (Sue Brindley, Rupert Higham, Janneke van de Pol, Maria Vrikki, Fran Riga, Manzoorul Abedin)
Marie Curie Actions of the European Union's 7th Framework Programme (FP7): Children's personal epistemologies: capitalising children's and families' knowledge in schools towards effective learning and teaching (ChiPE). (Rocío García Carrión, Linda Hargreaves, Ruth Kershner).
ESRC: Episteme: Effecting principled improvement in STEM education: Student engagement and learning in early secondary-school physical science and mathematics (Ken Ruthven, Neil Mercer, Christine Howe, Keith Taber)
ESRC: Dialogue & Interactive Whiteboards (Sara Hennessy, Paul Warwick, Neil Mercer)
and follow-up ESRC Impact Acceleration Grant: Using a research-informed professional development workshop programme to impact on the quality of classroom dialogue using the IWB (Sara Hennessy, Tatjana Dragovic, Paul Warwick).
ESRC: Dialogic teaching in the science classroom (Neil Mercer, Phil Scott, Judith Kleine Staarman)
ESRC: Interactive Whiteboards and Collaborative Pupil Learning in Primary Science (Neil Mercer, Paul Warwick, Ruth Kershner, Judith Kleine Staarman)
Thinking Together (programme of research and development over 15 years)
ESRC: T-MEDIA: Teacher Mediation of Subject Learning with ICT: A Multimedia Approach (Sara Hennessy and Rosemary Deaney).
Isaac Newton Trust: Resolution of differences during collaborative groupwork: a pilot study with undergraduates (Christine Howe).
Faculty of Education: Children Articulating Thinking (ChAT): Developing a pedagogy for metacognition & self-regulation: a pilot study with 5-6 year olds investigating classroom dialogue and the development of children's metacognition and self-regulation in Year 1 primary classrooms (David Whitebread, Deborah Pino Pasternak, Neil Mercer, Penny Coltman, Jane Warwick, Christine Howe & Usha Goswami)
British Academy: Peer collaboration and conceptual understanding: contradiction, co-construction and the mechanisms of growth (Christine Howe).
Various small grants: Film Talk (Fiona Maine).
Dialogic Readers Talking and Thinking together (Fiona Maine).