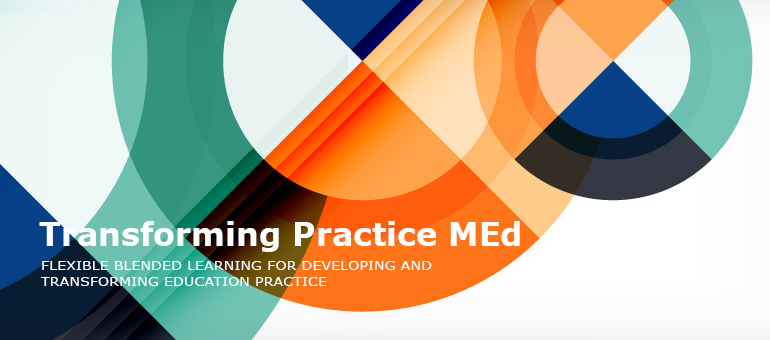 Who is the course for?
The Transforming Practice MEd course is only offered to University of Cambridge, Faculty of Education PGCE & PACES graduates. It is a one-year part-time route.
If you completed your PGCE at another institution you can either apply to one of the routes available to you on our 2 year part time MPhil courses pages, or gain a PACES or Diploma qualification first through our PPD routes and then apply for this course.
This popular course offers a flexible blended learning approach for full or part time education practitioners at different stages in their career who are interested in developing and transforming their practice. Education practitioner is construed as a broad term to encompass not just teachers in school settings, but teachers in other educational contexts and professionals whose work is located in education settings such as counsellors, those who work with school assessment etc.
What does this course offer?
The course aims to strengthen:
Through the key modules on reflexive practice, innovation in education, and influencing education practice and policy you will engage with debates surrounding education and practice and undertake relevant practical activities. The approach is collaborative, interactive and contextualised. You will also be exploring in depth an area of professional interest to you within a community of enquiry and will undertake a small-scale practical enquiry that aims to transform practice.
The course will enable you to:
---
How is the course organised?
The Transforming Practice MEd is offered as a blended learning route. This means that the route will be offered via some face to face day conferences and some synchronous online evening sessions via a Moodle Virtual Learning Environment (VLE ).
Synchronous online sessions have associated activities to be completed asynchronously which will be made available on the course Moodle VLE. Synchronous teaching sessions also take place via Moodle VLE.
You will also be allocated a personal supervisor and be entitled to 4.5 hours of supervision over the course to support your work. You can choose to have supervisions online, telephone and face to face.
---
Course attendance
Required (over the year)
Conference dates 2023-24
9am - 5pm
You will be part of a community of enquiry which will meet during face-to-face conferences and work together as an online learning group.
Each community of enquiry has an allocated tutor who will work with your group on the course materials and online discussions. Online discussions take place approximately three times during the University term time, usually on Tuesdays 7-8pm. Supervisions (online, telephone or face to face) are at times arranged between yourself and your supervisor.
---