Honestly speaking, I was a little hesitant about starting the course having been pre-warned by friends who had really struggled throughout their PGCE year elsewhere, but I've felt nothing but support from my tutors, lecturers and all members of staff that I've come across. Everyone's passion for education is really contagious and I can see why Cambridge is so highly commended for this course.
---
We are delighted to be ranked as the number one teacher training provider in England in the 2017 Good Teacher Training Guide.
---
Term Dates 2017-2018: The PGCE course runs from Monday 4th September 2017 to Friday 15th June 2018
---
The Faculty of Education offers two PGCE Primary courses: Early Primary (covering ages 3-7) and General Primary (covering ages 5-11).
You can hear three of our Newly Qualified Teachers discuss their decision to train at Cambridge and hear their thoughts on the benefits of the PGCE as a route into teaching.
Trainees studying on the Early Primary course complete substantial placements in both the Foundation Stage and Key Stage 1, with opportunities for nursery placements for trainees with a personal interest in working with younger children. You can hear two of our Newly Qualified Teachers talk about why they chose the Early Primary course at Cambridge.
Trainees studying on the General Primary course follow either:
a 5-9 specialist option with substantial placements in Key Stages 1 and 2
a 7-11 specialist option with substantial placements in Key Stage 2 and a short placement in Key Stage 1. You can hear three of our Newly Qualified Teachers talk about why they chose the General Primary course at Cambridge.
The Faculty considers it vital that trainees understand the nature of young children's learning through:
recognising and meeting the sometimes complex learning needs of children at the start of their educational career
understanding the nature of the holistic child as being integral to the provision of effective practice
knowing how to develop an emotionally secure, playful and nurturing learning environment
demonstrating a knowledge of key theoretical perspectives and how understanding how these underpin a pedagogy of excellence for young children
building positive working relationships within a team of professionals which will include colleagues across educational settings and external agencies
understanding and managing the importance of smooth transition between the Foundation Stage, Key Stage 1 and Key Stage 2to facilitate continuity in provision.
---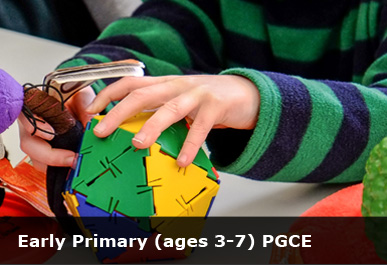 The Early Primary PGCE course prepares trainees to teach within this important and exciting phase of a child's education. Trainees participate in professional studies lectures, conferences and visits, some of which are shared with the General Primary trainees. This ensures a comprehensive and cohesive understanding of the broader context of primary education.
Input from the Faculty's internationally recognised experts in educational research provides incomparable insights into key and emerging issues. Key research in addition to the Cambridge Primary Review includes the Cambridge independent learning project (CIndLe), Children Articulating Thinking (ChAT) and PLaNS (Play, Learning and Narrative Skills).
---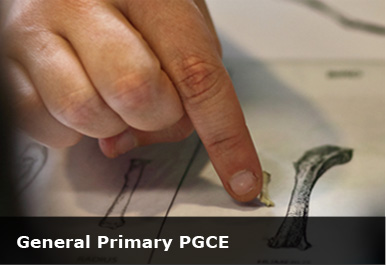 The General Primary PGCE course at the Faculty of Education prepares trainees to engage with this very exciting phase of education. The reform of the primary curriculum has been a major focus of recent national educational priorities, and researchers based at the University of Cambridge Faculty of Education, under the leadership of Professor Robin Alexander, have made a particularly important contribution to this debate in the form of the Cambridge Primary Review. The aims and principles of this Review are central to the both the early primary and the primary PGCE course.
The PGCE course prepares our trainees to develop the qualities characteristic of an outstanding primary school educator.
---