ARCHIVE: This material is no longer maintained and should be viewed for reference only
What is the Helga Todd Foundation Award?
Background/Aims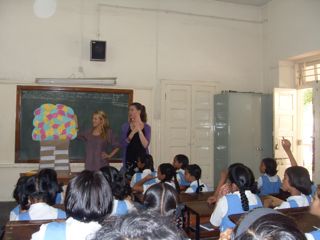 The Helga Todd Education Trust supports newly qualified teachers in working together (in pairs or small groups) in teaching centres in India. Successful applicants are expected to teach across a range of subjects and ages, and to contribute to the teaching of English within the formal curriculum and to work with teachers (which might include, for example, sharing and explaining teaching resources). This is an opportunity to experience the educational environment and the culture of this country.
"We were greatly impressed by the positive attitude and academic ability of all students. The commitment, dedication and work ethic of the students, the staff and the relationships between them were a key part of our experience." Laura-Louise O'Reilly and Faeeim Nori (2010)

Above: student teachers working at schools in India (left: Jessica Tomico and Kate Heywood, middle: Michael Stevens, right: Elisabeth Deane)
"The people ... their kindness and generosity shone through ... this was an invaluable experience and one that I will remember for ever ... I am so grateful to have been given the opportunity." Kate Heywood (2010)
"Teachers are very keen to learn about teaching and how to improve their lessons… I would definitely like to maintain contact with the staff who are, without exception, all wonderfully kind and welcoming people." Elisabeth Deane (2011)
---
Opportunity
The placement includes an optional final week for further travel and exploration in India. The Faculty offers a grant for our participating teachers to help support travel during this week.

"While the priority was of course our placements, we also made time to experience this incredible country. We made visits to the Golden Temple at Amritsar, the Ganges a Rishikesh, The beautiful Taj Mahal, the Sights of Dehli, the foothills of the Himalayas, not to mention exploring the hugely different towns of Chandigarh and Dehradun. bustling markets, moving temples, delicious food – it really is an experience to remember. " Charlotte Begin (2011)
"Take time to walk around (even if it is pouring down), escape the campus, go into the villages and really talk to the teachers. Enjoy the last week and do plan to go somewhere – a word of warning: the trains were booked up a month in advance – so get planning to do something before leaving England." Ronak Punjabi and Rob Kilcoyne (2011)
"I loved travelling by train, even when it was very overcrowded in 3rd class." Loesje Ferguson (2011)