ARCHIVE: This material is no longer maintained and should be viewed for reference only
Doctoral Students
Dr Susan Kiragu
Susan undertook her PhD at the Faculty of Education, University of Cambridge (graduating in 2011) and now works on the ASKAIDS and Gender in East Africa projects within the Centre for Commonwealth Education. In Susan's words: "After 2.5 years of procrastination, I finally graduated for my PhD (Education). What made it even more special was that my mother and brother were there to witness this achievement. My mother had travelled all the way from Kenya. My PhD thesis was situated in an ecological (Urie Bronfenbrenner) and emancipatory (Paulo Freire) framework to explore the socio-ecological factors that impinged on sexuality in a poor community in Kenya. It is work that has been a good foundation for the research work that I'm currently doing at CCE in the Gender and girls' entitlement to education project and the African sexual knowledges on AIDS (ASKAIDS) project."
Susan has also been featured in a documentary series "Destination Europe" which looks at the lives of African migrants.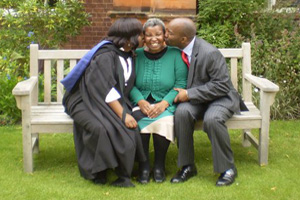 The above video is part of the migration multimedia special "Destination Europe" of DEUTSCHE WELLE. A Film by Joscha Weber. More information and all the other video reports here: www.dw-world.de/destinationeurope
Dr Georgina Oduro
Georgina Yaa Oduro, a Ghanaian and a RECOUP - Cambridge Commonwealth Trust Scholar, graduated with a PhD degree in July, 2011. Her research focused on: 'Gender Relations, Sexuality, HIV/AIDS Education and Ghanaian Youth Cultures'. Her desire is to apply knowledge gained from the Faculty of Education to strengthen research and teaching at the University of Cape Coast, Ghana, where she currently works as a lecturer. Gina has research interest in qualitative research methods, youth cultures, sexuality, gender-based violence and the social context of HIV/AIDS.
Georgina's study in Cambridge was co-sponsored by the All Saints Educational Trust (ASET) - London, African Doctoral Dissertation Fellowship (ADDRF) – administered by the African Population and Health Research Centre (Kenya) and the British Federation of Women Graduates - London. Gina is currently a Fellow of the Population Reference Bureau of the United States of America having won the 2011-2012 Policy Communication Fellowship. Gina is grateful to her funders, supervisors (Professor Madeleine Arnot and Dr. Colleen McLaughlin), family and friends for their role during her studentship.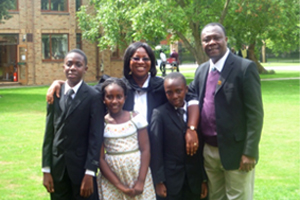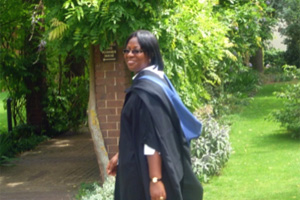 Photos: (left) Gina at the Graduation with her family (July, 2011), (right) Gina in her graduation robe at Wolfson College
PhD students
We have invited some of our commonwealth students to give a brief summary of their PhD topic and current activities.
Name

Topic

Maria Mama

Exploring the relationship between Cypriot primary teachers' practices and beliefs about ICT in schools

Maria recently completed her doctoral study at the Faculty of Education. Her thesis explored the complexities of the integration of ICT in Cyprus primary education through teachers' beliefs and practices. The purpose of her multi-case study was to indicate implications for change with ICT and provide recommendations for practice to the involved parties. One of the main outcomes of her research was the development of a typology of teacher use of ICT informed by their pedagogical beliefs, towards a better understanding of teacher response. Moreover, the study identified both teacher-related and external factors influencing the uptake of technology in the classroom. In fact, it revealed fundamental issues affecting the interrelationships between the agents at all levels (teacher/classroom, school, ministerial/system), highlighting the cultural impact on the implementation of the ICT initiative. The messages are generalizable to other contexts, where, as in Cyprus, the integration of ICT in education is still in the early stages.

Maria plans to continue her research in the field focussing on teachers' in-school support with technology uptake.

Moses Onyango

A collaborative action for tutors' development: a case of teaching about HIV and AIDS at a teacher training college in Kenya.

Moses has recently completed his PhD at the Faculty of Education. His thesis is on educators' preparation to teach about HIV and AIDS. Other research interests include exploring ways to improve science teaching and use of assessment for learning.

Prior to enrolling for a PhD programme, Moses was a lecturer at the Aga Khan University - Institute for Educational Development, Easter Africa - where he worked with practitioners to explore improvement of science teaching, assessment for learning and integration of HIV and AIDS issues into the curriculum.

Moses taught Biology and Chemistry in secondary schools in Kenya for 14 years and worked as a school based professional development teacher (PDT) which involved working with practitioners in exploring ways of improving teaching and learning through interactive approaches.

Juhi Sidharth

Juhi undertook an undergraduate degree in psychology (Maharaja Sayajirao Unversity of Baroda), Masters in Social work (Tata Institute of Social Sciences, Mumbai) and an M Phil in Developmental Studies (University of Cambridge). Juhi is currently pursuing a PhD at the Faculty of Education. Her research explores sexual learning and sexual behaviour among adolescent girls living in urban India. Juhi has also worked on a Population Council project on Reproductive health among rural women in northern India and Health and Awareness programs among HIV positive sex workers in Mumbai. Her research interest lies in youth sexual behaviour in the global south, formal and informal sexuality education and the inter-linkages between gender, power and sexuality among urban poor.
Commonwealth students currently studying for PhDs at the Faculty. They represent 13 countries and their research covers a wide range of topics across all the academic groups:
Name

Topic

Nationality

Manzoorul Abedin

Malfeasance, absence, silence? Exploring the policy sociology of English language education in Bangladesh (supervisor: Nidhi Singal)

Bangladeshi

Nitu Duggal

Investigating effectiveness of approaches to teaching reading comprehension (supervisor: Dominic Wyse)

Indian

Angela Githitho-Murithi

Education for all and child labour in Kenya: an ethnography (supervisors: Madeleine Arnot and Nidhi Singal)

Kenyan

Wei Shin Leong
Singapore Teachers' Conceptions and Practices of 'Holistic Assessment' (supervisors: Pam Burnard, Sue Swaffield)
Singaporean

Louiza Mallouri

National identity in visual texts in Cyprus (supervisor: Morag Styles)

Cypriot

Rabia Malik

School choice and parental participation: a mixed methods study of determinants of school quality in Punjab, Pakistan (supervisor: Christopher Colclough)

Pakistani

Thabo Msibi

Identity, sexuality and the politics of teaching: a life history study of black South African male teachers (supervisor: Jo-Anne Dillabough)

South African

Siza Mtimbiri

A case study: Exploring the relationship between HIV/AIDS and schooling with a focus on rural primary school children's perspectives (supervisor: Colleen McLaughlin)

Zimbabwean

Lee Eric Nordstrum

Beyond the doors of learning: school finance, user fees and education demand in the new South Africa (supervisor: Christopher Colclough)

American

Shirley Ong

Investigating the effect of incorporating explicit contrasts between educational mother tongue and foreign language into English-language classes in Brunei (supervisors: Michael Evans and Andrie Yiakoumetti (Completed)

Bruneian

Manasi Pande

The impact of poverty on the lives and education of adolescent carers (supervisors: Madeleine Arnot and Shailaja Fennell) (Completed)

Indian

Azlin Zainal

The impact of a Malaysian government sponsored ICT training programme on secondary school English language teachers' attitudes towards ICT and classroom practice (supervisor: Michael Evans)

Malaysian
Commonwealth students receive funding from a variety of sources including the Cambridge Commonwealth Trust, ESRC, Dr Manmohan Singh Scholarship, Cambridge Australia Trust Scholarships, RECOUP, Overseas Student Bursary. Other links: Financial Aid for Overseas Students and www.gradunion.cam.ac.uk/altprosp/funding/overseas