ARCHIVE: This material is no longer maintained and should be viewed for reference only

PEDAGOGY AND LEADERSHIP (PAL) PROJECT IN TANZANIA
Phase II: 2011-2012
The second phase of the project involves expansion of the work to include all four primary schools in the ward. In the new academic school year starting in January 2012, the expansion of the research and development initiative is now being implemented in four schools: Ukombozi, Manzese, Kilimani and Uzuri1. Under the leadership of the Headteacher and with the appointment of two professional development leaders (from within the school) a school development plan has been implemented to improve the quality of English throughout the school. The aims of these initiatives are not only to improve the quality of learning English for the pupils but also for the teachers throughout the school.
In 2011, a Memorandum of Understanding was signed between the CCE and the School of Education, University of Dar es Salaam. Dr Dachi, the Director of the Centre for Educational Research and Professional Development, assisted CCE with employing two researchers on the ground. This collaborative research partnership provides an exciting opportunity to strengthen the research capacity of individuals and institutions.
A series of professional development training workshops were held in October 2011 and January 2012. These participatory workshops engaged all teachers and were held to initiate a 'reflective conversation' in which views of pedagogy and approaches to the teaching of English in contemporary urban settings were explored. Although the focus was on the teaching of English, it was important to gather their opinions combined with constructive criticism of positive and negative aspects of teaching. After the workshop in January 2012, all PDLs signed up for engaging in a variety of school improvement activities for teaching of English and each school has reported on the different activities and progress. For example, Ukombozi began a programme of team teaching and established and established an English club; Manzese and Kilimani introduced seminars on topics that were hard to teach; and Uzuri focused on reading classes, morning speech sessions and English club. Download mini report.
Recent Activity
University student Ben Yip visited Tanzania in June 2012 for two weeks. He assisted the PAL project by participating in a variety of training and research activities. A significant and novel contribution to the project was utilising art as a means to promote the learning of English through a visual medium by designing posters and creating wall paintings for the schools. In addition, a workshop was carried out for PDLs from the four primary schools with the aim to make cost-effective and sustainable resources for the classroom. English materials such as story books and the preparation of laminated flashcards were communicated to teaching staff. Research was also conducted with a few Standard 7 children, who were taken around the local community with Ben to 'see' the variety of English words in shop signs, advertising slogans and other such media which they are exposed to in everyday life.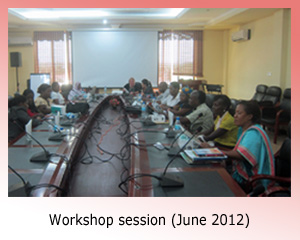 A half-day training workshop for PDLs from the four schools was held in June 2012. This participatory and practical training workshop aimed to explore how to make English teaching and learning more meaningful and communicative, using cost-effective but sustainable resources including story books, posters and flashcards. Another focus of this workshop was to show PDLs how to use existing resources provided by the PAL research team such as computers, printers and laminators. It provided initial training on accessing online resources, downloading and incorporating them into their own teaching materials for English lessons. All PDLs participated in the workshop with great enthusiasm and were introduced to new pedagogical practices. The training workshop was well received with positive feedback from participants who found the approach easy to follow and felt confident about implementing the use of the new resources in their classrooms.
1 Further information on schools available for download