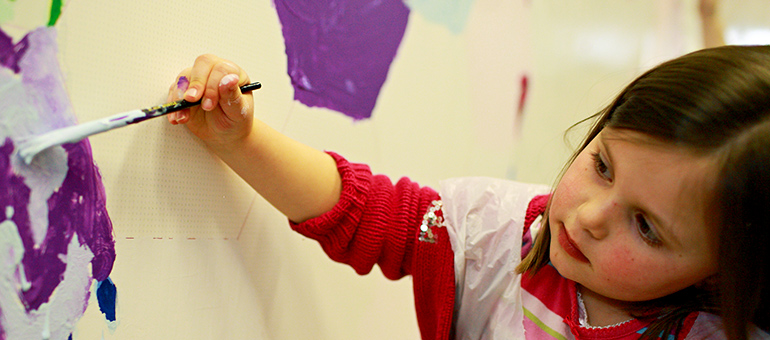 Course summary
The Faculty of Education has a 30-year tradition of educating therapists in this specialised area. We are delighted to offer a creative three-year practitioner professional development programme. The Child and Adolescent Psychotherapeutic Counselling Programme at the Faculty of Education is accredited by the Universities Psychotherapy and Counselling Association (UPCA) and leads to registration with the United Kingdom Council for Psychotherapy (UKCP).
Psychotherapeutic counselling emphasises the co-creation of an in-depth therapeutic relationship that aims to facilitate growth and alleviate distress. Within this purposeful relationship human beings are viewed holistically in the context of concrete life situations and developmental stages.
The course specialises in the aims, processes and skills of working therapeutically with children and young people through an emphasis on working through play and with the arts. Other significant strands include child and adolescent development, clinical skills, professional issues, ethics and child safe-guarding, child mental health, developing children's emotional well-being, working with children's contexts, networks and families, multi agency work, working in a school setting, and working with groups. This programme enables participants to become effective and ethical psychotherapeutic counsellors.
Core Elements
Core elements of the course include theory, practice and personal development. Students will undertake a supervised practice placement, personal therapy and a young child observation. There is a personal development group that runs for a year of the programme. In addition, the teaching and learning methods used encourage constant self-awareness and personal development. The core theoretical model of the training is integrative, relational, developmental, and eco-systemic. This means that the course brings together elements from different theories to make a coherent whole.
There is an emphasis on:
The nature of a therapeutic relationship
Child and adolescent development
The uniqueness of the individual
Examining key theoretical perspectives in counselling and psychotherapy including the psychodynamic, the humanistic and the neuroscientific
Working eco-systemically with children's networks and contexts
Working with play and the arts
The essential elements to gain the diploma
Successful completion of the course study hours including completion of a placement comprising 100 supervised practice hours during the course.
Continuous weekly personal therapy during the three years of the programme
Successful completion of the academic requirements and the practical skills assessment elements of the course. This includes ongoing assessment of student's counselling practice
Ongoing student membership of UPCA
The essential elements to gain registration
Satisfactory completion of all elements of the PG Diploma in Child and Adolescent Psychotherapeutic Counselling.
Satisfactory completion of an annual CPD audit
Completion of an additional 350 post qualifying hours of supervised clinical practice.
Satisfactory outcome of a readiness for registration interview
NB : Under UKCP regulations, individuals remain trainee psychotherapeutic counsellors until they have met all accreditation requirements and have achieved UKCP registration. The accreditation the course holds is for those entering the programme in September 2018 or later.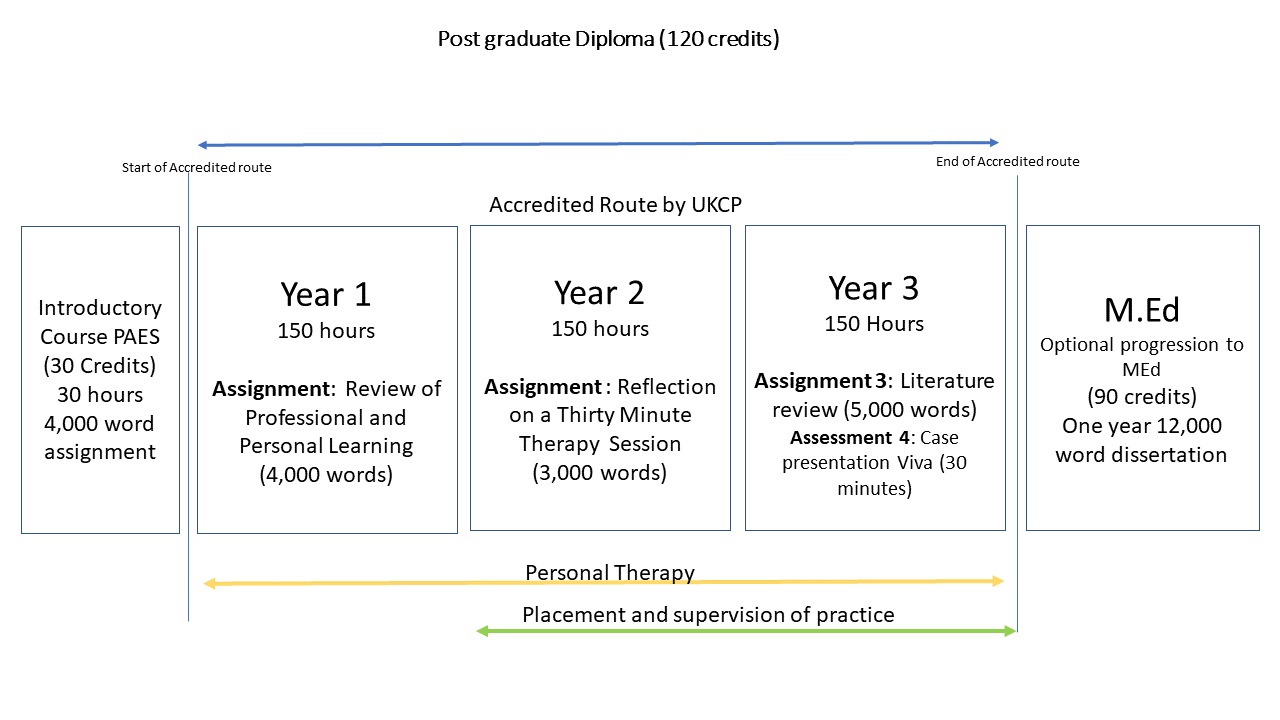 Structure of the Accredited Training Programme in Child and Adolescent Psychotherapeutic Counselling
Course overview
The programme is designed to enable participants to:
Work therapeutically with children and young people especially through communication using the arts and play.
Develop the skills of psychotherapeutic counselling in one-to-one and group settings through the use of practicums, experiential, active learning methods, practical work with other students and undertaking a supervised practice placement.
Gain a thorough knowledge and understanding of the theoretical base of psychotherapeutic counselling.
Gain a thorough knowledge and understanding of the social and emotional development of young people.
Explore the ethical and professional aspects of working therapeutically with children and adolescents in schools and other settings. This includes being alert to issues of safeguarding that may impact the wellbeing or safety of children and young people.
Personal Therapy
Personal therapy is required for all students for the duration of their course. This will be once a week with a suitably qualified and experienced practitioner (40 hours per annum as a minimum). The cost of personal therapy is not covered by the course and therapy is self-funded.
Placement
Students are required to undertake a practice placement; this will normally begin in year 2. The costs of clinical supervision at the placement are not covered by the course. Often the placement provider pays these costs, but we cannot guarantee it.
Who is this course aimed at?
The diploma is designed for those who work with young people in educational or other settings who have either satisfactorily completed the Introduction to Child and Adolescent Counselling Skills (32-hour PAES course) or have an equivalent qualification in counselling and psychotherapy.
Award | PDES (120 credits)
How is it assessed?
Students are assessed through a combination of written and practical assignments including a case presentation and a practice viva. Tutors provide formal feedback on all submissions.
Cost
£4,950 (Home fees)/£12,400 (Overseas fees) for 2022/23. Please note these costs are for tuition only and do not cover personal therapy, clinical supervision, professional memberships, cost of DBS, professional indemnity insurance or any other professional costs. You should allow a similar amount for year 2 and again for year 3 (allowing for an annual increase as fees are reviewed every year).
Pattern of attendance
The course is taught one day a week over three ten-week terms for three years. The first and second years are taught on a Thursday and the third year on a Wednesday. In addition in years one and two attendance is required at a four-day intensive course, which usually takes place at the end of April. Students are also required to attend a tri-annual Saturday conference.
When is it available
Diploma Year 1 and Year 2 are taught weekly on a Thursday as follows for 2022/23:
Term 1 Michaelmas
Weeks 1 - 5
22/09/2022 - 20/10/2022
Half Term Break
21/10/2022 - 02/11/2022
Weeks 6 - 10
03/11/2022 - 01/12/2022
CHRISTMAS BREAK
Term 2 Lent
Weeks 1 - 5
12/01/2023 - 09/02/2023
Half Term Break
10/02/2023 - 22/02/2023
Weeks 6 - 10
23/02/2023 - 23/03/2023
EASTER BREAK
Term 3 Easter
Weeks 1 - 5
27/04/2023 - 25/05/2023
Half Term Break
26/05/2023 - 07/06/2023
Weeks 6 - 10
08/06/2023 - 06/07/2023
Diploma Year 3 is taught on the corresponding Wednesdays.
Who is teaching it? Tracey Fuller and Fiona Peacock (Course Directors), Oktober Evennett and Esther Hunt. Each student is allocated a supervisor to help guide them through their studies.
Method of study: Our teaching method is currently blended with a mixture of in-person and online sessions. This is subject to change in light of the evolving Covid situation.
Progression: Completion of the 3-year diploma allows students to have the option of applying to continue onto the Master of Education (MEd), Transforming Practice.
How to apply
The deadline for applications for the September 2022 intake was 3 June 2022. Please note we cannot accept applications after the application deadline. Please check this site again for information on applying for 2023 entry.
Entry qualifications
The programme is designed for those who work with young people in educational or other settings who have either satisfactorily completed the Introduction to Child and Adolescent Counselling Skills (32-hour course) or have an equivalent qualification. This is a postgraduate programme and candidates are normally expected to hold a good undergraduate degree.
Applicants must be able to demonstrate:
a knowledge and use of basic counselling skills and theory
the capacity for self-reflection and self-awareness
the potential to develop a therapeutic relationship
the capacity to undertake academic study at Postgraduate level
the capacity to receive and work with feedback
the capacity to work with others
an awareness of emotion and sufficient robustness to undertake the programme
enthusiasm for and commitment to learning
the capacity for work with the arts and play
If selected, interviews will take place with the course team when further information about the requirements of the course and the expected demands will be given. Tutors have a limited capacity to engage in pre-interview discussions and we are unable to give feedback after interview.
Open day
We occasionally hold counselling-specific open days with the Co-course Leaders, in person or online. More information will be posted on this site in advance of a session. If you would like to be notified of upcoming open days please email ppd@educ.cam.ac.uk.
Any course queries should be directed to ppd@educ.cam.ac.uk.