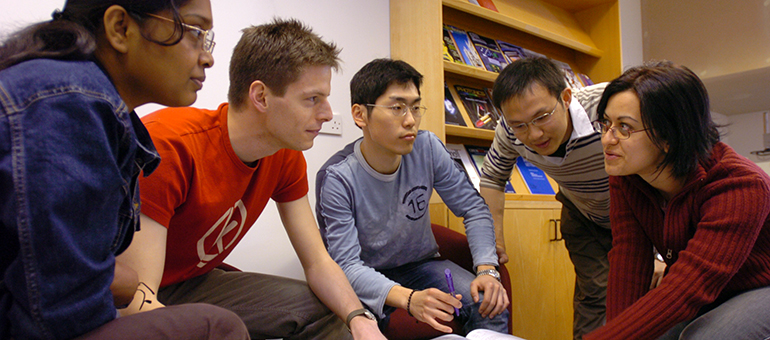 Practitioner Professional Development (PPD)
The Faculty's PPD programme can be used as part of a progression route to the Cambridge part-time Masters (MEd) or as a qualification in its own right. The programme offers flexible opportunities to gain highly regarded qualifications through both part time and on-line modes of study which enable students to update and upgrade their skills, advance their careers and support development of practice in various work settings.
Taught courses
There are various courses available in the programme through both face to face and on-line taught sessions. Please click here to see our taught course programme.
Research study
Students can also study on an individual research basis. Participants work either in a small group or individually with a supervisor to design and undertake a small scale project aimed at researching or developing practice. Central to the research option is a belief in the importance of empowering students to link theory, research and practice effectively in their place of work. Areas of research within the faculty can be found here. You may also find our EdD programme of interest when considering research progression following your PPD studies.
Please note that as a PPD student you will be a member of the Faculty of Education with access to all Faculty services such as library membership and IT support. You will not though, have College membership, nor therefore do you pay a College fee. Use of some central university facilities may be restricted (for example sports clubs). If you continue to our Masters programme, you will at that point be admitted to the central university, through the college system, as a full member of the university. You will also then be required to pay a college fee.
Further details regarding the costs associated with research study can be found here
The individual research route is currently paused whilst a review of PPD provision takes place. As a result any new applications received by the Faculty will not be processed. However, if you have already started to accumulate PPD credits through the individual research route you can continue to do so. Please contact the PPD Administrator if you have any questions relating to this.
About our awards
There are four levels of awards within the Faculty of Education PPD programme, each carrying Masters level credits.
30 credits - Postgraduate Award in Educational Studies (PAES)
60 credits – Postgraduate Certificate in Educational Studies (PCES)
90 credits – Postgraduate Advanced Certificate in Educational Studies (PACES)
120 credits – Postgraduate Diploma in Educational Studies (PDES)
Each 30 credits requires written work of 4000 words which address the level 7 (Masters) criteria for PPD. Awards may be gained by accumulating credits from shorter pieces of work/ short courses or by single longer pieces of work/ longer courses. The following table provides an overview of the options available.
How to obtain credits on the PPD programme (select one method only)
Award

PAES

30 credits = 4000 words total

1 x 4000 words assignment

PCES

60 credits = 8000 words total

2 x 4000 words assignments
1 x 8000 words assignment

PACES

90 credits = 12000 words total

3 x 4000 words assignments

1 x 4000 words assignment

+ 1 x 8000 words assignment

1 x 12000 words assignment

PDES

120 credits = 16000 words total

4 x 4000 words assignments

1 x 4000 words assignment

+ 1 x 12000 words assignment

2 x 4000 words assignment

+ 1 x 8000 words assignment

2 x 8000 words assignments
1 x 16000 words assignment
As students accumulate credit, they can choose at which stage to exit and collect a PPD qualification. On completing 90 credits, students will be offered the opportunity to apply to the second year of the MEd (please note - there is no automatic right to continue and some routes may be unavailable). If they are unsuccessful in their application, they may still collect their PPD award.
Who joins the programme?
The programme offers academic study that is practice focused and professionally relevant. Many of our students are professionals contributing to the development of children and young people in various settings. International students must live within a four hour travel distance to Cambridge to enable commuting to necessary conferences/ supervision meetings as required.
Support for research methods and project design
All PPD students are offered the opportunity to additionally complete our on-line research methods modules to support their studies. Completion of these five modules is compulsory for anyone wishing to apply to the second year of the MEd.