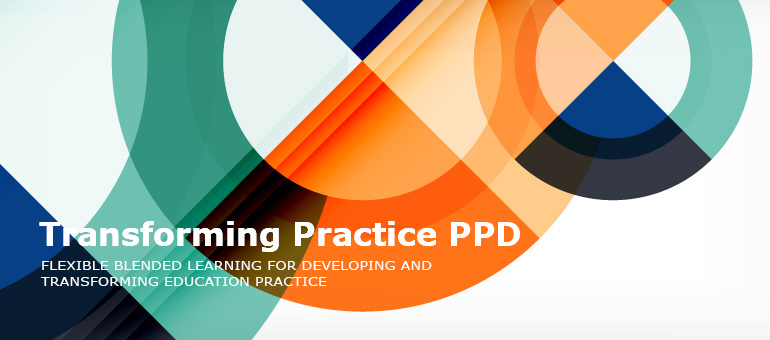 Course summary
The course is aimed at educational practitioners across a range of professions who wish to draw on research-based evidence to transform their practice. The course will offer independent 30 credit professional practitioner development modules on specialist topics of study to facilitate transformative educational practice. These can be accrued to 90 credits for eligibility to the second half of the Transforming Practice MEd programme or any of the other MEd courses at the Faculty that are listed here.
Students may take the 90 credits over a period of up to three years (for example one 30-credit module each year) and should complete the Masters element no more than five years after the start of their first PPD Transforming Practice module.
Hybrid delivery
For academic year 2022-23 it will be possible to follow the modules entirely online, without coming to Cambridge. The course is designed to fit around full-time work, with teaching sessions taking place in the early evenings (UK time) and on occasional Saturdays.
Aims of the course
The course aims to strengthen:
---
Entry requirements
Applicants should have a good honours degree or equivalent and relevant professional experience. Further details can be found in the PPD Admissions policy.
Application
Please apply via the PPD application portal. If you wish to apply for multiple modules taking place in any academic year, please submit one application form with details of each module that you wish to be considered for.
Please outline on your application form why you would like to take each module that you have applied for, indicating how you envisage the module supporting you to transform your practice.
We encourage applicants to apply early, as applications will be considered and decisions given on an ongoing basis, as long as spaces remain.
Applications are considered to be complete only when we have received all application documents, including both references and supporting documentation.
The application deadline for the Leadership for Learning with Dialogue module has now passed.
The application deadline for the Museum Learning module has now been extended to 31 March 2023.
Fees
£1525 (Home) or £4100 (overseas) per 30 credit module for 2022-23. Fees will be subject to an annual increase.
---
Modules
A number of modules will be offered each year with students having the option to follow some or all of them. Each module is worth 30 credits and therefore in order to accrue the required 90 credits for the PACES qualification students must complete assignments for 3 modules. Students must have successfully completed 3 modules within 3 years of joining the PPD programme.
Modules running in 2022-23:
Modules available in 2023-24:
The following modules were offered in 2020-21, 2021-22 and 2022-23 (it is envisaged that some may be repeated in future years):
Dialogue in Education (October-December 2020 and April-June 2022)
Learning without Limits (January-March 2021)
Art, Nature and Wellbeing (April-June 2021)
Transforming Conflict in Educational Settings (October-December 2021)
Designing Learning with Digital Technologies (January-March 2022)
Leadership for Learning with Dialogue (January-March 2023)
More information about these modules can be found here.
Museum Learning: Using images and objects to support creativity and learning across the curriculum (April-June 2023)
In collaboration with University of Cambridge Museums.
This module offers an introduction to different approaches to looking at objects and images with children and young people, led by museum educators from the University of Cambridge Museums (The Fitzwilliam Museum, The Museum of Zoology, The Sedgwick Museum, The Polar Museum, The Whipple Museum and the Museum of Archaeology and Anthropology).
Module Content
The module will:
Introduce a range of different pedagogical approaches to working with objects and images in the classroom;
Explore the potential of museum objects and enrichment programmes to support learning, critical thinking and creativity across the curriculum;
Consider current evidence around how to support cultural learning and wellbeing through museum visits and arts engagement programmes as part of the recovery curriculum;
Explore best practice in the development of image and object-based learning resources for use in the classroom;
Provide practical advice and support on how to integrate and embed museum objects and visits into core curriculum planning to ensure the best outcomes for students;
Encourage participants to design, develop and lead a museum learning project within their setting.
Assessment
Students will conduct a practical enquiry into the development of museum learning opportunities and/or object and image-based learning within their own setting, drawing on their learning across the programme. Possible outcomes include a case study, scheme of work or an object-based resource to share with other practitioners.
Sessions (provisional)
Four live online webinar sessions, to be held on a weekday (16:00-18:00) - 16, 23 May and 6, 13 June.
Two Saturday sessions (9:30-14:00) at the start and end of the module - 13 May and 24 June 2023. It will be possible to attend these sessions online.

---
Transforming Conflict in Educational Settings (October-December 2023)

This module is for people who wish to engage in Masters-level study into responding to conflict in educational settings in positive ways. It supports participants to learn how to reduce the negative effects of conflict whilst at the same time looking to harness the positive effects of conflict transformation, growth and change. The module is suitable for people from multi-sector (and no sector) settings. It will be of interest to anyone with an interest in education, whether as a teacher, a youth worker, a community worker, NGO worker, a counsellor, a facilitator, a parent, a student, a psychologist or a general enthusiast. It is grounded in self-reflection, analytical skills, group learning and skill-development, and in personal, social, political and educational change. It supports participants to reflect on conflict and conflict transformation in their own lives, and/or to work with young people and learners of all kinds to resolve conflict peacefully, and to build towards more hopeful futures.
The Enhanced course aims to:
Explore the nature of conflict generally, and in educational settings
Support participants to think about their own conflict styles, and how to be more effective in conflict situations
Support participants to develop competencies in mediation and restorative practices
Present and review a range of conflict management / resolution / transformation strategies
Support participants to develop and reflect on their own lives and practice in relation to the ideas of this module.
This module facilitates the following outcomes:
Self-aware, reflexive participants and educators
Enhanced capacities for restorative practice, mediation and group conflict management.
Knowledgeable participants and educators who are conflict literate, and who have an awareness of key educational debates, theory, practice, challenges and innovations for conflict transformation, capabilities for investigating, mapping and analysing conflict in educational settings, and for developing and evaluating projects to promote peace.
Greater wellbeing, teamworking, inclusion and cultural sensitivity, and less violence, in educational settings, including schools and other educational institutions.
Assessment
The assessment will take the form of a portfolio with a critical commentary. The portfolio will be developed throughout the course and will draw on the activities of five sessions. It could include poetry, pictures, drawings, video, quotes from on-line activity, readings, peer support, and so on. A final 1,500 words should synthesise learning and make reference to how learning has been / will be applied.
Thus, the portfolio and critical commentary will include:
Reflections on the student's own learning journey to date in the light of this module
Engagement with ideas presented
Presentation / discussion of how the learning from this module will be applied in personal / professional / academic / volunteering settings.
A final synthesis
Dates
3 x Online sessions (evening UK time - dates to be confirmed)
2 x Face-to-Face Saturday sessions (dates to be confirmed).

---
Supervision
Students will be assigned a supervisor and be entitled to two hours of supervision per module.
Feedback
Throughout the programme, written work is submitted, and detailed feedback is provided. Informally, feedback is also provided through supervisions.
Any course queries should be directed to ppd@educ.cam.ac.uk.