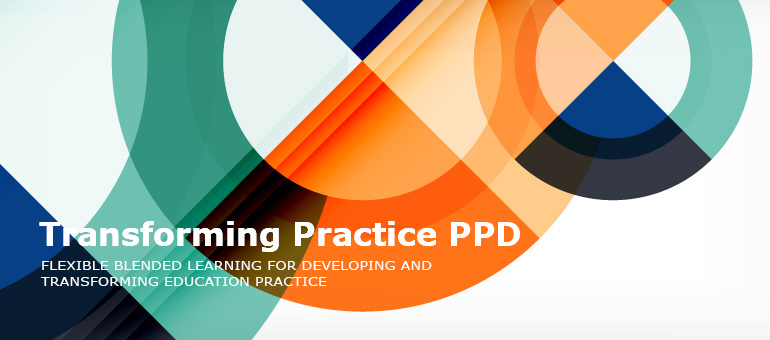 Course summary
The course is aimed at educational practitioners across a range of professions who wish to draw on research-based evidence to transform their practice. The course will offer independent 30 credit professional practitioner development modules on specialist topics of study to facilitate transformative educational practice. These can be accrued to 90 credits for eligibility to the second half of the Transforming Practice MEd programme or any of the other MEd courses at the Faculty that are listed here.
Aims of the course
The course aims to strengthen:
---
Entry requirements
Applicants should have a good honours degree or equivalent and relevant professional experience. Further details can be found in the PPD Admissions policy.
Application
Please fill in the standard application form. If you wish to apply for multiple modules taking place in any academic year, please submit one application form with details of each module that you wish to be considered for.
Please outline on your application form why you would like to take each module that you have applied for, indicating how you envisage the module supporting you to transform your practice.
The final application deadline for Environmental Sustainability Education (Oct-Dec 2022) is Monday 18 July 2022. We encourage applicants to apply early, as applications will be considered and decisions given on an ongoing basis, as long as spaces remain.
Applications are considered to be complete only when we have received all application documents, including both references and supporting documentation. If applications are incomplete by the application deadline, it may not be possible to give a decision until September.
Provisional application deadlines for the Lent and Easter term modules are 1 October 2022 for the Lent module and 17 January 2023 for the Easter module. Please check this site again later this year for confirmation.
Fees
£1525 (Home) or £4100 (overseas) per 30 credit module for 2022-23. Fees will be subject to an annual increase.
---
Modules
A number of modules will be offered each year with students having the option to follow some or all of them. Each module is worth 30 credits and therefore in order to accrue the required 90 credits for the PACES qualification students must complete assignments for 3 modules. Students must have successfully completed 3 modules within 3 years of joining the PPD programme.
Modules available in 2022-23:
The following modules were offered in 2020-21 and 2021-22 (it is envisaged that some may be repeated in future years):
Dialogue in Education (October-December 2020 and April-June 2021)
Learning without Limits (January-March 2021)
Art, Nature and Wellbeing (April-June 2021)
Transforming Conflict in Educational Settings (October-December 2022)
Designing Learning with Digital Technologies (January-March 2022)
More information about these modules can be found here.
---
Environmental Sustainability Education: realising strategy in school (October-December 2022)
This timely module aims to capacitate teachers to meet the intensifying calls from young people globally to address climate change and sustainability in schools. We will use the Department for Education in England's new strategy on sustainability and climate change education (SCCE) as an example of how governments are working to address these calls in the wake of COP26 and other intergovernmental policy initiatives. Our aim is to support teachers to give children an education that empowers them to contribute to the challenges of climate change and environmental degradation.
To achieve this our module will enable participants to develop their knowledge and understanding of research on education in sustainability and climate change education, especially its interdisciplinary nature. This interdisciplinarity presents pedagogical challenges, not just in terms of the kind of knowledge that is needed to meet the challenge, but also in finding ways to teach across subjects and age structures in schools. Thus, an important aim of this module is to support participants to develop skills for communicating and planning across disciplinary boundaries and in vertical age structures, in a school setting. We will use drama-based techniques to support this process.
Module Content
The provisional course structure includes:
the history of environmental education;
different pedagogical approaches based on empirical research for teaching SCCE, including the whole school 4 Cs approach (curriculum campus, community and culture), STEAM, action competence, and project-based learning;
interdisciplinary thinking and pluriversal thinking, using the Sustainable Development Goals as an example of how to approach a problem like sustainability from different (disciplinary) perspectives;
policy relating to the new DfE strategy, the Sustainable Development Goals, the national curriculum, and policy on Health and Wellbeing in schools.
Assessment
The 4000-word Critical Enquiry for this module will be based around the design of a project on a locally relevant environmental issue. Students will be divided into cross-disciplinary, vertical year group teams to work on their assessments. Each team will select one of the pedagogical models, and a sustainability issue to work on that is relevant to their setting's context, and they will then design a curriculum linked, cross-subject and/or year group module as a project that can be implemented in their school setting. This module will form the basis of their critical enquiry. Students will be expected to submit the module as an artefact, alongside a rationale consisting of a critical review of the theory and the pedagogical approach that they used to underpin the design of their module. The rationale should include a reflection on the interdisciplinary aspect of their artefact.
While students will be required to work in cross-disciplinary teams to design their module and tease out the barriers to working across subject areas in secondary schools and across year groups in primary schools, their submission will be individually assessed. Each submission should respond to the specific context of each student's own teaching setting, with evidence that they have negotiated with other staff and school leaders in their own school to commit to working with them to adapt the module to put it into practice.
Dates (provisional)
4 x Online sessions on Tuesdays, early evening (UK time).
Two Saturday sessions (dates to be confirmed). Both will be held at the Faculty in Cambridge, but there will be an option to attend the second day school remotely.
The assignment submission deadline will be 10 January 2023.
---
To be confirmed (January-March 2023)
---
To be confirmed (April-June 2023)
---
Supervision
Students will be assigned a supervisor and be entitled to two hours of supervision per module.
Feedback
Throughout the programme, written work is submitted, and detailed feedback is provided. Informally, feedback is also provided through supervisions.
Any course queries should be directed to ppd@educ.cam.ac.uk.