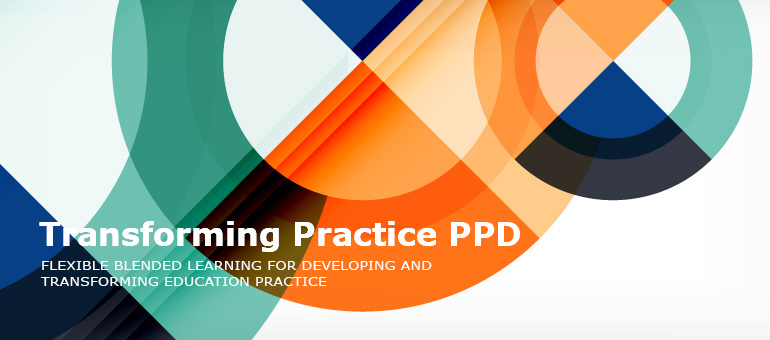 Course summary
The course is aimed at educational practitioners across a range of professions who wish to draw on research-based evidence to transform their practice. The course will offer independent 30-credit professional practitioner development modules on specialist topics of study to facilitate transformative educational practice. These can be accrued to 90 credits for eligibility to the second half of the Transforming Practice MEd programme or any of the other MEd courses at the Faculty that are listed here.
Students may take the 90 credits over a period of up to three years (for example one 30-credit module each year) and should complete the Masters element no more than five years after the start of their first PPD Transforming Practice module.
Online delivery
For academic year 2023-24 the PPD Transforming Practice modules will be taught entirely online.
The course is designed to fit around full-time work, with teaching sessions taking place in the early evenings (UK time) and on occasional Saturdays.
Aims of the course
The course aims to strengthen:
---
Entry requirements
Applicants should have a good honours degree or equivalent and relevant professional experience. Further details can be found in the PPD Admissions policy.
Application
Please apply via the PPD application portal. If you wish to apply for multiple modules taking place in any academic year, please submit one application form with details of each module that you wish to be considered for.
Please outline on your application form why you would like to take each module that you have applied for, indicating how you envisage the module supporting you to transform your practice.
We encourage applicants to apply early, as applications will be considered and decisions given on an ongoing basis, as long as spaces remain.
Applications are considered to be complete only when we have received all application documents, including both references and supporting documentation.
Fees
£1600 (Home) or £4300 (Overseas, including EU) per 30-credit module for 2023-24. Fees will be subject to an annual increase.
---
Modules
A number of modules will be offered each year with students having the option to follow some or all of them. Each module is worth 30 credits and therefore in order to accrue the required 90 credits for the PACES qualification students must complete assignments for 3 modules. Students must have successfully completed 3 modules within 3 years of joining the PPD programme.
Modules available in 2023-24:
The following modules were offered in 2020-21, 2021-22 and 2022-23 (it is envisaged that some may be repeated in future years):
Dialogue in Education (October-December 2020 and April-June 2022)
Learning without Limits (January-March 2021)
Art, Nature and Wellbeing (April-June 2021)
Transforming Conflict in Educational Settings (October-December 2021 and October-December 2023)
Designing Learning with Digital Technologies (January-March 2022)
Leadership for Learning with Dialogue (January-March 2023)
Museum Learning (April-June 2023)
More information about these modules can be found here.

---
Neurodiversity in Educational Settings (April-June 2024)
Module Lead: Dr Jenny Gibson
This module will encourage students to explore the implications of the neurodiversity paradigm for their own professional settings. We will introduce and examine key theories and concepts relating to neurodiversity and inclusion. Students will engage with key debates around benefits and drawbacks of diagnostic labelling, learn more about best practices in supporting neurodivergent learners and learn more about neurological, cognitive, emotional and behavioural aspects of autism, ADHD, DLD, dyslexia and other neurodevelopmental disabilities/differences.
The course has the following aims:
To introduce learners to the neurodiversity paradigm
To enable learners to engage in key critical debates on topics relating to neurodiversity
To enable learners to construct deeper knowledge of types of neurodivergence that they are likely to encounter in their professional settings, including autism, ADHD and dyslexia
To support learners to innovate in their own professional settings in order to enact neurodiversity affirming practices & strategies for inclusion, awareness and acceptance.
This module would suit those who work with neurodivergent students across a range of educational and professional practice settings. This could include HEI lecturers and tutors, teachers, pre-school educators and practitioners, social work practitioners, those involved in medical education, speech and language therapists, for example.
Assessment
Students will complete a 4,000 word assignment: Critical enquiry; Neurodiversity in Educational settings.
Students can choose either:
a) A theorised autobiography or case-study, or
b) A small-scale action research project.
Dates
Two Saturday day schools (27 April and 22 June) 9.30am to 1.30pm UK time
Six Tuesday evening sessions (7 May, 14 May, 21 May, 4 June and 11 June) 4.30pm-6.30pm UK time
---
Supervision
Students will be assigned a supervisor and be entitled to two hours of supervision per module.
Feedback
Throughout the programme, written work is submitted, and detailed feedback is provided. Informally, feedback is also provided through supervisions.
Any course queries should be directed to ppd@educ.cam.ac.uk.