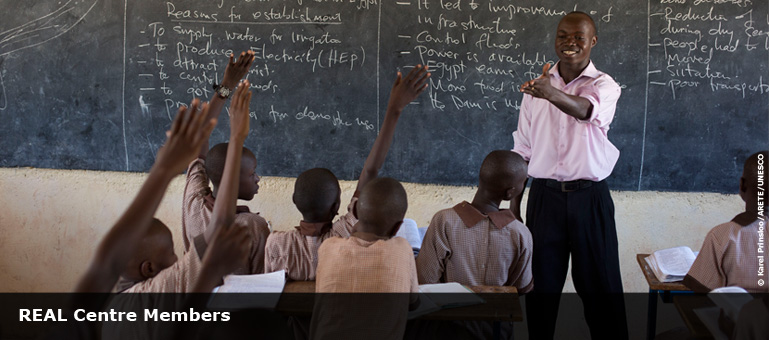 Faculty Research Students connected with the REAL Centre
Farah Ahmed: Pedagogy as Dialogue between Cultures: Exploring Halaqah: an Islamic dialogic pedagogy enabling shakhsiyah (personhood, autonomy, identity) development for Muslim children in a pluralist society.
Tim Archer: Education in Conflict: Masculinity, violence, and peace - Educating the 'peaceful warrior'.
Stephen Bayley: Unlocking Cognitive Competences in Resource-Poor Environments.
Jonathan Birtwell: Bridging the gap between secondary and tertiary education for aspiring refugee students in Malaysia.
Charleen Ning Chiong: An Inequitable Production of 21st-century Citizens? : The Case of Singapore.
Carly Christensen: Canadian Aboriginal special education: How does accessing special education influence the lives and identities of Ojibway secondary school students in and out of school?
Andrew Colley: The educational and social outcomes of young people with profound and multiple learning difficulties (PMLD) in England.
Kalifa Damani: The role of Educational technology in reducing socio-economic disadvantage through the development of academic-, civic-, and entrepreneurial self-efficacy.
Sophia M.D'Angelo: Conceptualising Teacher Professional Development in Sub-Saharan Africa: an in-depth look at Tanzania
Christine Ellison: Tackling regional inequality in Uganda's education system. A critical assessment.
Rebecca Gordon: Exploring the impact of Microfinance provision on levels of girls' enrolment and learning in education in rural India.
Thilal Halimah: An Exploratory Mixed-methods Research on the Resilience of Syrian Refugee Children Living in Jordan in the Context of Education.
Julia Hayes: Inclusive Education in Afghanistan and Pakistan: The experiences of children with disabilities.
Mona Jebril: Academic life under occupation: the impact on educationalists at Gaza's universities.
Aliya Khalid: Exploring the Influence of Maternal Education on School Access and Learning for Daughters: Experiences of Pakistani mothers.
Maria Khwaja: The political teacher: Classrooms as cultural sites of mobility and restraint.
Janice Kim: Unpacking the Role of Early Learning on Student Learning Outcomes: Evidence from National Reform of Pre-primary Education in Ethiopia
Pui Ki Patricia Kwok: The implementation of "learner-centred" educational reform in Rwanda: Cultural issues and challenges.
Lauren Marston: An exploration into whether or not cash transfers conditioned on school attendance enable recipients to live better lives: lessons from Jamaica
Michael Meaney: The Future of Educational Inequity: MOOCs and Compounding Educational Disadvantage
Meghna Nag Chowdhuri: Primary school teachers' experiences of using innovative mathematics textbooks in Delhi, India.
Seema Nath: Education for Children with Disabilities in India - A case study to critically understand teaching and learning practices in schools that include all learners.
Arif Naveed: Schooling and social mobility in Pakistan.
Jwalin Patel: System determinants of teacher effectiveness for 'learning to live together'.
Hiba Salem: Education in Conflict-Affected Zones: Understanding the Experiences of Syrian Refugees in Jordan.
Sahar Shah: Educational leadership and School Improvement. Analyzing the role of gender in influencing leadership styles of secondary school head teachers within the context of Pakistan.
Deborah Spindelman: Exploring the impact of stunting and cognitive impairment on unmet learning needs among early-grade students.
Peter Sutoris: Cross-cultural scalability of education programs in South Asia.
Raymond Tangonyire: Exploring the Incorporation of the Leadership for Learning (LfL) Principles in Ghana: The Case of Two LfL Basic Schools in the Central Region.
Hannah Ware: Identifying priorities for children with SEND from first generation migrant families at special schools in England.
Lisa Walker: Equity and Achievement Dynamics in the Tanzanian Secondary School Classroom, An Explanatory Framework.
Joseph Watson: Change in learning outcomes amongst Zambian lower primary pupils: the influence of the iSchool programme.
Vicky Yiran Zhao: Can play reduce the disparities in social and emotional development? A focus on children with language difficulty in Britain and in India.
Asma Zubairi: The differences in the distribution, use and voice over resources between primary schools in poor and rich communities: a case study of Malawi using a political economy approach.