ARCHIVE: This material is no longer maintained and should be viewed for reference only
Education and the transformation of young women's lives:
Commonwealth perspectives

Speakers: Mike Younger, Nidhi Singal, Madeleine Arnot and Colleen McLaughlin
On the 28th and 29th October 2011, a conference was held at the Faculty, entitled Education and the Transformation of Young Women's Lives: Commonwealth Perspectives. The 2-part conference was organised by the Council for Education in the Commonwealth (CEC), the Faculty of Education at Cambridge and the Social Transformations Programme Division of the Commonwealth Secretariat. It drew on the CEC theme for the year, Educating Women, Transforming Society.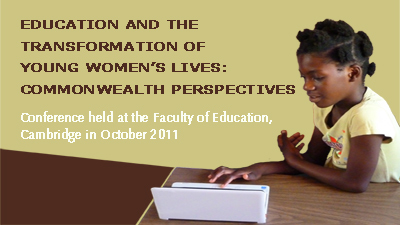 Video Collection
A collection of video presentations from the conference is available for streaming or
download in a choice of formats at: http://sms.cam.ac.uk/collection/1253831
The conference brought together representatives of the UK research community, international, national and non-government organisations, and graduate students to reflect on contemporary educational initiatives that promote opportunities for the well-being of young adult women in the Commonwealth.
The first day's presentations explored the experiences and policy implications of young women's education. Chris Colclough (University of Cambridge) and Pauline Greaves (Commonwealth Secretariat) discussed Gender and Educational Policy and Practice. Elaine Unterhalter (London Institute of Education) and Joan Thomas Edwards (Deputy High Commissioner for Jamaica) looked at Young Women and Gender Relations as Policy Focus. We then heard from Madeleine Arnot (University of Cambridge) and Auxilia Ponga (UNDP), who dealt with the concept of Young Women as Citizens. Nidhi Singal (University of Cambridge) looked at Education and Women with Disabilities, and Elspeth Page (CBM UK) and Elizabeth Nicol (Deputy High Commissioner for Ghana) offered their own insights into this topic. Finally, Colleen McLaughlin (University of Cambridge) looked at the questions surrounding Education, Empowerment and Sexuality with Hawa Sydique (CAMFED) and Molly Brech (Cecily's Fund) offering their responses. (Click on the titles to download slide presentations).
Participants were given the opportunity to contribute to a range of plenary and small group discussions. Conference participants made a valuable contribution to the day by sharing their own experiences and insights into this complex topic. Judging by the enthusiasm evident in the group discussions, the presentations gave participants much food for thought. Some interesting questions were raised at the Plenary later in the afternoon.
The second day was aimed at post-graduate students and focussed on Research in the Global South: Educational Researchers' Experience. The students enjoyed some thought-provoking and informative presentations from Mike Younger, Colleen McLaughlin, Madeleine Arnot and Nidhi Singhal. The group discussions that followed were particularly interesting as students grappled with the complexities of doing research in diverse cultures and poverty contexts. The roles and responsibilities of the researcher were discussed, with each student offering his or her own experience.
We would like to thank everybody involved in this event: the speakers for their passionately informative presentations, the team at the CEC and Faculty of Education for their organisation and administration, and the participants who travelled from far and wide to contribute to the rich and multi-layered discussions enjoyed by all on both days.