ARCHIVE: This material is no longer maintained and should be viewed for reference only
Phase 1 of this project, based in Sub-Saharan Africa, focused on understanding how primary age pupils acquire sexual knowledge, in what contexts and how this relates to the HIV education received in schools. The second phase (2011-12) expanded the research to encompass six countries and used consultation and dialogue with community members and pupils to establish a locally based curriculum development process for HIV education.
Please use the right hand menu or click on the links below for further information on the two consecutive projects:
Consulting Pupils Toolkit
A key output of ASKAIDS Project One was the production of a Toolkit for consulting pupils which can be used to inform curriculum development. The Toolkit is available online at oer.educ.cam.ac.uk/wiki/ASKAIDS.
Project Poster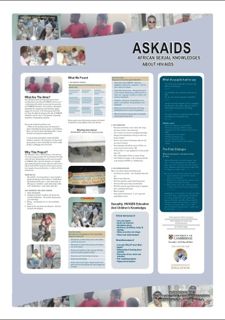 As part of the Centre for Commonwealth Education Summer Conference held in Mauritius (June 2010), the team produced a poster summarising the initial phase of the work and giving a general feel for the project context and participants. The poster is available for download.