ARCHIVE: This material is no longer maintained and should be viewed for reference only
GENDER AND EDUCATION WITHIN EASTERN AFRICA
Girls Against the Odds: Phase 1
In order to address the question of what keeps girls in school against the odds, the research team agreed the following objectives:
to identify a group of girls who continue to study and attend school despite evidence of economic, social or cultural pressures which militate against them doing so;
to trace the girls' educational histories within the context of their family, community and school and so identify the reasons why they are retained in school;
to explore specifically the roles of school practices and policies and of role models and mentors in accounting for girls' retention;
to conduct a longitudinal study mapping these girls' educational outcomes over a 3-year period.
We began with pilot studies in both countries: in 4 schools in the rural area of Kajiado, south-east Kenya (24 girls in total), and in 2 schools in each of Nebbi (north-west Uganda) and Kyenjojo (western Uganda) (20 girls in total). Research permits were obtained from the relevant Ministries of Education and schools were selected in discussion with relevant District Education Officers. A common interview guide was devised in consultation with the wider research team. This sought to obtain biographical data as well as including questions related to the participants' experience of schooling, the problems they faced, their aspirations and reasons why they continued in school. Observations and informal discussion provided contextual data and enabled a fuller understanding of the data obtained through the interviews.
Initial Findings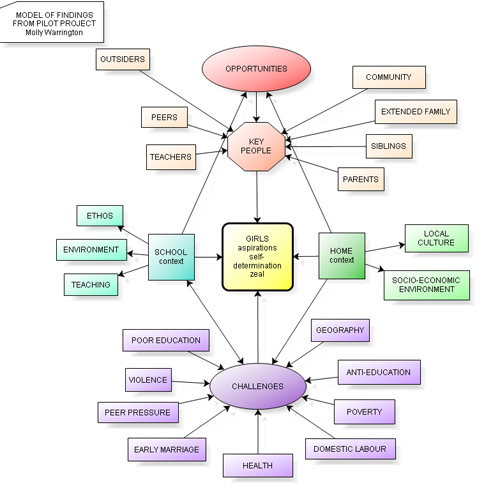 Whilst similar findings emerged from both Kenya and Uganda, the model links together findings specifically from the Kajiado study. It focuses on GIRLS as the central object of enquiry, taking into account girls' own agency in balancing the challenges and opportunities that confront them in decision-making over education. It was clear that the girls we interviewed had high aspirations, professionally, educationally and personally; they had enormous self-motivation and a desire to do well at school. Many demonstrated a great zeal for education, valuing all it could offer them.
Girls are situated between HOME and SCHOOL, with both contexts influencing girls' decisions, sometimes positively, sometimes negatively. Girls are influenced by their home background, through their socio-economic environment and various cultural practices. Schools have a key role through their ethos, physical environment, pupil-teacher relationships and style of teaching.
Girls in the Kajiado District are, however, faced with a set of CHALLENGES, some linking more to their home and community, some more to school environment. These challenges (shown in the diagram above) impact upon the process of their education.
Our research showed, nevertheless, that some girls also have OPPORTUNITIES, mediated through KEY PEOPLE from within school, family or community, or from individuals or organisations outside the local community, who encourage or facilitate positive experiences of education.
Further details are available in Gender in East Africa: Report Nos 1 and 2. Click to download: Report 1, Report 2
Two journal papers are also forthcoming, based on the Kajiado pilot study:
Kiragu, S. and Warrington, M. (2011) How we used moral imagination to address ethical and methodological complexities while conducting research with girls in school agains the odds in Kenya, Qualitative Research, (forthcoming).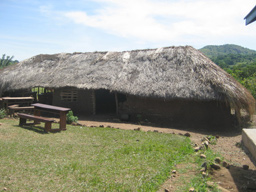 Warrington, M. and Kiragu, S. (2011) "It makes more sense to educate a boy": Girls 'against the odds' in Kajiado, Kenya, International Journal of Educational Development, available at: http://dx.doi.org/10.1016/j.ijedudev.2011.05.004.
The following chapter discusses findings on retention from both countries:
Warrington, M., Kiragu, S. and Fentiman, A. (2012) Factors influencing retention in Kenya and Uganda, in MacBeath, J. and Younger, M. (Eds.) Millennium Development Goals Revisited: A Commonwealth of Learning.
Photograph (right): A Ugandan partner school