ARCHIVE: This material is no longer maintained and should be viewed for reference only
GENDER AND EDUCATION WITHIN EASTERN AFRICA
Girls Against the Odds: Phase 2
Extending the pilot studies
Following the pilot phase, research was extended to three new areas of Kenya:
A mixed urban/rural coffee growing area of Central Province;
Informal settlements in Nairobi
An area of Nyanza, on the shores of Lake Victoria.
These areas were chosen on the basis of diversity around the central research question of retention against the odds, and interviews were conducted in four schools in each location, with 5 Standard 6 girls in each school. In addition, focus-group interviews were held with groups of boys and also with teachers in all 24 schools. These interviews were completed in September 2010.
Fieldwork was also extended in Uganda, with a similar number of interviews of girls, boys and teachers in the same number of schools. In addition to the pilot study areas of Nebbi and Kyenjojo, fieldwork has therefore now been undertaken in Bududa, and in Karamoja.
Interviews are also being conducted with Headteachers of each school, as well as with the Education Officer of each District. The intention is also to track each girl through to the end of 2012, with further interviews to explore in particular their trajectories as they come to the end of primary school. Efforts are also being made where possible to track down any girls who have left school, to ascertain the reasons for their withdrawal.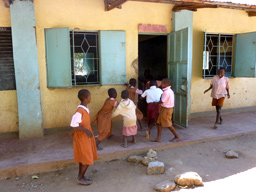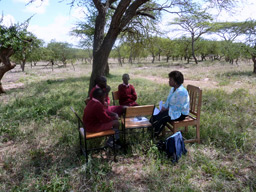 Photographs:
(far left) Children playing in a Central Province school, Kenya;
(left) A focus group interview
Research findings
Research to date points to the key factors which might cause children to drop out of primary school. These are shown in the diagram (with those factors affecting only or mainly girls shown in blue, and those factors mainly affecting boys shown in yellow).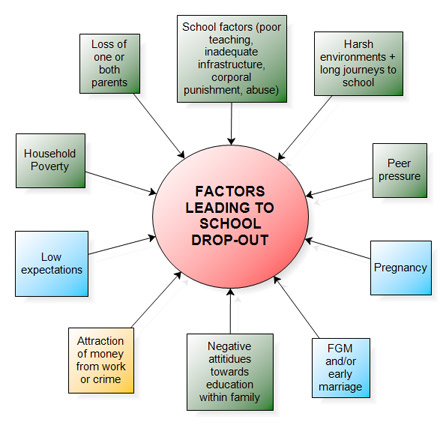 Despite the many challenges they face, the research has nevertheless helped to pinpoint the reasons why girls against the odds are retained in school. The factors shown thus far to contribute towards retention are:
A sense of agency, and the capacity to imagine a better life. This was reflected in girls' aspirations for tertiary education and professional jobs, and in their resistance to peer pressure and to early marriage.
Persistence and self-determination: girls in the study showed a commitment to school and a zest for learning; they were determined to continue with their education despite the many challenges they faced.
A belief in education as a means to an end: girls saw academic achievement as leading to material success and financial independence, giving them the power to change their own lives and to help others. Education was therefore valued for its extrinsic value, giving students what they currently lacked in their lives, and this was a powerful motivator.
Inspiration from role models: modelling oneself on someone who is seen as successful provides motivation and a goal to strive towards. Role models were admired for their material and sometimes academic success, for their independence and for their ability to help others.
Encouragement and support from key people: all the girls in the study had key people in their lives, often female relatives and particularly mothers, who encouraged them to work hard at school and to look beyond their problems to the future. For many, peer friendships were crucial in providing emotional and practical support. Occasionally encouragement came from other members of their communities (usually those who held a position such as church leader or chief), or even from further afield.
Strategies employed by schools: these include making schools places where children want to be. Important here are making the most of the school's physical environment (particularly ensuring there are adequate clean toilet facilities and water-harvesting); co-curricular activities which develop life skills; good teachers who provide knowledge and understanding but also offer practical and sometimes emotional support; proactive headteachers who are strong leaders providing an ethos for learning; a disciplined environment which provides a place of safety for the children; practical support, for example, through feeding programmes and the provision of sanitary towels.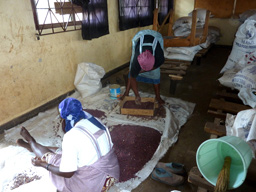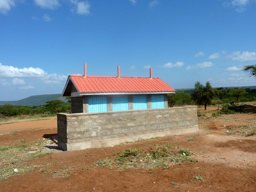 Photographs:
(far left) Feeding programme
(left) New latrines
Feeding programmes and new latrines encourage children to attend school.
Reports:
Click on the links to download reports:
Gender in East Africa: Teaching Against the Odds (Gender Report 5). CCE Report No. 10.
Gender in East Africa: Differentiating between Gender and Poverty: findings from Boys Against the Odds (Gender Report 6). CCE Report No. 11
Gender in EastAfrica: What keeps girls in primary school in Uganda? An exploration of the factors that enable girls' retention in Bududa and Nakapiripirit (Gender Report 7). CCE Report No. 12.
Kiragu, S. and Warrington, M. with Rarieya, J. and Githitho-Murithi, A. (2012), Gender in East Africa: The challenges of girls' retention: evidence from some Kenyan schools. (Gender Report 8) CCE Report No. 13.