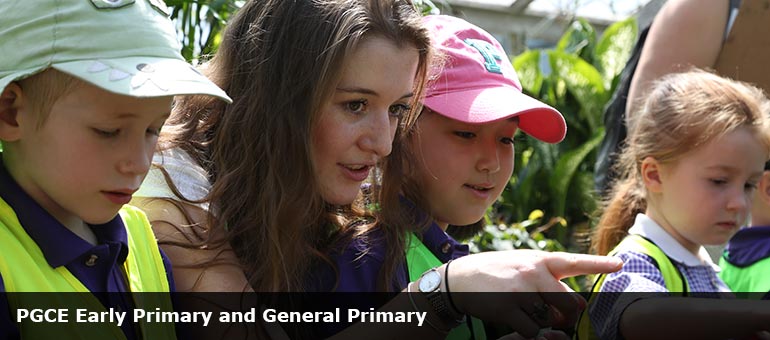 Search and apply for our courses on the .gov website: University of Cambridge (C05)
Everyone's passion for education is really contagious and I can see why Cambridge is so highly commended for this course.
you can talk with your mentor and tutors, its a very supportive environment.
a university based course allows you to take research from your peers and implement it in schools.
---
Course overview
The Faculty of Education offers two PGCE Primary courses; the PGCE Early Primary and the PGCE General Primary.
Trainees on the Early Primary course complete substantial placements in both the Foundation Stage and Key Stage 1, with opportunities for nursery placements for trainees with a personal interest in working with younger children.
---
Understanding young childrens learning
The PGCE course prepares our trainees to develop the qualities characteristic of an outstanding primary school educator.
The Faculty considers it vital that trainees understand the nature of young children's learning through:
---
PGCE Early Primary
Trainees on the Early Primary course complete substantial placements in both:
The Early Primary PGCE course prepares trainees to teach within this important and exciting phase of a child's education.
Trainees participate in professional studies lectures, conferences and visits, some of which are shared with the General Primary trainees. This ensures a comprehensive and cohesive understanding of the broader context of primary education.
Input from the Faculty's internationally recognised experts in educational research provides incomparable insights into key and emerging issues. Key research in addition to the Cambridge Primary Review includes the Cambridge independent learning project (CIndLe), Children Articulating Thinking (ChAT) and PLaNS (Play, Learning and Narrative Skills).
---
PGCE General Primary
Trainees follow either:
The General Primary PGCE course at the Faculty of Education prepares trainees to engage with this very exciting phase of education.
The reform of the primary curriculum has been a major focus of recent national educational priorities, and researchers based at the University of Cambridge Faculty of Education, under the leadership of Professor Robin Alexander, have made a particularly important contribution to this debate in the form of the Cambridge Primary Review. The aims and principles of this Review are central to the both the early primary and the primary PGCE course.
---