---
CIES Conference, Re-Mapping Global Education, 26-29 March 2018, Mexico City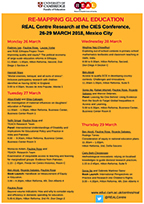 Members of the REAL Centre took part in a wide range of paper presentations, panel discussions and book launches at the Comparative and International Education Society (CIES) annual conference in Mexico City this year, which focused on Re-Mapping Global Education.
Some of the news stories from the conference include:
Ricardo Sabates presented the research on equity in cost effectiveness in education. The presentation focused on the cost effectiveness of the Camfed Programme in Tanzania, which aims to provide comprehensive and differentiated support so that girls in Tanzania can have improved retention and enhanced learning during secondary school. Key to this research was the introduction of equity in cost-effectiveness and the importance to integrate access and learning when measuring programmes effectiveness.
Padmini Iyer participated in a RISE (Research on Improving Systems of Education) panel along with Lant Pritchett, Barbara Bruns, Joan DeJaeghere and Ken Opalo. Panel members discussed the various ways in which the RISE programme is exploring the politics of learning across different country contexts. Padmini presented initial findings from the RISE Ethiopia political economy work, based on analysis conducted with Louise Yorke, Pauline Rose and Belay Hagos.
Aliya Khalid shared preliminary findings from her PhD research on 'Women's agency and their daughters' education in Pakistan'. With her work Aliya aims to explore the intersection between women's agency and intergenerational development, and its functionality in the realm of education. Her findings shed light on women exercising their agency in highly constrained circumstances, thereby highlighting the importance of understanding the notions of capabilities, freedom and hope.
Meghna Nag Chowdhuri, presented her PhD findings. She analysed the ways in which students' everyday life contexts feature in primary school mathematics textbooks and classroom teaching in government schools in Delhi. Her analysis brings out the crucial interlinks between mathematics teaching and social justice.
Rafael Mitchell presented the paper "Mapping the African research evidence base for educational policy and practice" containing early findings from a project led by Pauline Rose and conducted in partnership with Education Sub-Saharan Africa (ESSA). Based on a systematic review of education research from sub-Saharan Africa, the paper explored patterns in national research output, research methods, and thematic foci. The paper offered insights into the wealth of research from the region which can be used to inform policy and practice, and found room for greater alignment between the research evidence base and national, regional and global priorities.
The African Education Research Database will be made available later this year through the ESSA website.
A full listing of the Centre's activity at the conference can be found here.
---
The REAL Centre one day conference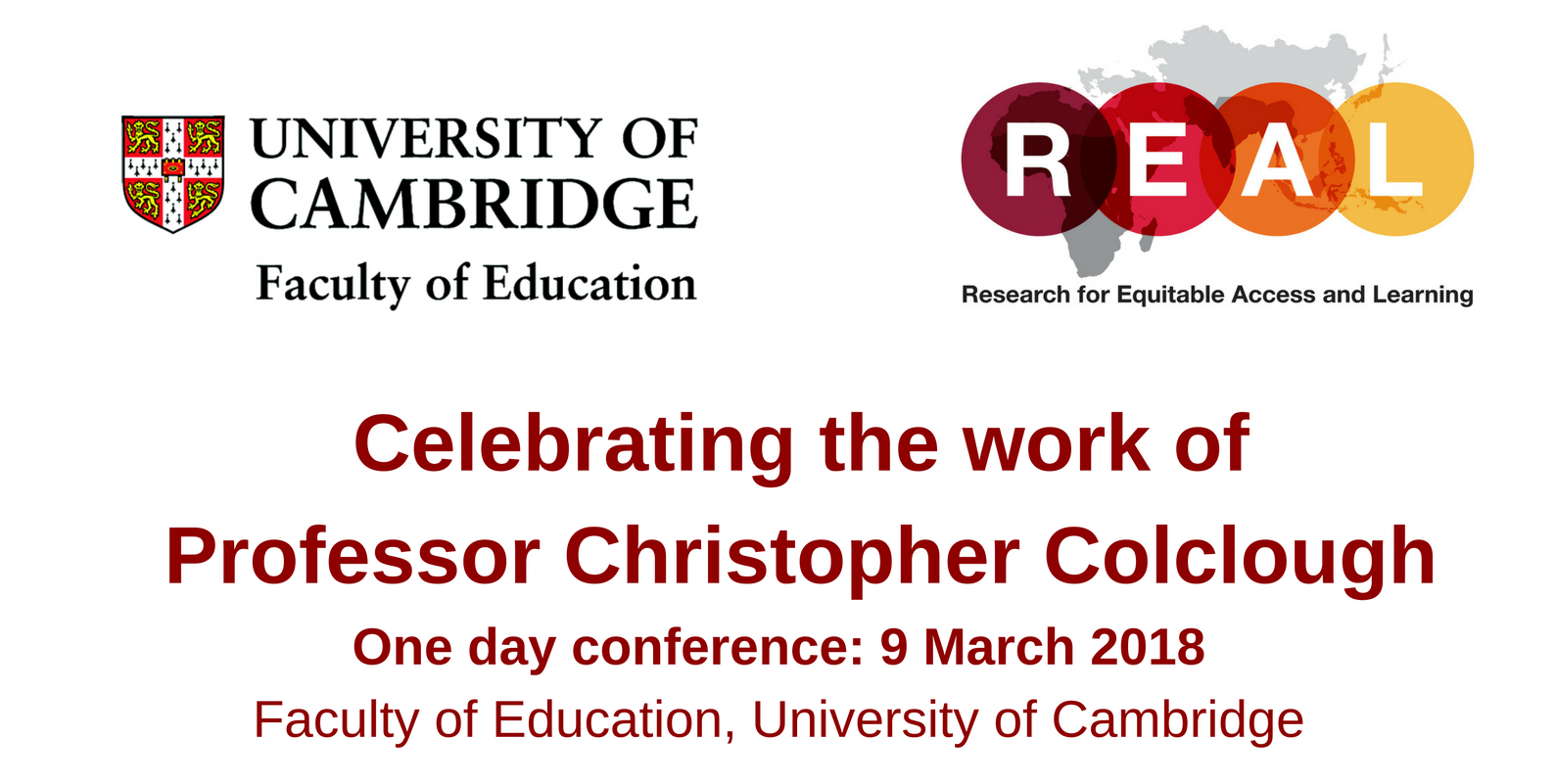 On 9th March the REAL Centre hosted a conference to celebrate the work of celebrating the work of Professor Christopher Colclough and continuing his legacy. The day was opened by keynote speaker Sir Richard Jolly, Institute of Development Studies.
Developments on key themes of Professor Colclough's work were discussed by those who had worked with him, including:

States or Markets in International Development Debates

Gender and Primary Schooling in Africa

Global Monitoring of Education Goals

Educational Outcomes and Poverty
The event was recorded and can be watched on You Tube by clicking this link or viewing the recording below.
---
The REAL Centre PhD Student Seminars - Easter Term 2018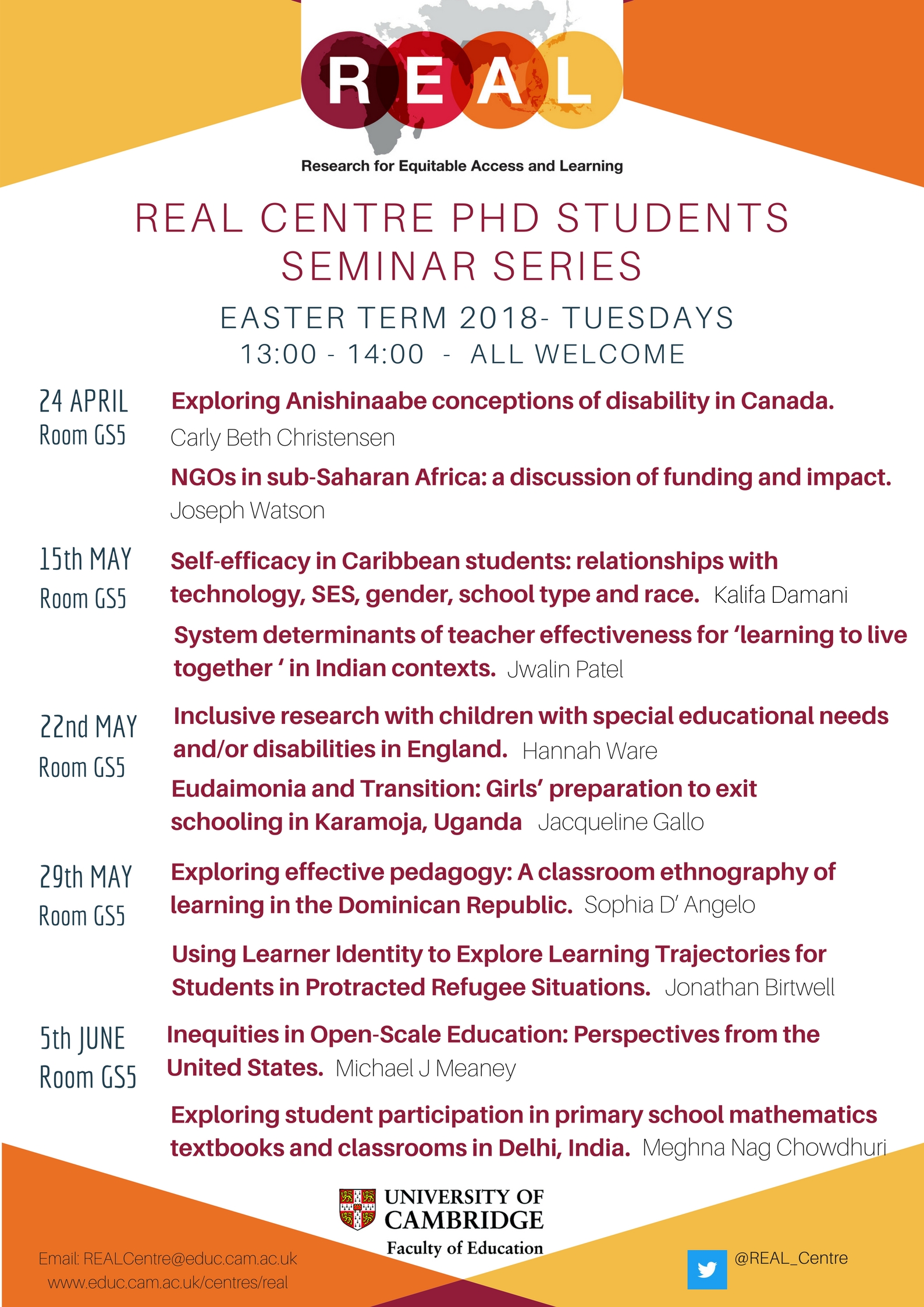 The REAL Centre has a broad programme of Tuesday Seminars from our PhD Students this term. The full listing can be read here.
---
---
The REAL Centre Seminars - Lent Term 2018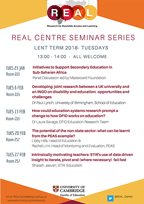 The REAL Centre has a full programme of Tuesday Seminars this term.
---
The REAL Centre Seminars - Michaelmas Term 2017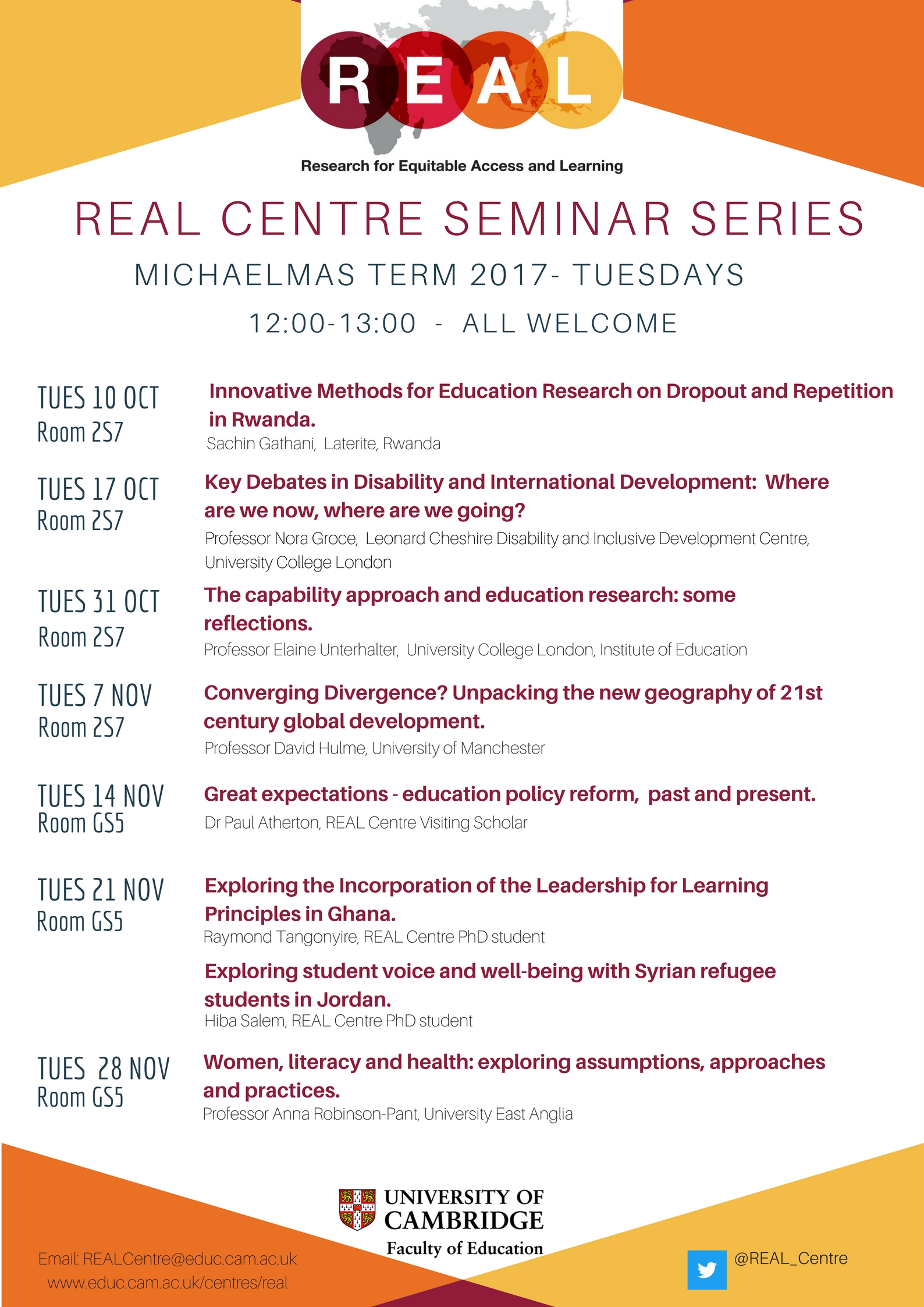 The REAL Centre has a full programme of Tuesday Seminars this term. The seminar line up include world-renowned visiting academics and speakers from the REAL Centre.
---
The REAL Centre at UKFIET Conference 2017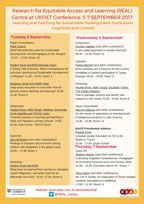 Members of the REAL Centre will be taking part in a wide range of paper presentations, symposiums, workshops and quick fire sessions at this year's UKFIET Conference which focusses on Learning Teaching for Sustainable Development: Curriculum, Cognition and Context.
---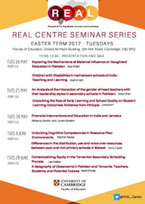 REAL Centre PhD Student Seminars
REAL Centre seminars on Tuesdays this term included presentations by PhD students. On Tuesday 6th June, one of the shortlisted Varkey Foundation's Global Teacher Prize, Michael Wamaya participated in the seminar, giving this perspective on teaching in disadvantaged parts of Kenya.
On Monday 19th June Professor Fernando Reimers from Harvard University gave a seminar on 'Empowering all Students to Improve the World'.
---

The conference opened with a keynote address by Ziauddin Yousafzai, Advisor to the UN Special for Global Education and father of the Nobel Peace Prize winner, Malala Yousafzai. The event was in association with the British Association for International and Comparative Education (BAICE). You can view pictures from the day here: https://www.flickr.com/photos/142468238@N08/sets/72157682906338792. Details of the full program for the day can be found here.
---
#LearningGeneration: Putting Evidence to Work
On Friday 27 January the REAL Centre hosted a presentation and discussion on the Education Commission's #LearningGeneration: Putting Evidence to Work. A recording of the live event is now available.
---
REAL Centre one-day conference
Watch webcast of 'Learning from learning assessments to leave no one behind'- REAL Centre one-day conference which took place 15 June 2016
---
Highlights from the launch of the REAL Centre
I am absolutely confident that the REAL Centre working with CAMFED will be generating much light to guide the global community as we work to educate every child including every girl.
Julia Gillard, Chair of the Board, Global partnership for Education.
---