REAL Centre Events
Book Launch – Reforming Education and Challenging Inequalities in Southern Contexts:
Research and Policy in International Development.
A tribute to Christopher Colclough
Date and Time: 11th May, 1:00PM- 2:30PM (UK BST)
Registration: via Eventbrite here
Join us for a book launch event to celebrate the work of the late Christopher Colclough, who, as a leading figure in education and international development, played a key role in the global fight for education for all children. At the launch, the book editors will provide an overview of the book. Authors of the chapters, all of whom knew Christopher and his inspirational work well, will be present to answer questions from the audience.
Online book launch event, organised by the REAL Centre: 1-2:30pm BST Tuesday 11 May.
Book release by Routledge: 25 March 2021 (e-Book £29.59). More information here.
A 20% discount on the book and e-book will be available to those attending the launch.
Zoom details will be sent out via email to registered participants prior to the event.
If you have any questions about this event, please contact realcentre@educ.ac.uk.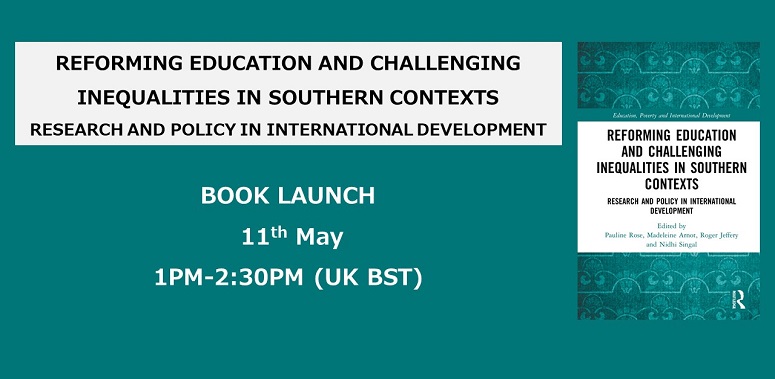 Comparative and International Education Society (CIES) Conference 2021
Social Responsibility within Changing Contexts
---
---
---
---
---
REAL events for Michaelmas Term 2019
The REAL Centre will be holding a number of Free seminars throughout the Michaelmas term.
Learning from Quality Education System Reform.
Lessons from Ethiopia
29 OCTOBER | Room GS4
Making the International Architecture for Education Fit for Purpose Again
12 NOVEMBER | Room GS4
What can we learn about global education from historical and global policy studies of the OECD?
19 NOVEMBER | Room 1S3
African based Education Researchers - What do we know?
3 DECEMBER | Room GS4
---
Share this page
---