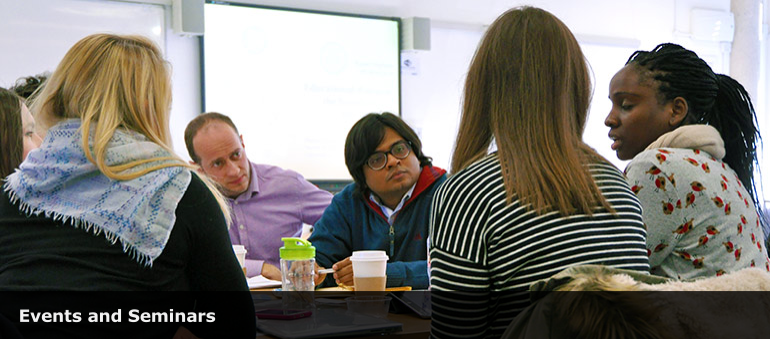 CEDiR hosts a number of events each year, catering to a wide range of the group's diverse interests in the field of dialogue. Many of our seminars are also open to the public. In the past, we have attracted many high-profile national and international speakers and participants.
Contact us if you have any questions about our events or if you are interested in attending.
Upcoming Events
CEDiR Doctoral Student Reception – Tues Oct 15th DMB 1S3 – 18:00-18:45

Our first event this term - a welcome meeting for for all current, and new, doctoral students and their supervisors - will take place on Tuesday 15th October at 18:00 in DMB 1S3 (straight after a scheduled teaching session for new doctoral students). At this meeting we will welcome newcomers and also plan some events for the term, especially group supervisions and events led by students.

Tech-CEDiR Reading Group (Session 1) – 6th Nov 11:30-12:30 – DMB GS4

'Work-in-Progress' Lunchtime Brown Bag (1) – Weds 6th Nov 12:30-13:45 – DMB GS4

Book Launch: The Routledge International Handbook of Research on Dialogic Education – Weds 13th November (17:30-18:30) – DMB GS5. Edited by Neil Mercer, Rupert Wegerif and Louis Major, this Handbook contains 47 chapters from authors based around the world (including a number from Cambridge). Wine and refreshments provided. All welcome.

Peer Feedback on Writing Session – Fri 13th Dec 12:00-13:15 – DMB GS5. RSVP to cedir@educ.ac.uk.

End of Term Event - Fri 13th Dec - From 16:00 – DMB GS5.

Details of other upcoming events will appear here soon.




---

Past Events

Details of CEDiR's previous events can be found here.