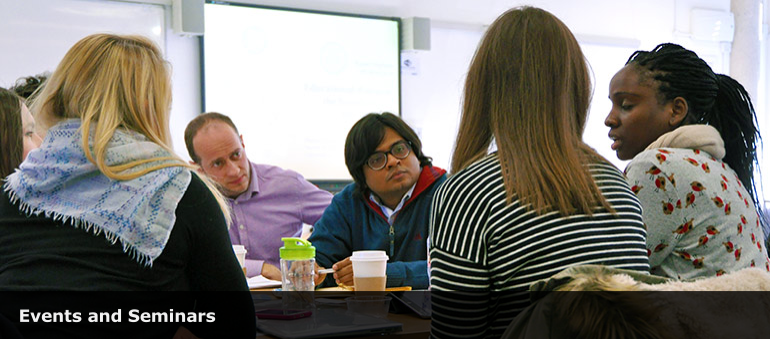 CEDiR hosts a number of events each year, catering to a wide range of the group's diverse interests in the field of dialogue. Many of our seminars are also open to the public. In the past, we have attracted many high-profile national and international speakers and participants.
Contact us if you have any questions about our events or if you are interested in attending.
Upcoming Events
Thursday 30th January - 12:30-13:45 (DMB GS1): Seminar & Visitor - Characterising and developing pre-service science teachers' ability to make on-the-fly teaching decisions in dialogic interactions (Dr Kennedy Chan - University of Hong Kong)
Dialogic teaching uses classroom talk to engage students in sharing, discussing, arguing, and reasoning about academic topics, and has a positive impact on student learning. However, dialogic teaching is challenging to enact as teachers often need to make on-the-fly teaching decisions in response to emergent student thinking in dialogic interactions. This presentation describes my ongoing research effort to characterise and develop pre-service science teachers' (PSTs') on-site teaching decisions in dialogic interactions. In particular, I will describe how to use video-based interviews to elicit PSTs' in-the-moment teaching decisions for characterisation. I will also explain how to support their' ability to notice and respond to emergent student thinking using authentic classroom videos.
CANCELLED: Thursday 20th February - 11:30-12:30 (DMB GS5): 'Work-in-Progress' CEDiR Meeting
To volunteer to present at our first 'Work-in-Progress' Lunchtime Session this term please email cedir@educ.ac.uk with your suggestion. These sessions are intended to be inclusive and informal (so if you are struggling with a particular research problem or would just like to talk through an idea with colleagues in a friendly environment let us know!).
CANCELLED: Thursday 20th February - 12:30-13:45 (DMB GS5): Seminar - The DiDiAC project - emergent finding from research across two countries (Professor Ingvill Rasmussen [University of Oslo] and Paul Warwick [Faculty of Education])
This presentation relates to the DiDiAC project, a joint endeavour between the Universities of Oslo and Cambridge to investigate the dialogic use of a micro-blogging tool in secondary school classrooms. Here, iterations of design of the micro-blogging tool (Talkwall) are intended to enhance active student participation in class dialogues. The examination, through research, of its integration into classrooms is intended to support, and provide insights into, student's formation of collective thinking skills.
There will be an initial presentation of the software re-design outcome, a result of phases of collaboration and co-design between teachers and researchers. Following this, we will consider issues relating to data collection, assimilation and analysis in the project, in particular the problems and benefits of reflecting abductively on data across the macro-, meso- and micro-levels of analysis. From this, we will reflect on some of the emerging findings from the data across Norway and the UK.
CANCELLED: Tuesday 17th March - 17:30-18:30 (DMB 1S3): Book Launch - Research Methods for Educational Dialogue
We are pleased to launch this new book written by Ruth Kershner, Sara Hennessy, Rupert Wegerif and Ayesha Ahmed and including chapter commentaries from invited experts in the field. The book provides an overview of possibilities for researching various forms of educational dialogue for individuals and groups of participants in different educational contexts. In the book we argue for the integration of theoretical, ethical and methodological principles, and we consider the potential for developing innovative research methods that are dialogic in themselves.
Join us for short talks and a glass of juice or wine.
Details of other upcoming events will appear here soon.



---

Past Events

Details of CEDiR's previous events can be found here.