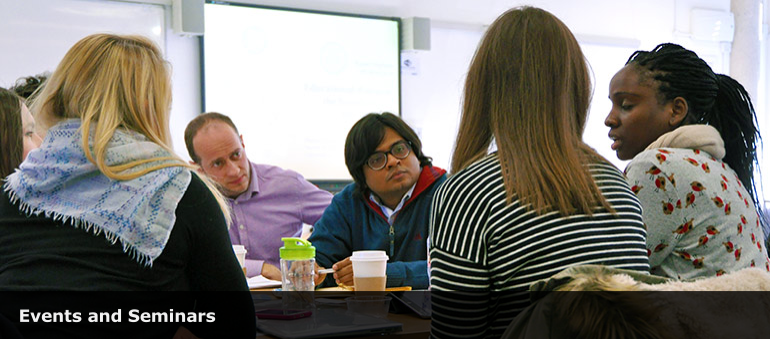 CEDiR hosts around 12 events per year, catering to a wide range of the group's diverse interests in the field of dialogue. Many of our seminars are also open to the public. In the past, we have attracted many high-profile national and international speakers and participants.
Contact us if you have any questions about our events or if you are interested in attending.
Upcoming Events
SEMINAR - Wednesday 19th September (5-6pm in DMB GS1)
Using mobile technologies in the teaching and learning of mathematics
Nigel Calder, The University of Waikato, New Zealand
Mobile technologies are everywhere in our lives. We use them to communicate, research, process, record experiences, and for entertainment. They influence the way we interact in the world, the way we live. We use them in work and play. How might they change the teaching and learning process? This presentation explores the ways that using mobile technologies have the potential to change teaching and learning in mathematics – with both student engagement and mathematical thinking. A particular focus will be the dialogic affordances of mobile technologies and how these interact within socio-material assemblages.
(Co-organised with the Cambridge Mathematics Education Research Group - MERG)
WORKSHOP - Monday 24th September (all day)
Joint CEDiR & 'Dialogue and Learning Network' (Norway) Workshop
Rupert Wegerif and Louis Major from CEDiR's Theory & Methodology strand will be leading a workshop involving colleagues from several institutions, based in the Western Norway, who are part of the newly established 'Dialogue and Learning network'.
WORKSHOP - Friday 28th September (1:30-3:15pm in DMB GS1)
Methodologies for Building Peaceful Communities in and through Schools
Facilitated by Rupert Higham (UCL), Tony Booth & other colleagues
A dialogue led by: Community Relations in Schools, which has enabled constructive dialogues between school across cultural divides in Northern Ireland for 30 years; the University of Leuven, which supports teachers in Belgium to develop schools using the Index for Inclusion; and CEDiR's inter-cultural and conflict transformation strand. All welcome to participate, no need to RSVP.

CEDiR DOCTORAL STUDENT MEETING & DRINKS - Thursday 4th October (16:30-17:30 with drinks after - DMB 1S3)
A meeting for all current, and new, doctoral students and their supervisors. At this meeting we will welcome newcomers and also plan some events for the term, especially group supervisions and events led by students.

Details of other upcoming events will appear here soon.
---
Past Events
Details of CEDiR's previous events can be found here.