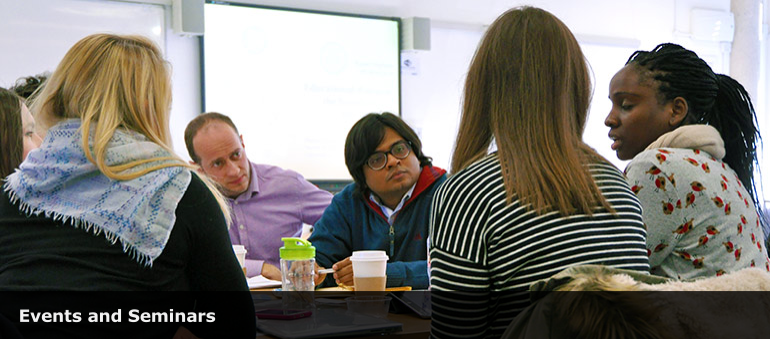 CEDiR hosts around 12 events per year, catering to a wide range of the group's diverse interests in the field of dialogue. Many of our seminars are also open to the public. In the past, we have attracted many high-profile national and international speakers and participants.
Contact us if you have any questions about our events or if you are interested in attending.
Upcoming Events
Seminar: Dr Andy Cavagnetto (Washington State University) – Thurs June 27th DMB GS1 – 12:30-13:45 **Notice change of date!**

Dr Andy Cavagnetto, currently on sabbatical (from Washington State University) and working with Prof Steve Higgins at University of Durham, will be visiting us on June 27 and sharing some of his work at an informal CEDiR lunchtime session.

In Search of Deliberative Talk
In this Brown Bag session, Dr. Cavagnetto will share his work examining student-student small group talk in undergraduate biology settings. A key component of his currently funded project is to examine grain size in discourse analysis, in particular, linking broad characterizations of talk (e.g., Exploratory/Deliberative, Disputative, and Co-consensual) with profiles or clusters of talk moves. Plans for the current study will be discussed and key points of uncertainty - including coding dilemmas! - will be highlighted for discussion.

Seminar & Interactive Workshop: Dr Alexander Gröschner (University of Jena) – Thurs July 4th DMB 2S5 – 12:30-13:45 AND 14:00-16:00

Alex Gröschner, Professor in the Institute of Educational Science, Friedrich-Schiller-University of Jena, Germany is visiting CEDiR during June and July. On July 4th Alex will be delivering a talk during a lunchtime seminar followed by an interactive workshop. Colleagues are invited to attend either one or both of these sessions.

Research on productive classroom dialogue underpins the relevant role of teachers to verbally engage students and scaffold their learning. Although we know a lot about effective "formats" and "moves", only a few studies have addressed this knowledge regarding productive classroom dialogue in (video-based) teacher professional development. The presentation and interactive workshop will contribute to this lack of research.

In the first part of the presentation, Alex will summarize recent (international) research that has been led to a collection ("toolkit") of activities and strategies supporting teacher learning on productive classroom dialogue. In the second part, he will introduce the "Dialogic Video Cycle" (DVC) as an effective video-based teacher professional development programme and share some of the main findings of the intense research that has been done to investigate the effects of the DVC on teacher beliefs, practice and student motivation and learning.

Following a short break before the workshop begins, facilitation moves and video examples from the PD workshops will be presented to discuss in more depth how teachers talk about teaching and productive classroom dialogue and how this talk can be purposefully facilitated.

CEDiR Writing Workshop – Mon July 22nd - DMB 1S3 – 14:00-15:00/15:30

Our third informal session where people bring along completed draft papers / chapters and receive oral dialogic feedback on the spot from a couple of peers. The critical friends do not need to read the papers in advance (unless preferred) or give any written feedback but simply offer comments as they read through, in dialogue with the author and ideally a second peer. (The author can take notes / annotate the manuscript).

Please bring 2 hard copies of your draft with you (and perhaps a 3rd for yourself to scribble on, or a laptop). Drafts do need to be pretty much complete rather than half-baked; they will usually benefit most from peer feedback before submission but you might prefer to do it after receiving peer reviews. Please come along regardless of whether you have writing to share as readers are needed too!

Details of other upcoming events will appear here soon.




---

Past Events

Details of CEDiR's previous events can be found here.