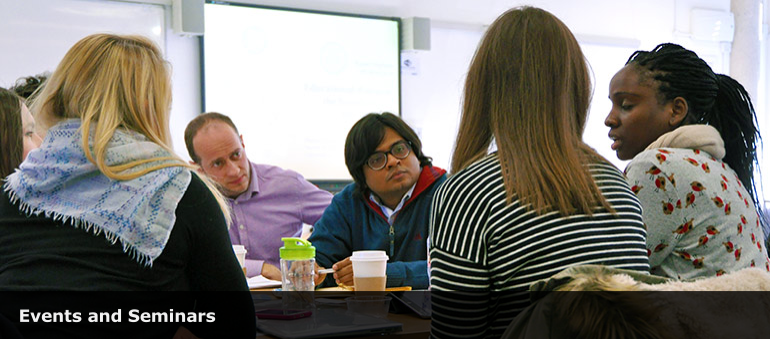 CEDiR hosts around 12 events per year, catering to a wide range of the group's diverse interests in the field of dialogue. Many of our seminars are also open to the public. In the past, we have attracted many high-profile national and international speakers and participants.
Contact us if you have any questions about our events or if you are interested in attending.
Upcoming Events
Easter Term 2018
Monday 23rd April
14:30-15:30 (DMB 1S3): Discussion with Toshi Tsuruhara - about his research, and related issues, including coding strategy. His topic is 'Relational Transformation through Dialogue: Conflict mediation meeting in a secondary school in the UK'.
Tuesday 24th April
10:00-12.30 (DMB 1S3): An informal, open discussion about doctoral students' initiatives and methodologies to facilitate the active role of students in their learning processes. This will involve sharing research aims and questions in current projects, and possibly linking to inclusive education and questions about equity in participation.
Wednesday 25th April
10:00-11:15 (DMB 2S4): Reading group [based around Berry, R.A.W. (2006). Teacher Talk During Whole-Class Lessons: Engagement Strategies to Support the Verbal Participation of Students with Learning Disabilities. Learning Disabilities Research & Practice, 21(4), 211–232]
12:30-13:30 (DMB 2S4): Presentation by Sabine Zorn - 'Social interactions in the classroom: the case of students with an autism spectrum disorder and their teachers in French lower secondary school'
14:00-15:15 (DMB 2S4): Presentation by Sara Hennessy - 'Analysing educational dialogue: Methodological issues'
Thursday 26th April
10:00-12.30 (DMB 2S5): An informal pop-in discussion about coding - using own data samples with the SEDA coding scheme
14:00-16:30 (DMB 2S5): A workshop on coding classroom dialogue, including comparison of the affordances of different coding schemes

--
May 3rd, 11:00-12:30, DMB GS3 Sylvia Rojas-Drummond and Maria Jose Barrera are visiting for a week as part of a collaborative BA/Leverhulme project. The session will not be a formal presentation, but will be an opportunity to hear about the research processes to date and share ideas about it.
---
Past Events
Details of CEDiR's previous events can be found here.