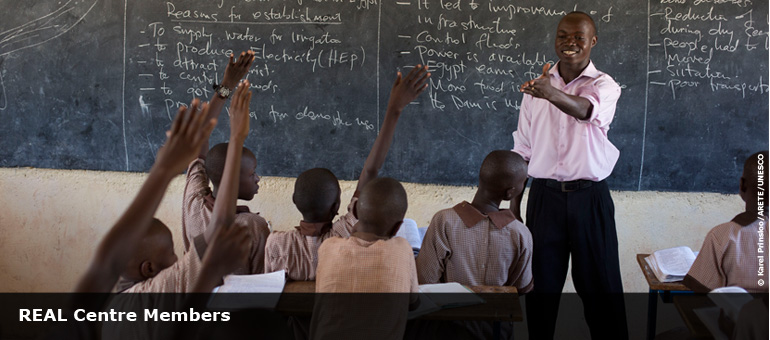 REAL Centre Associate Members
Dr Samuel Asare: Education research in sub-Saharan Africa,Teaching and learning enhancement, Student engagement.
Dr Monazza Aslam: Education economist; children's learning outcomes and teacher effectiveness in India and Pakistan.
Dr Paul Atherton: Economist by background, educationalist by experience: Interested in how education leads to inclusive growth; how education systems perform, and how donors and programmes interact with them to improve outcomes; the role of non-school inputs and the shadow education system in generating system change.
Dr Aditi Bhutoria: Quantitative researcher interested in the design, delivery and impact of educational policy and interventions in developing countries. Fields of interest: Economics of Education, Public Policy, Development, and Behavioral Economics. Topics of Interest: access and quality in schools, financial literacy, non-cognitive skills, field experiments.
Shelby Carvalho: Based at Harvard University and contributing to the RISE Ethiopia project. Key areas of interest include the political economy of education; international aid; sub-Saharan Africa; gender; equity; school-to-work transitions; cross-sectoral approaches to improving health and education in developing country contexts.
Dr Marcos Delprato: Application of quantitative methods in the social sciences in the field of international education; construction of large databases using household surveys.
Dr Pheobe Downing: Comparative education research and policy; Sub-Saharan Africa education research; Qualitative data analysis (NVivo); School leadership and management; School improvement models
Dr Sreekala Edannur: Social origin studies to understand the extent of inequalities of accessing higher education. Alexander von Humboldt faculty researcher, Freie University, Berlin. My project is on Primary and secondary effects of social background inequalities on educational attainment and educational continuation decisions of students with Germany and India in a comparative context.
Dr Bjoern Hassler: EdTech Hub. OER4Schools programme, including with the University of Johannesburg focusing on integrating OER4Schools materials into new courses.
Dr Padmini Iyer: Senior Researcher at NatCen Social Research. Previous work includes primary school effectiveness and political economy analysis as part of the RISE Ethiopia programme at the REAL Centre, and secondary school effectiveness in Vietnam at Young Lives, University of Oxford. Research interests include equity and quality in education; 21st century skills; gender and adolescence; and employing quantitative, qualitative and mixed research methods.
Dr Akanksha A. Marphatia: Use of longitudinal biomedical studies to investigate developmental and geographic origins of inequality in educational attainment; professional experience in international macroeconomic, education and gender policy.
Dr Rafael Mitchell: Pedagogy; teacher learning; community participation; educational leadership; school improvement; education in sub-Saharan Africa.
Dr Shenila Rawal: quantitative research specialising in the economics of education; teacher quality and effectiveness, the relationship between poverty and educational outcomes, and the role of gender and social distance in reducing economic and educational gaps.
Dr Laura Savage: DFID senior education adviser; key interest areas include systems thinking in education, the politics of aid, the politics of large-scale education reform; historian and political ethnographer.
Dr Matthew Somerville:Special educational needs and disability; inclusive classroom practices; metacognition and self-regulation; emotion and emotion regulation; supporting children's well-being.
Dr Lucy Stackpool-Moore: Qualitative and participatory researcher, specialising in human rights, reducing stigma and discrimination, sexual and reproductive health and rights, and applying research to influence actions. Topics of interest: gender equality, transformative teaching and learning, HIV, legal consciousness, and community mobilisation.
Dr Naveen Sunder: Applies economic and statistical tools to analyse policy-relevant questions. Economics of education, Quantitative analysis, Impact evaluation, Using large scale household/school surveys and Primary data collection.
Dr Rodrigo Torres Nunez: Economics of education; inequality of educational opportunity; school effectiveness; school systems' institutional policies and equity in learning; widening access to tertiary education.
Dr Lydia Whitaker: Social and emotional development across childhood; Mixed methods research; Gender equality; Teacher effectiveness, quality education for all in Pakistan and India.
Anum Yousef Sheikh: Cultural political economy of education; policy analysis; globalisation, international development and education; decolonial and post-colonial perspectives.